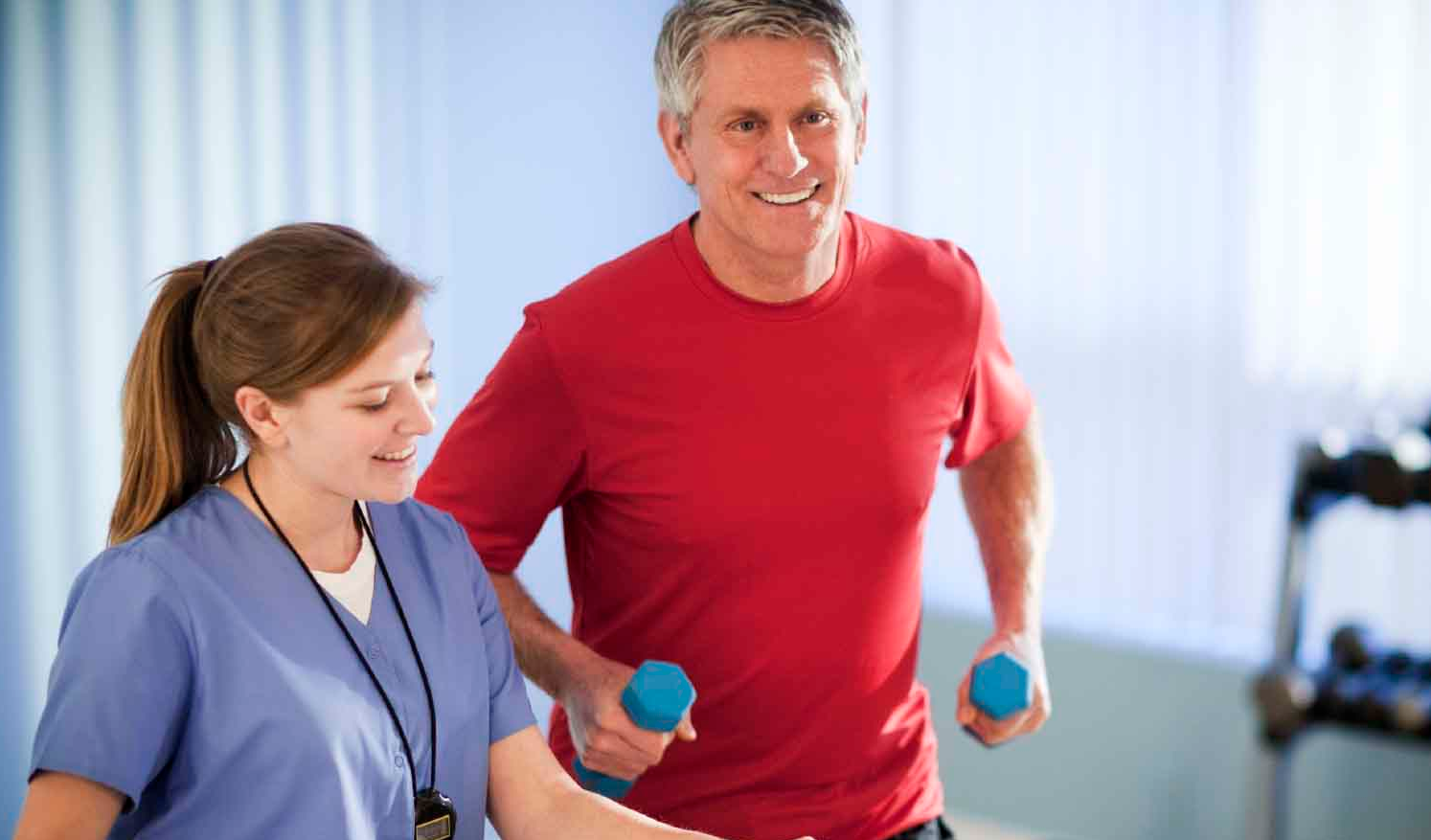 At Hillcrest Exercise & Lifestyle Programs (HELP), we truly believe that a happier and healthier life begins with you. For this reason, we offer fitness classes that reach out to help those from all walks of life. From seniors looking to enhance their health and well-being to those looking to improve the function and movement of their body through specialized programs, we strive to cater to everyone's needs.
Cardiac Rehabilitation
Our comprehensive Cardiac Rehabilitation programs reduce your risk of death from cardiovascular disease by 20 to 25 percent and reduce cardiac related hospital admissions. Our dedicated team of cardiac nurses, exercise physiologists, dietitians and health behavior specialists are available to evaluate your areas of concern, provide education and develop a treatment plan to restore your health and improve your quality of life.  We have programs specifically designed to address your specific cardiovascular conditions.
Smoking Cessation
The Freedom From Smoking program offers individuals who are ready to quit a step-by-step plan for quitting smoking.  The program has a positive focus.  It emphasizes the benefits of better health and improved lifestyle habits, as well as mastery of one's own life.  Activities and assignments are available in order to provide individuals who smoke with proven strategies for changing behavior and lifestyle.  Each technique is based on pharmacological and psychological principles and methods that help individuals become smoke free for life.
The program format consists of eight sessions intended to be held over a seven week period.  Sessions are 90 to 120 minutes in length.  Sessions 1 through 4 are held at weekly intervals.  Participants quit smoking completely at Session 4.  To offer support early in the quitting process, Session 5 is held just two days later and Session 6 is held five days after that.  A week later, Session 7 is held.  The eighth and final session occurs three weeks after quit day.  This schedule is designed to provide support during the period of highest risk of relapse.
Evidence-based and adherence to best practice guidelines, Freedom From Smoking continues to be the vanguard of smoking cessation programs in that it includes all components of an intensive intervention as outlined in the United States Department of Health and Human Services' Treating Tobacco Use and Dependence: Clinical Practice Guideline.
This program is available to employers at their worksite or individuals can attend one-on-one sessions at Hillcrest Exercise & Lifestyle Program (HELP).  To learn more information about this program or to begin the program, please call 918.579.4959.
MedFit Program
Hillcrest Exercise & Lifestyles Program offers a special program called MedFit designed for individuals who have special medical needs. This three-month program is specifically designed for people with chronic, lifestyle-related conditions (metabolic syndrome, prediabetes, dyslipidemia, hypertension, etc). Participants will have monthly one-on-one sessions with our exercise physiologist and dietitian to get started on a path to a healthier lifestyle. Members will also have access to our full-service Fitness Center.
The program starts with our exercise physiologist reviewing your risk factors, health habits and developing a personalized exercise plan to meet your needs. After your initial consultation, you will have a monthly appointment to monitor your progress and make adjustments as needed to your program. Our Fitness Specialists are available during your exercise sessions to provide guidance.
Knowing the important role dietary habits have in lifestyle-related chronic conditions, participants will also have monthly consultations with our dietitian. The first consultation involves reviewing your dietary habits, eating behaviors and developing a healthy eating plan. Monthly follow-up consultations will be used to find out what's working and develop action plans for areas needing improvement.
The cost is a $25 initial joining fee plus $50 per month. MedFit is limited to a three-month membership. At the end of this time you may transition to a regular membership or enjoy your improved health and continue improving on your own.
MedFit membership is by physician referral only, so please talk to your personal physician about your interest in this special program. For more information, call Hillcrest Exercise & Lifestyle Programs at 918.579.4959.
Fitness Classes
We recognize that there is no one-size-fits-all fitness class. To learn more about the fitness classes we offer at HELP, please take a look at our class schedule and descriptions. You can also give us a call at any time and we would be happy to discuss our programs further.
To find out more information on our fitness classes, please click here.
To become a member or for additional information, please contact us at 918.579.4900 or stop by HELP. Our hours of operation are 6:00AM to 7:00PM Monday through Friday and Saturday 8:00AM to 1:00PM.