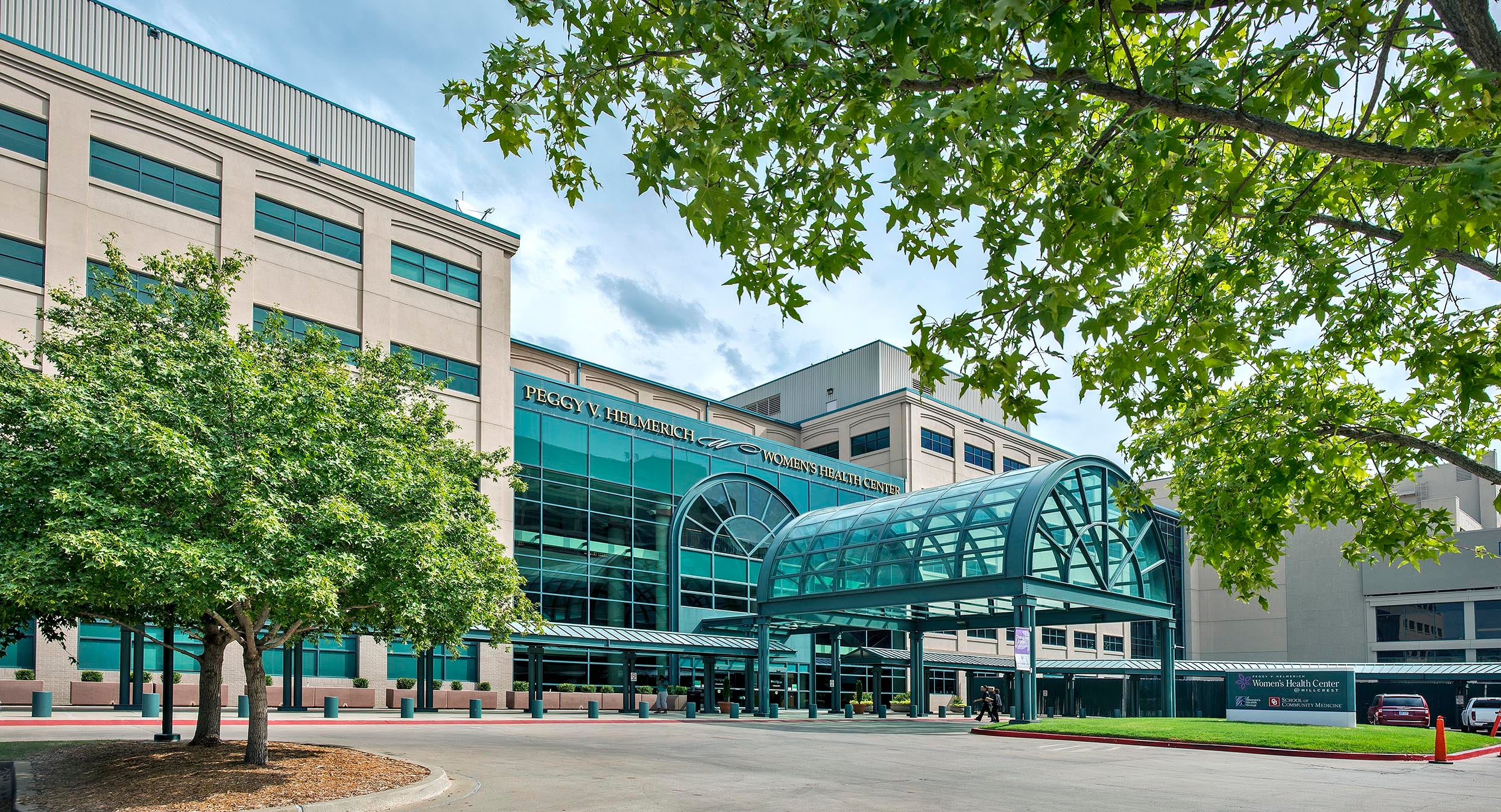 Visiting Guidelines
Visiting hours and the number of visitors allowed per patient change with the known prevalence of current COVID-19 cases in the Tulsa area. Please go to the visiting hours page for current visitor and patient guidelines.
Cafeteria Services
The cafeteria is located on the second floor of Hillcrest Medical Center and may be reached by using the south elevators.
Cafeteria hours are 6:30 a.m. to 1:30 a.m. Vending machines are located throughouth the hospital are always available. Meal selections are changed according to the following hours:
| Monday-Friday | Saturday-Sunday & Holidays |
| --- | --- |
| Breakfast: 6:30 to 9:30 a.m. | 7 to 9:30 a.m. |
| Lunch: 10:30 a.m. to 2:30 p.m. | 10:30 a.m. to 2:30 p.m. |
| Dinner: 4 to 7 p.m. | 4 to 7 p.m. |
Parking
Visitor parking is in the six-story garage located at the corner of 11th and Utica. Entrances to the parking garage are off of Utica and off of 11th St. The parking facility serves Hillcrest Medical Center, Helmerich Women's Center, Chapman Breast Center, Kaiser Rehabilitation Center, Specialty Hospital and Hillcrest outpatient services. Valet parking is also available at the front entrance from 9 a.m. to 9 p.m. daily.
Gift Shop
The Gift Shop is located by the Information Desk and is open Monday through Friday, 9 a.m. to 6 p.m.; Saturday, 9 a.m. to 5 p.m.; and Sunday noon to 5 p.m.
Automated Teller Machine
An Automated Teller Machine (ATM) is located on the ground floor across from the main information desk.
Security Service
Security officers serve the Hillcrest campus 24 hours a day. If you're aware of a potentially disruptive situation, please immediately notify Security at 918-579-3300 or dial "0" from a hospital phone for the hospital operator. Security officers are available to escort you to your vehicle. Call 918-579-3300 for assistance.
Tobacco-Free Campus
In support of a healthier environment, the Hillcrest Medical Center campus is tobacco free. We respectfully ask employees, patients and visitors to refrain from the use of all tobacco products on the grounds of all Hillcrest facilities.
Helpful Telephone Numbers
| Department | Phone Number |
| --- | --- |
| Hillcrest Medical Center | 918-579-1000 |
| Emergency Department | 918-579-6150 |
| Gift Shop | 918-579-7787 |
| Security Office | 918-579-3300 |
| Kaiser Rehabilitation Center | 918-579-7100 |
| Leta M. Chapman Breast Center | 918-579-8080 |
| Pastoral Care | 918-579-6210 |
| Patient Information | 918-579-7700 |
| Peggy V. Helmerich Women's Health Center | 918-579-8000 |