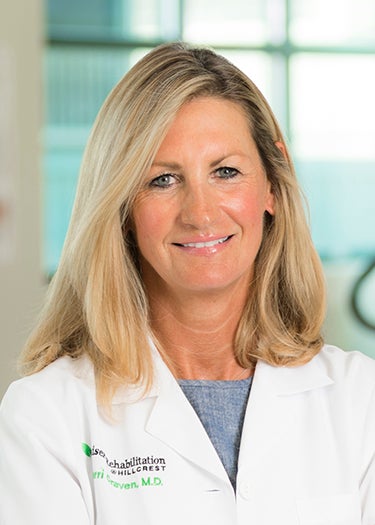 Perri Craven, M.D., is the medical director of Kaiser Rehabilitation Center at Hillcrest Medical Center. She has been with Hillcrest since 2011 when she and her team established neurological rehabilitation services at Kaiser. 
"When I came, we really didn't have much of a neurological population here," said Dr. Craven. "We helped to build Kaiser Rehab into a neuro rehab program and helped build the stroke team. Anything between concussion and severe brain injury is what we take care of here." 
Dr. Craven has been practicing physical medicine and rehabilitation since 1993. She earned her undergraduate degree from Oklahoma City University in 1984, then received her medical degree from the University of Oklahoma College of Medicine in 1989. She completed her residency at the University of Kansas in 1993 before serving as the clinical assistant professor at the University of Buffalo-SUNY's Department of Rehabilitation Medicine. She came to Tulsa in 1995. 
Dr. Craven is board-certified in physical medicine and rehabilitation and has a sub-specialty in brain injury medicine. She says she chose brain injury medicine as a specialty because of the strong connections she develops with patients.  
"When I was in residency, we were exposed to a lot of traumatic brain injuries because it was a level one trauma center," said Dr. Craven. "I found that I love working with these patients and their families because most brain injuries don't always go back to normal. So those patients have a lot of needs as they progress and age, and I liked the holistic approach we took to their treatment." 
Dr. Craven and her team successfully connected the emergency department, neurological unit and Kaiser Rehabilitation Center at Hillcrest Medical Center, fulfilling a long-standing dream. The three departments work together to treat patients with brain injuries from admission to discharge. 
"We like to say that you come in through the emergency department, you go up to the neuro floor and then Kaiser Rehab gets those patients home," said Dr. Craven. "I love my colleagues; I love our relationship with neurology." 
Kaiser Rehabilitation has offered therapy services in Tulsa for more than 40 years and is ranked nationally in the top 10 percent for program performance. It also offers a neurological day treatment program, designed for people with brain injuries or neurological dysfunction to regain their job or life skills. Visit this link to learn more about the services offered at Kaiser Rehabilitation Center.