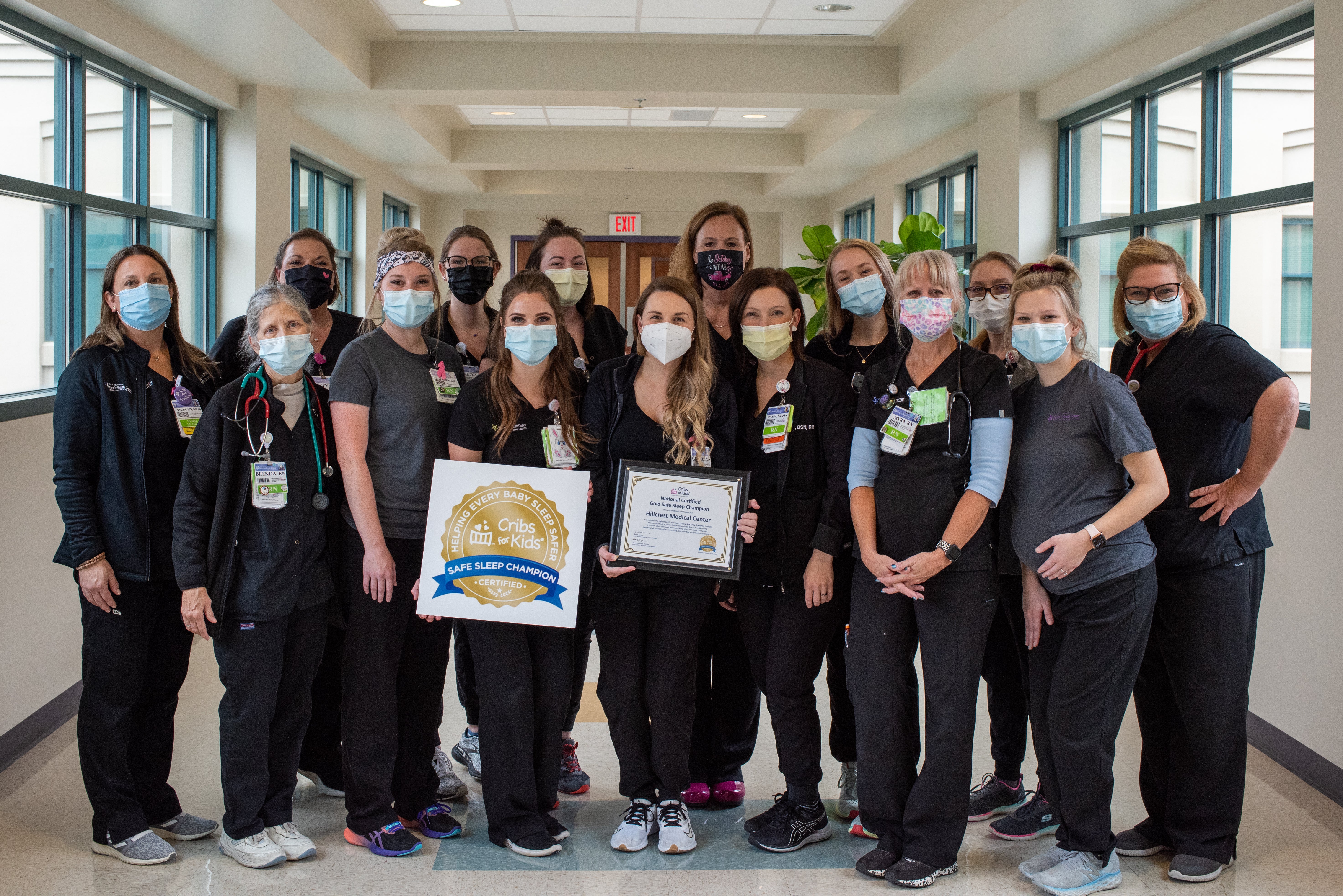 Hillcrest Medical Center is one of the first hospitals in the state to earn top honors on safe sleep from a national organization.
Created by Cribs for Kids, the National Safe Sleep Hospital Certification Program recognized Hillcrest as a gold level hospital. Hillcrest is the lone site in the Tulsa area and one of just two in Oklahoma to receive this level of accreditation. Cribs by Kids is dedicated to preventing infant sleep-related deaths due to accidental suffocation. As a nationally certified safe sleep hospital, Hillcrest is recognized for following the safe sleep guidelines recommended by the American Academy of Pediatrics (AAP), and providing training programs for healthcare team members and family caregivers. 
"It's really exciting," NICU nurse manager Grace Switzer, RN, said of the recognition. "You've got to have an approved policy for safe sleep for any unit that takes care of babies less than a year old."
Hillcrest's gold level status was also achieved in part due to its distribution of safe sleep resources, according to Switzer. The labor and delivery team has given away complimentary wearable sleep sack blankets to anyone who delivers at the hospital. Hillcrest also provides pack 'n plays to those who might not otherwise have a safe place to sleep.
Switzer said earning the accreditation is a significant achievement for Hillcrest.
"For our department, the gold accreditation holds the whole hospital accountable because you have to continue to prove you're at the designation level, so you continue to strive to meet it," Switzer said. "For staff or patients who choose to deliver here, knowing that it's a gold-certified hospital, I think it sets us apart and shows our dedication to infant safety, in general, as well as safe sleep. It's a really nice honor to have."
Hillcrest's gold level accreditation also allows the hospital additional education and community outreach opportunities in the future.
Switzer said the nationally recognized award is the result of a team effort throughout Hillcrest.
"We're all just proud of our staff," she said. "A lot of this project took work from everybody on all of the floors. It impacts labor and delivery, NICU, postpartum and all the nurses providing great care and participating in these program that we have. This is a great honor for all of us."
To learn more about women's services at Hillcrest Medical Center, click here.