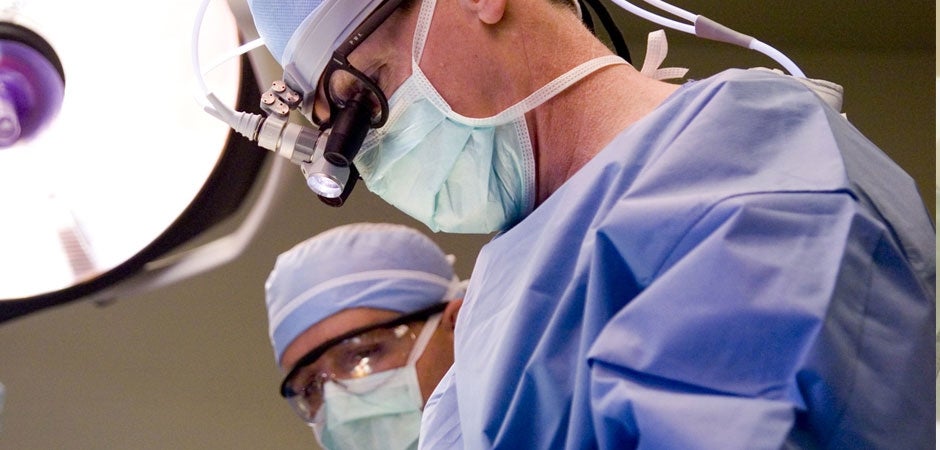 Hillcrest Medical Center is a leading provider of premier surgical services through innovative technological advancements and a comprehensive team of board certified and fellowship-trained surgeons.
The Hillcrest Surgical Services department performs surgeries in 16 sub-specialties including neurosurgery, orthopedics, colorectal, urology and gynecology. We offer state-of-the-art technology featuring O-Arm®, StealthStation®, Visualase®, and da Vinci robotics technology.
Neurosurgical Advancements
Hillcrest is proud to be a leader in neurosurgical procedures featuring O-Arm, StealthStation and Visualase technologies that allow minimally-invasive procedures not possible with conventional methods.
The O-Arm and StealthStation work together to provide detailed, real-time information to the physician during surgery. The O-Arm is a surgical imaging system that generates continuous multi-dimensional images of the site and sends those images to the StealthStation navigation system enabling precise tracking of surgical instruments throughout a procedure.
Visualase is an MRI-guided laser ablation that precisely targets and destroys unwanted brain tissue with a laser applicator. Compared to open surgeries, patients who have Visualase surgery can experience a shorter surgery, little or no hair removal, a one-stitch suture, shorter hospital stay and reduced scarring.
Robotics Technology
Hillcrest utilizes the da Vinci System which is a robotic surgical platform designed to enable complex procedures of all types to be performed through 1 to 2 cm incisions. This system is used for general, urologic and gynecologic procedures. Learn more about Robotic Surgery at Hillcrest.
Learn More
To learn more about which procedure is right for you, talk with your doctor or contact one of our surgeons. To view a list of surgeons by specialty, visit our Find a Physician search option and select an appropriate specialty based on the surgery you need:
Breast, Colorectal, Cardiac/Open Heart, Thoracic, Vascular, Dentistry, ENT (Ear, Nose and Throat), General, Gynecology, Neurosurgery, Obstetrics, Opthalmology, Orthopedic, Plastic, Podiatry, Robotic, Urology.