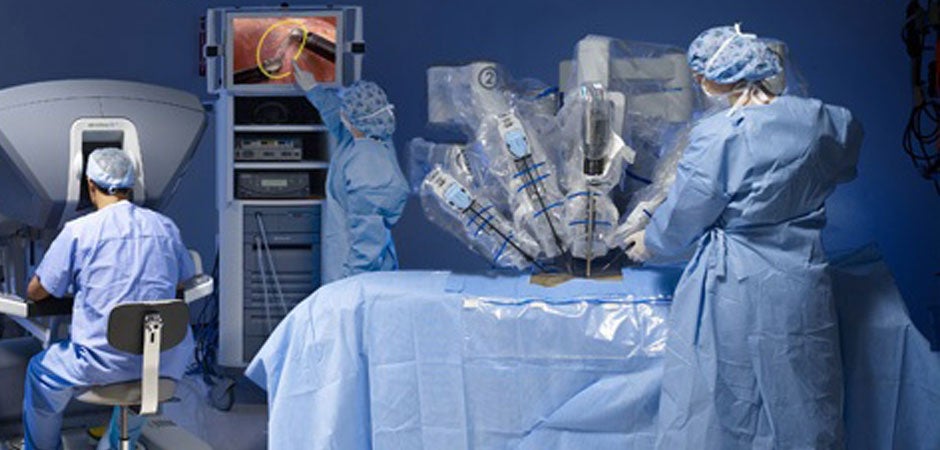 Robotic surgery involves the use of robotic systems and miniaturized surgical instruments to aid physicians in minimally invasive surgeries that could not be performed with conventional methods. Using high-definition imagery, robotic surgery allows physicians greater visibility, flexibility, control and the ability to perform more precise surgical procedures.
Hillcrest Medical Center uses the da Vinci System which is a robotic surgical platform designed to enable complex procedures of all types to be performed through 1 to 2 cm incisions. This system is used for a variety of surgeries including general, urologic, gynecologic and more.
With da Vinci system, the surgeon's movements are replicated in real time. It cannot be programmed, nor can it make decisions on its own to move in any way or perform any type of surgical maneuver without the surgeon's input.
With robotic surgery, patients may experience the following benefits:
Shorter hospital stay
Minimal scarring
Fewer complications and site infections
Reduced pain
Low blood loss
Quicker return to normal daily activities
Hillcrest performs robotic surgery for a broad range of surgical procedures including:
Single Site Gallbladder Surgery -
A Virtually Scarless Procedure
Patients who choose Single Site Gallbladder Surgery experience a virtually scarless procedure since surgery is performed through only one incision in the navel (belly button), which dramatically limits visible scarring.
Gynecology
Traditional open surgeries can be more painful, have a longer recovery process, and are a greater threat to surrounding organs and nerves. For complex hysterectomies and other gynecologic procedures, robot-assisted surgery with the da Vinci Surgical System may be the most effective, least invasive treatment option with faster recovery and excellent clinical outcomes.
Urology
Common disadvantages of open urologic surgery can be pain, a lengthy recovery and an unpredictable, potentially long-term impact on continence and sexual function. Robotic surgery is now commonly used for prostatectomy and other urologic procedures because the minimal incision reduces the risk of damage to surrounding nerves that affect urinary control and sexual function.
Surgeons performing robotic surgery at Hillcrest Medical Center:
General surgery:
Eugene Dickens, M.D.
Michael Lowe, M.D.
Matt Wilson, M.D., F.A.C.S.
Tara Wilson, M.D., F.A.C.S.
Kevin Dare, D.O.
Weera Chainakul, M.D.
Hepatobiliary:
Jay Bergquist, M.D.
Lung Surgery:
Ajit K. Tharakan, M.D.
Gynecology/Oncology:
Michael Gold, M.D.
Alfred Jenkins, M.D.
Daren Street, M.D.
Eric Thomas, M.D. 
Obstetrics/Gynecology:
Melissa Dietz, M.D.
Paul Whitham, D.O.
David Cameron, M.D.
Urology:
W. J. Cook, M.D.
Sean Doyle, M.D.
Paul Hagood, M.D.
Melanie Ketchandji, M.D
Dae Kim, M.D., Ph.D.
Marc Milsten, M.D.
Sunshine Murray, M.D.
Curtis Powell, M.D.
James L'Esperance, M.D.
Jonathan Israel, M.D.
Resources