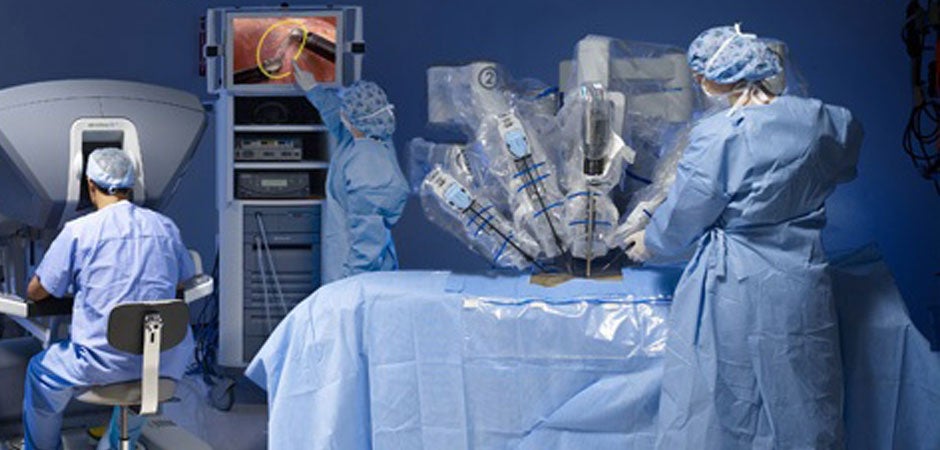 Robotic surgery involves the use of robotic systems and miniaturized surgical instruments to aid physicians in minimally invasive surgeries that could not be performed with conventional methods. Using high-definition imagery, robotic surgery allows physicians greater visibility, flexibility, control and the ability to perform more precise surgical procedures.
Hillcrest Medical Center uses the da Vinci System which is a robotic surgical platform designed to enable complex procedures of all types to be performed through 1 to 2 cm incisions. This system is used for a variety of surgeries including general, urologic, gynecologic and more.
With the da Vinci system, the surgeon's movements are replicated in real time. It cannot be programmed, nor can it make decisions on its own to move in any way or perform any type of surgical maneuver without the surgeon's input.
With robotic surgery, patients may experience the following benefits:
Shorter hospital stays
Minimal scarring
Fewer complications and site infections
Reduced pain
Low blood loss
Quicker return to normal daily activities
Hillcrest performs robotic surgery for a broad range of surgical procedures including:
• General - digestive tract and hernia repairs
• Colorectal - colon and rectum
• Gynecology - female reproductive organs
• Hepato-pancreato-biliary - liver, pancrease, biliary
• Surgical oncology - several forms of cancer
• Thoracic - chest and lungs
• Urology - prostate, kidney and bladder
 
Surgeons performing robotic surgery at Hillcrest Medical Center:
General surgery:
Eugene Dickens, M.D.
Michael Lowe, M.D.
Kevin Dare, D.O.
Weera Chainakul, M.D.
Hepatobiliary:
Jay Bergquist, M.D.
Lung Surgery:
Ajit K. Tharakan, M.D.
Gynecology/Oncology:
Michael Gold, M.D.
Alfred Jenkins, M.D.
Daren Street, M.D.
Eric Thomas, M.D. 
Obstetrics/Gynecology:
Paul Whitham, D.O.
David Cameron, M.D.
Urology:
Paul Hagood, M.D.
Melanie Ketchandji, M.D
Dae Kim, M.D., Ph.D.
Resources