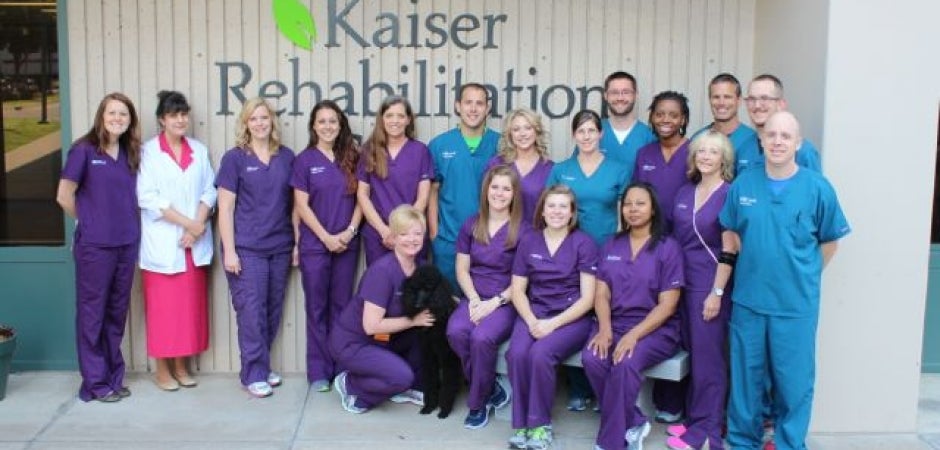 Who We Are 
Kaiser Rehabilitation Center
has served Northeast Oklahoma for more than 40 years and is ranked in the top 10 percent nationally out of 886 programs for the last two years for outstanding rehabilitation program performance and patient outcomes. The highly specialized physical, occupational and speech therapy staff at Kaiser Rehabilitation Center understand the needs of patients with neurological disabilities and provide individualized treatment plans and one-on-one therapy to help individuals regain mobility and independence.
Perri Craven, MD
Medical Director
Sub-specialty board certified in brain injury

Isaiah Wilson, MD
Associate Medical Director
Before You Arrive for Your First Appointment
Please print and complete the following registration documents and bring them with you to your first appointment.
Patient Data Form
Medication Reconciliation Record
What We Do 
Inpatient Rehabilitation:
Amputation
Arthritis/Poly-arthritis
Brain injury
CVA/Stroke
Cardiac & Pulmonary conditions
Neurological disorders
Orthopedic disabilities
Spinal cord injury
Vestibular & balance dysfunctions
Major medical trauma
Outpatient Rehabilitation:
Movement System Disorder
Vestibular Rehabilitation
Neuromuscular Developmental Treatment
Neurological Day Treatment Program
Manual Therapy
Kinesiotape/McConnell taping
Vital Stim for Swallow
Lee Silverman Voice Treatment for Parkinson's Disease
Cognitive Rehabilitation
Driving Stimulation Assessment
Fall prevention/Balance training
Lymphedema Management
Orthotics/Prosthetics training
Custom Orthotic Casting
Wheelchair Seating
Spinal dysfunction
Pelvic Floor Rehabilitation
On-site Physiatry Clinic
Work fit/Hardening
The Stats
Kaiser Rehabilitation received a 2016 Top Performer award in recognition of outstanding rehabilitation program performance, based on 2015 data from Uniform Data System.
The average length of stay at Kaiser Rehabilitation is 11.4 days.
On average, Kaiser Rehabilitation patients return to the community at a higher rate than the national average.
95% of Kaiser Rehabilitation patients rated the overall quality of care as excellent or very good.
94% of patients stated they would recommend Kaiser Rehabilitation to their families and friends.
Kaiser Rehabilitation Center at Hillcrest
Call Kaiser Rehabilitation at 918-579-7100 for access, pre-admission screenings or evaluations. We welcome inquiries on whether a patient would benefit from our services. Please call the admission office to discuss inpatient and outpatient rehabilitation and the admission criteria for Medicare or private insurance patients. Following a pre-admissions evaluation, a report of findings is communicated to referring physicians and case managers in a timely manner.
Outpatient Rehab:
1120 S. Utica
Tulsa, OK 74104
3rd floor (located in the Peggy V. Helmerich Women's Health Center)
Inpatient Rehab:
1125 S. Trenton Ave.
Tulsa, OK 74120
Admissions Office 918-579-7100
Kaiser Rehabilitation Center is DNV certified.