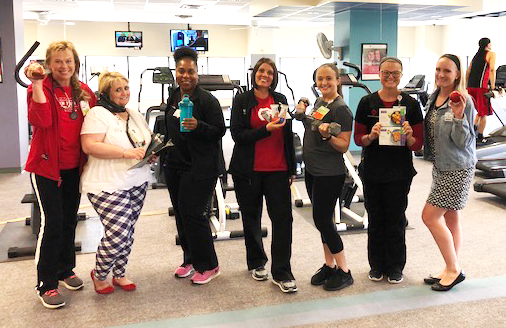 Ladies, this one's for you! Wednesday September 26th is National Women's Health and Fitness Day! This is a great day to focus on your health and feel like the Wonder Women you are! Making your health and fitness a priority can be so empowering! Life can sometimes seem too busy or hectic to put the focus on yourself and what you need, so I've gathered a few tips that can hopefully make things a little bit easier.
·         Eat some superfoods!-  You may not be Superwoman (well not every day), but you can feel super by eating superfoods. We're talking spinach, apples, turnips, berries, avocados, sweet potatoes—-and lots of other good stuff you can find at your local grocery store. These superfoods can help you lose weight, fight colds, boost your heart health, and even live longer!
·         Shake it up at work- Even if you can't escape a busy work schedule to get to a gym, there are lots of ways you can celebrate your health on the job. Take the stairs instead of the elevator, choose a parking spot further away from the door, or get a co-worker out on a walk during your lunch hour. This could even be your chance to start up some healthy habits with your team!
·         Get a checkup- It is recommended by the HHS Office on Women's Health to book an appointment with a doctor or nurse for a wellness checkup and do any preventative screenings that might be eligible for your age. Staying on top of your health and any required tests now can save you a lot of stress, time and money in the future!
·         Eat some chocolate- yes you heard that right, eat chocolate! Not only does chocolate (the dark kind) have all sorts of health benefits, letting yourself savor the foods that give you pleasure is one of the healthiest things a woman can do.
However you choose to celebrate, let this year's National Women's Health and Fitness Day be a reminder that a healthier, happier you is right around the corner! If you're already celebrating your health and wellness on a daily basis, give yourself a big pat on the back!