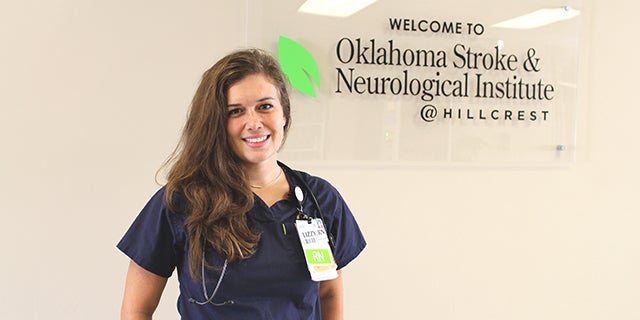 The interactions with those you meet during life-changing events have the power to shape your entire perspective. You remember the tone of their voice, their words and their actions. You remember how they made you feel. In health care, every encounter with every patient matters. It is not only how we deliver medical care, but how we truly care for people – our patients – like Larry Hester.
Life-flighted from Hillcrest Hospital Henryetta to Hillcrest Medical Center's Oklahoma Stroke and Neurological Institute in September, Larry underwent emergency brain surgery to reduce the pressure from a brain bleed. As he recovered in the neurological intensive care unit, the nursing staff (and one in particular) helped positively shape Larry's experience during his life-changing event. Larry's family took a moment to acknowledge the care he received from his nurses – a simple gesture with a compounding effect.
The message from Larry's daughter read, "One nurse in particular that everyone appreciated was Lizzy. She was in the intensive care unit (ICU) and she was just amazing. She took great care of my dad and even checked up on him after he left the ICU. My dad kept trying to adopt her, but my mom wouldn't let him. He loved having her as his nurse. He also had a nurse named Manny, who was really great too. It was a very stressful time for the whole family, but my dad had the best care and we were all very impressed." The message, along with a photo of Hillcrest Medical Center critical care nurse Lizzy Bradford, RN, and Larry was shared on our Facebook page, receiving several kind comments for Lizzy and all nurses who change lives every day.
"It was so affirming to be thanked by Larry's family," shares Lizzy. "It's important for all nurses to know they are making a difference in people's lives. I feel so lucky to be given such a real affirmation of the difference I made in their lives. Nurses often do their jobs without ever being thanked. We measure a job well done by seeing our patients getting better, being comfortable or simply knowing that we have done everything we can to ensure they are well cared for."
To be a nurse to is to make a true commitment to caring for others, no matter the circumstances. From early in her college career, Lizzy knew she wanted to wake up every day and work in the field of nursing. "I started my freshman year at The University of Tulsa with the goal of going to medical school," she adds. "I began to realize my passion was spending time at the bedside with patients. I decided the best way to do that was to become a nurse. It was the best decision of my life so far!"
While finishing the nursing program, Lizzy began working at Hillcrest Medical Center as an extern to gain real-world experience in a hospital environment. She decided it was the perfect fit for her and joined the Hillcrest team full-time following graduation. Within a few years, she was promoted to charge nurse of 7 Tower and then clinical lead for both 7 and 10 Towers. In 2015, Lizzy took on a new challenge in the ICU, where she works with patients and their families during some of the most critical times in their lives.
 "As nurses, we are often faced with incredibly stressful situations," Lizzy explains. "It's a great privilege to care for people during these stressful times. I try to be a calming presence despite the chaos of the ICU environment. I love seeing the difference I can make in patients' (and families') lives in a 12-hour shift."
A patient's thank you note is a thoughtful reminder that every encounter with every patient every day can change lives for the better.