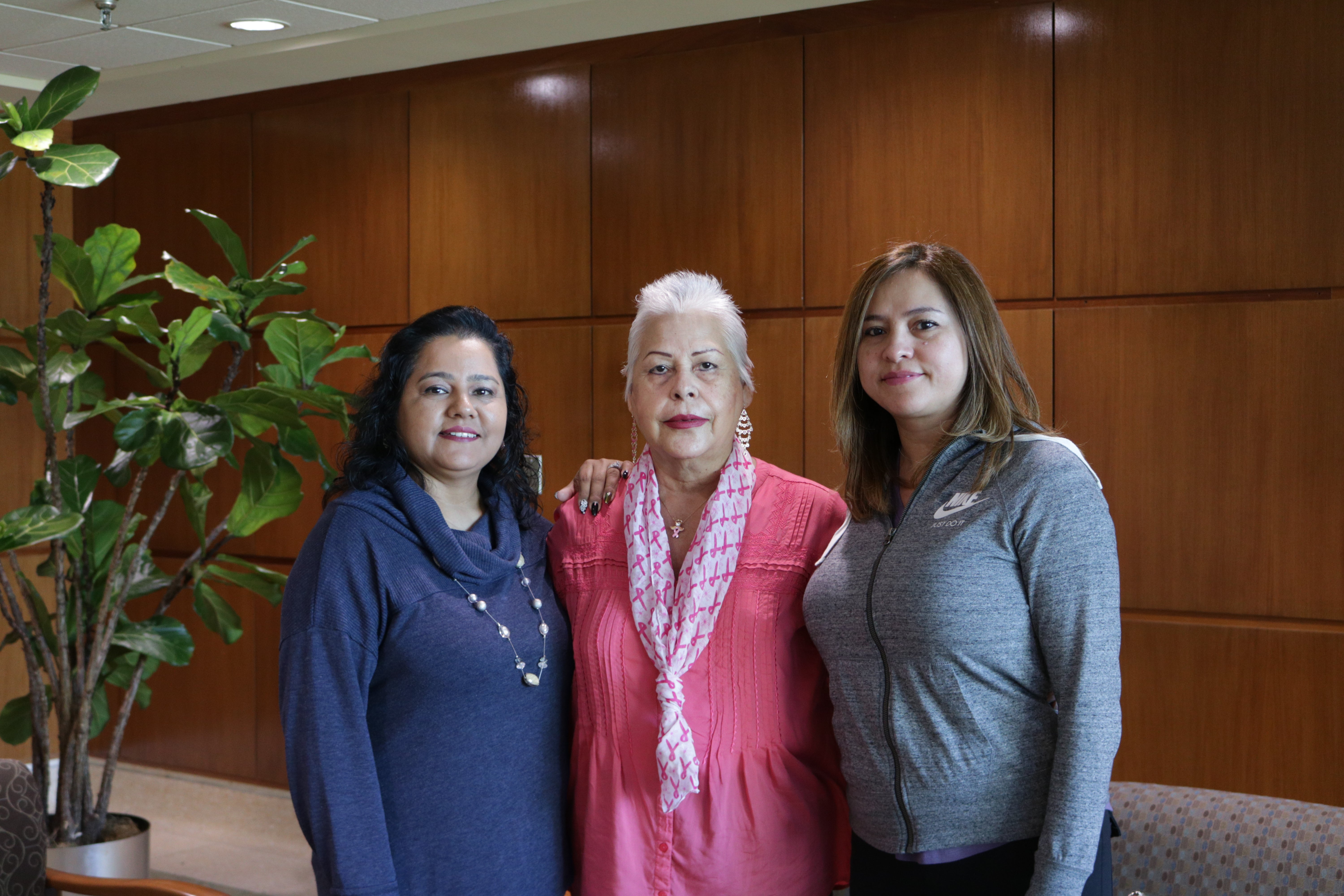 Marisela and Ruby share the same challenging experience of having breast cancer, but they also share the same family and support that got them through very difficult times. Their story spans three generations and begins with Marisela's aunt who passed away from breast cancer many years ago; her cancer had spread too much before it was detected. It was a tragedy that created many new relationships and life-long bonds that would prove to be invaluable in the years to come.
Marisela and her daughter Jessica have always been diligent about getting regular mammograms. But it wasn't until a self-breast exam that Marisela noticed she felt two lumps in her breast. While on vacation, she explained to her family what she had found and the concerns she had. As soon as she returned from vacation, she saw her doctor who confirmed the suspicious lumps and ordered a biopsy. Test results confirmed Marisela did have breast cancer and she began seeing a Utica Park Clinic breast surgeon to develop a plan for treatment.
Marisela's first reaction was to pray to God saying, "I'm in your hands and whatever you decide I will follow." She thought about her kids and family and didn't want to leave them behind. At that moment she understood that, "life was very precious; that it was important to care for all your friends and family" explained Marisela. She began praying for God to heal her; she also felt it was important to pray for all the doctors and nurses who were involved in her care.
Marisela began chemotherapy right away, then had surgery five months later. While undergoing treatment for breast cancer, Marisela encouraged her family members to perform self-breast exams and to get mammograms. When her niece, Ruby, asked her for help, they were surprised to find lumps in Ruby's breast as well. Initially, Ruby was reluctant to go to the doctor because she wasn't sure how much her insurance would cover it, but thankfully decided to go no matter what the cost. After seeing her doctor and receiving a cancer diagnosis, her doctor referred her to the same doctors at Hillcrest who were treating Marisela. Ruby credits Marisela for helping her find the lumps and encouraging her to go see a doctor. "The doctor said it was a hard place to find lumps and we did a good job," explained Ruby.
The day Ruby found out she had cancer, she took it well, but the next day she began to realize she had two teenagers who still needed her. She was very emotional and couldn't understand why it was happening to her. Although this was a difficult experience for everyone, Ruby's husband and kids were a good source of strength and support for Ruby. "It was through the support of everyone around me, especially my aunt because she has gone through this with me," Ruby notes, that she was able to get through it. "My aunt Marisela said, 'you don't know how much you love things in life until they give you that diagnosis, then you see life differently.'" Ruby wants to spend more time with family now and not focus on the little things that don't matter anymore.
In the midst of all the care and concern for Marisela and Ruby was Jessica, Marisela's daughter and Ruby's cousin. Jessica has always been the strong one; the one who couldn't get down. She is now able to cry a little as she tells her story saying, "I was always the one holding mom's hand, holding her up and pushing her along. I wanted her to see somebody that was strong." Jessica is able to breathe a little now that her mom is free of cancer.
The Sanchez family has found strength and courage through their three generations of breast cancer. They recently had a family reunion following Marisela's treatment and were excited to watch her ring the bell at Utica Park Clinic to signal she was cancer free. Ruby will soon get to ring the bell as well. One Utica Park Clinic breast surgeon cared for both Marisela and Ruby and has noticed their strong family ties saying, "I still see them in clinic on occasion and it's great to see the support they have for each other at their appointments."
When asked what they would pass on to others about their experience, all three ladies had different perspectives. Jessica's advice of strength is, "Don't automatically assume you are going to die. Technology has advanced so much and Marisela and Ruby are proof there is a light at the end of the tunnel. Just keep believing." Ruby expressed gratitude explaining, "embrace your friends and family every day (no matter what mood they're in) and don't be afraid to get breast exams." Marisela's words of faith and optimism have continued to be an inspiration to her entire family: "Stay optimistic and fight against this sickness; pray a lot with God and put it in his hands."
Utica Park Clinic breast care welcomes new patients and accepts most insurance plans. That office is located on the campus of Hillcrest Medical Center at:
     Utica Park Clinic
     1245 S. Utica Ave., Suite 103
     Tulsa, OK 74104
For more information or to schedule an appointment, call 918-579-3840 between 8 a.m. and 5 p.m., Monday through Friday.