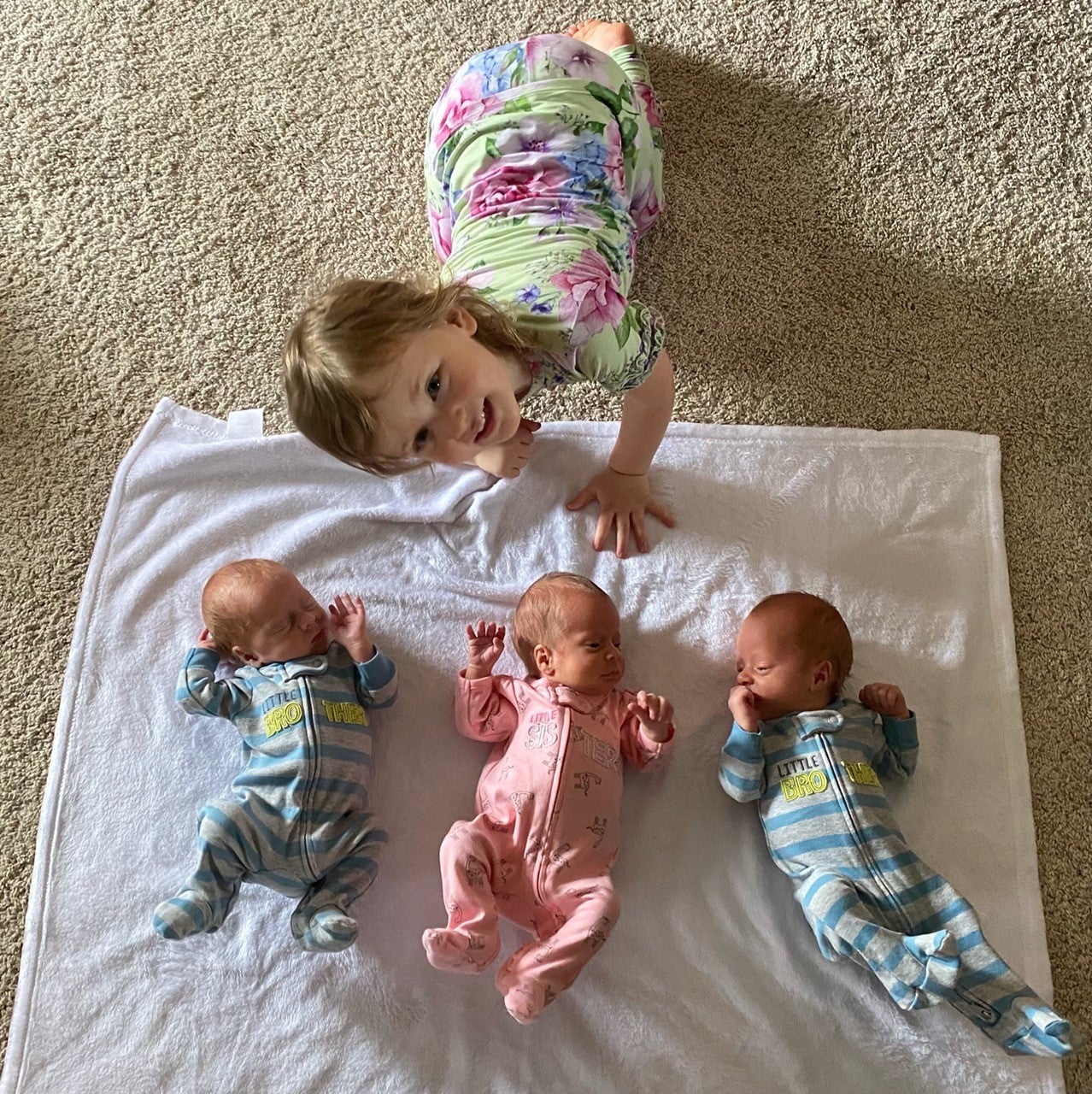 Kara Walsh and her husband, Hayden, have been through a remarkable journey over the past several months. Now the couple can enjoy their recently expanded family of six.
On April 28, Walsh delivered a natural set of triplets via c-section at Hillcrest Medical Center (HMC). Naturally conceived triplets occur in about one and every 10,000 pregnancies. Two of those babies, boys named Colson and Remington, were diagnosed with twin-to-twin transfusion syndrome. TTTS is a pregnancy condition that affects approximately 5-15% of identical twin pregnancies each year and can be lethal if left untreated.
"It's been challenging," Walsh said. "I still have moments that will trigger that emotion. Overall, I'm just thankful everything is OK now."
The Walshes' pregnancy story actually began a couple of years ago. About 10 days after the birth of their first child, Jada, Walsh was diagnosed with a blood clot, which took about four to five months to clear up.
The couple later decided they wanted to add to their family. In October 2020, Walsh learned she was about six weeks into a pregnancy during a visit to the Peggy V. Helmerich Women's Health Center at HMC. An ultrasound revealed two sacs.
Walsh immediately began to wonder about the viability of carrying twins when she was hit with an additional surprise.
"The lady told me she was seeing three heartbeats," Walsh recalled. "I said, 'Three?' She said, 'Yes, ma'am.' I was like OK. I was kind of in shock."
Walsh went home to tell her husband.
"He said, 'What are we going to do?,'" Walsh said. "I said, 'We're going to love them. God gave them to us. That's what we're going to do.'"
Three days after Christmas and 17 weeks into the pregnancy, the Walshes were in for another unexpected twist.
During a visit with OB/Gyn Paul Whitham, D.O., from Utica Park Clinic at HMC, Walsh had an anatomy scan to get an update on the babies' organs and make sure everything was functioning.
"He said, 'I think we're seeing a little bit of twin-to-twin transfusion,'" Walsh said. "My stomach sank. I had been told this is one of the risks (of having multiples)."
TTTS is a rare condition affecting identical twins or multiples. TTTS occurs in pregnancies when twins share once placenta and a series of blood vessels that supply oxygen and essential nutrients for development in the womb.
"When you have that, you have to ablate part of the vessels so each baby has the same amount of nourishment, same amount of blood flow," Whitham said. "Otherwise, one twin steals the blood and oxygen from the other. One can grow much larger and the other doesn't and sometimes dies."
Walsh said, "We knew it was a risk. We just never thought it was going to happen to us."
TTTS occurs in five stages. At the time of Walshes' appointment, she was in Stage 3, where the imbalance of blood flow starts to impact the heart function in one or both babies.
The diagnosis also meant the Walshes had little time to waste before the condition worsened. Less than 48 hours later, the couple arrived in Children's Mercy Hospital in Kansas City to have a fetoscopic laser ablation performed.
The procedure was a success as both Colson and Remington, as well as the third member and lone girl of the triplets, Collins, remained healthy babies for the remainder of the pregnancy.
"The doctors have been impressed with how well I was doing," said Walsh, who delivered her triplets in her 34th week.
While the Walshes' story is extremely rare, Whitham said the Peggy V. Helmerich Women's Health Center and staff make Hillcrest uniquely qualified to handle a wide variety of gestation cases.
"The team we have at Hillcrest, between the doctors, nursing staff and the NICU, the care we're able to give and get exceptional outcomes, we really do something exceptional here," Whitham said.