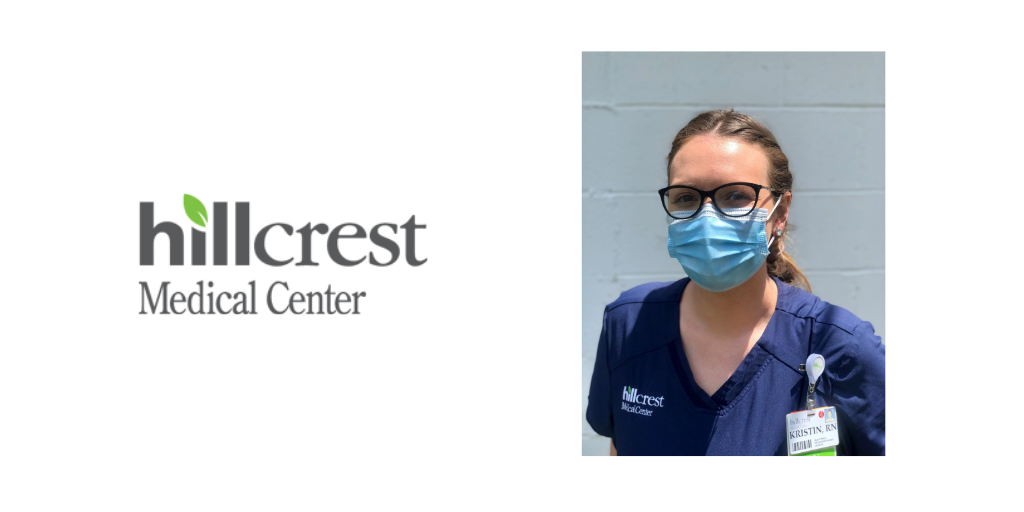 When the coronavirus began spreading, hospitals across the country assembled designated COVID-19 teams and units to care for patients. Caregivers with diverse medical backgrounds were brought together for one common purpose: to provide care, comfort and support. At Hillcrest Medical Center in Tulsa, Kristin Canady, RN, has been one such nurse joining the front lines of defense in this lingering pandemic.
"In the beginning, it was pretty difficult," said Canady. "People who were very sick were coming in with this illness that still had very little known about it, but every day, as a medical family and team, we've bonded through our struggles and continue to learn more, which makes me proud of the care we provide for our patients."
Having been part of Hillcrest Medical Center's COVID-19 unit since March, Canady admits that the patients have become family, too.
"It's so hard," said Canady. "Due to the virus and being on a closed unit, our patients are disconnected from the outside world. We really try to be there for them, whether that means watching TV with them, coloring or providing them with an iPad to chat with family. We value our patients and do everything we can to get to know them as people."
While all patients are important to Canady, one patient in particular made a significant impact.
"There was a patient who arrived very sick on palliative care and unfortunately did not have long to live," said Canady. "This patient had a huge family, and the week our iPads arrived, I went into this patient's room and was able to connect many of their family members on FaceTime to say their final goodbyes. I sat in the room and said a prayer with the patient. While that was a really hard moment for me, it felt good to be there for that family."
Unlike any other hospital experience, Canady admits that being on the COVID-19 unit has enhanced her caregiving skills.
"Before becoming a nurse, I always knew I wanted to go into health care," said Canady. "I started my career nearly three years ago caring for cardiology patients and eventually transitioned to become a float nurse, which has allowed me to experience different floors of the hospital. Taking care of patients with COVID-19 has given me more compassion, a better outlook on life and has made me a better nurse."
While every day brings new challenges, one thing Canady knows she can count on is her team.
"We've really bonded, and knowing that we're all in this together and that I'm working with a good team gets me excited for the day," said Canady. "From the moment I interviewed at Hillcrest, I felt that the staff and people at this hospital were welcoming, nice and friendly. The day I interviewed and was offered my job, I accepted right away and haven't looked back."
No matter what lies ahead, Canady continues to keep her spirits up and lives for moments of celebration.
"While being on the COVID-19 unit can be a sad environment, when you've had patients that have been in your care for a long time that finally get a negative test result for the virus, which means they get to go home, that's just awesome," said Canady. "It truly is a wonderful thing to see and makes being a nurse very rewarding."
We're hiring! Join our team, where your work is valued and has purpose. For more information on current openings, visit jobs.ardenthealth.com/hillcrest-medical-center.