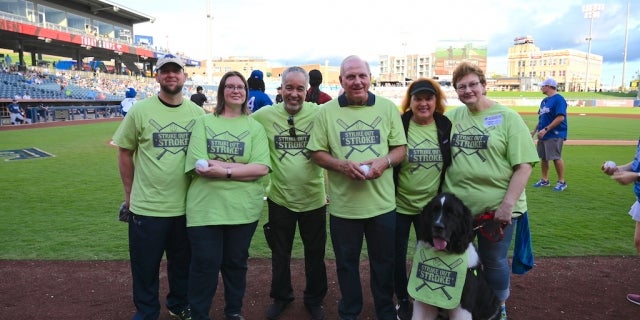 Oklahoma Man Receives Exceptional Care at Hillcrest
by

admin
It was over five years ago when Bob Wall experienced his first stroke. He and his wife, Lisa, were shopping in San Diego when she noticed he was mumbling and his face was drooping.
"He could barely lift his left arm," Lisa said.
She was confident he was having a stroke. After a store employee quickly called an ambulance, Bob was rushed to the hospital, and just 24 hours later, he was discharged. With no history of stroke or heart problems, Bob and Lisa left with no answer as to what had caused the stroke.
Only two days later, Bob suffered a second stroke and was once again discharged from the hospital with no explanation. He would experience his third and fourth strokes only 24 hours apart a year and a half later in Wilmington, North Carolina. Still, Bob and Lisa had not received a true cause for his symptoms, despite multiple hospital visits.
The couple moved to Tulsa to be with family two and a half years later, only for Bob to suffer his fifth stroke on an early morning drive back from a camping trip. Although Lisa was unfamiliar with her new surroundings, she luckily spotted Hillcrest South from the highway and Bob was admitted for treatment within the hour. After the stroke team at Hillcrest South performed an examination, Bob was transferred to Hillcrest Medical Center where he met Andre Fredieu, M.D., medical director of Oklahoma Stroke & Neurological Institute.
"In the process of working Mr. Wall up, he was noted to have a greater than 90 percent narrowing of his carotid artery," Fredieu said. Shortly after his meeting with Fredieu, Bob's symptoms returned.
Because of the high degree of blockage and the symptoms Bob was experiencing, Fredieu stented his carotid artery much sooner than planned. Bob spent only one day in the ICU before being sent home. Since then, Fredieu has seen Bob in his clinic multiple times and said he is doing incredibly well.
"I haven't ever met a physician that has been as attentive, as thorough, and as understanding as Fredieu," Bob said. "He has taken a real personal interest in my health. Most physicians allow 15 minutes for you to have a medical appointment, but I've never had a 15 minute appointment with Dr. Fredieu."
He added that even though he moved to Oklahoma to be closer to family, he feels like the real reason he was meant to end up in Oklahoma was to meet Fredieu.
After suffering multiple strokes, Bob struggles with a lack of taste and short-term memory loss; however, despite the health obstacles he has faced, he continues to be an active and enthusiastic public speaker and traveler.
If you are experiencing sudden signs of a stroke, call 911 and ask for certified stroke care at Hillcrest.