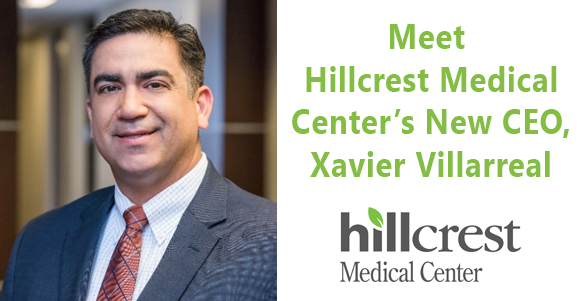 From Volunteer to CEO
Xavier Villarreal's interest in health care began during a summer break in college when he had the opportunity to volunteer at a hospital. There, he was allowed to see every department that contributes to patient care.
That's when Villarreal "fell in love" with working in a hospital, leading him to pursue a degree in health care administration before eventually becoming chief executive officer of Hillcrest Medical Center in April 2019.
His ties with Hillcrest Medical Center began long before being named CEO.
While attending Trinity University in San Antonio, Texas, Villarreal completed an administration residency at Hillcrest Medical Center due to an established relationship between Trinity University and Hillcrest HealthCare System. He since spent the last 22 years working in the health care industry. Most recently, Villarreal served as the CEO of Medical City North Hills in North Richland Hills, Texas.
"I spent the first eight years of my career with Hillcrest HealthCare System, but eventually worked my way back to Texas," Villarreal said. "When this opportunity came up, I knew the market, I knew the hospital, and I was very excited about getting back to Oklahoma and to Hillcrest."
Over the last few years, he has been on the patient side in hospitals, giving him a new perspective on prioritizing patient care.
"This re-emphasized to me the importance of what we do every day, to connect with our patients and with the community, and really connect with our staff," Villarreal said.
He was eager to return to Hillcrest Medical Center and step into the role, because he said the breadth of services provided at Hillcrest Medical Center sets it apart in the Tulsa area.
"It's really exciting to see the level of services we are providing around cardiac care and stroke care," Villarreal said. "We really are providing a full comprehensive service to northeast Oklahoma and I've enjoyed seeing the impact staff is making at the bedside."
Returning to the Tulsa area after leaving in 2000, Villarreal said that a lot has changed, which is a reflection of growth and progress. He enjoyed bringing his children to the Gathering Place.
"It's been amazing to see the positive changes that have happened to this city," Villarreal said. "They've done some really great things to boost the community here. I think it's a great place to raise a family and, with the changes they've made, they've reinforced that."