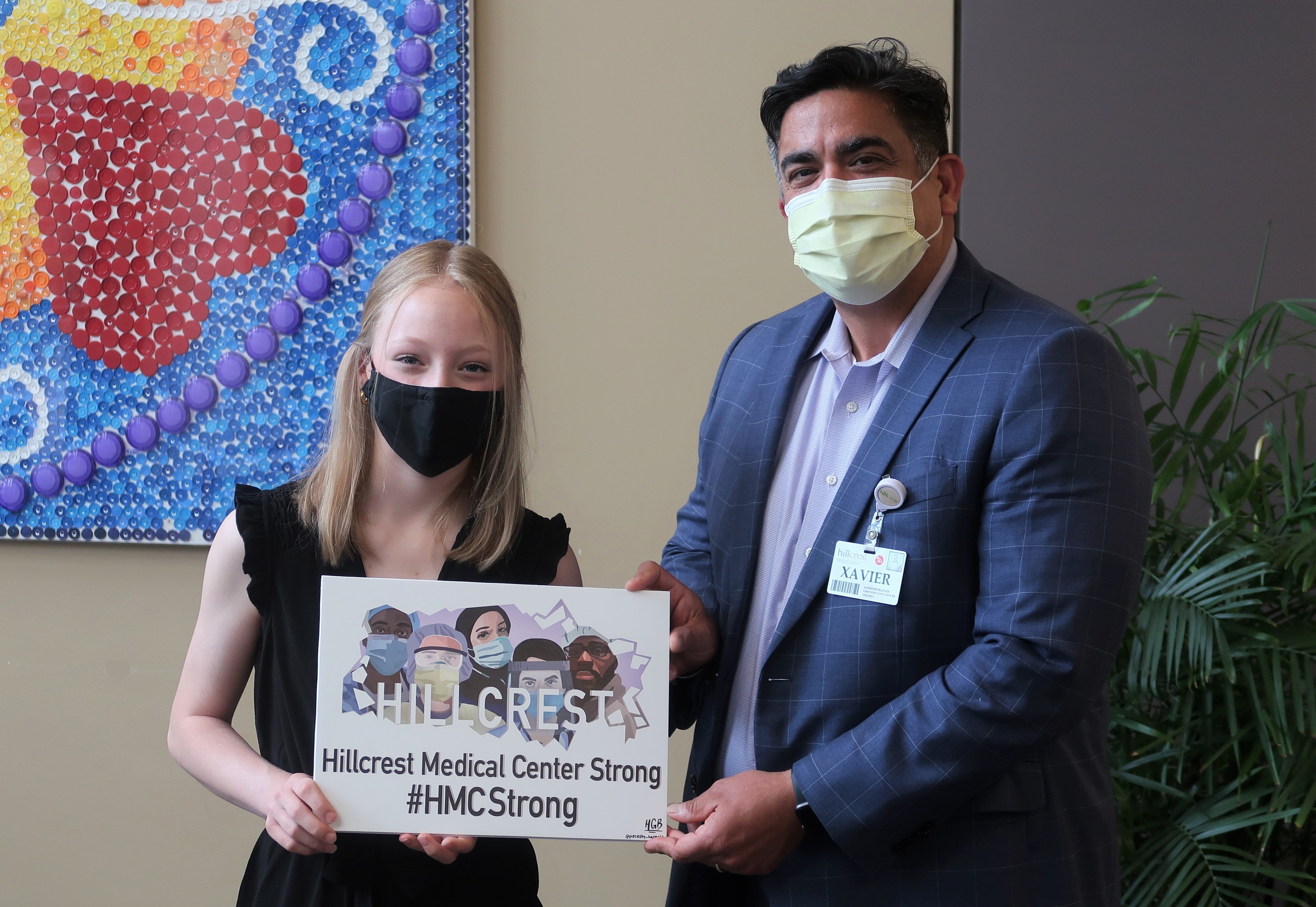 Hannah Brown has an appreciation for what she's witnessed throughout the pandemic, a perspective the high schooler and budding artist reflected in her mural that will be on display for all of Tulsa to see.
Brown, a 15 year old who attends Jenks Freshman Academy, won a community-wide art contest by Hillcrest Medical Center and her work debuted at the hospital during National Hospital Week.
"I think it's really cool because so many people are going to see it," said Brown, who also received a monetary prize for the contest. "I've never had so many people see my art. I don't think it's really hit me yet."
Brown learned of the contest through one of her art teachers at Jenks. Her submission, which Brown said took her about two to three weeks to complete, features five individuals who are looking through a barrier along with 'Hillcrest' emblazoned in the middle, just above Hillcrest Medical Center Strong and #HMCStrong at the bottom.
Brown said she began looking at a variety of images as inspiration for her artwork and ultimately wanted her submission to reflect how the pandemic has brought people together for a common goal.
"I wanted to make sure I included all kinds of backgrounds and the priority on safety during the pandemic with the masks," Brown said.
Brown said she wanted to use the image of breaking down a wall in the picture. The wall represented the craziness of the pandemic.
"The health care workers and city worked together to break through and tear it down," Brown said. "I wanted something that would stand out. That's why I did that breaking through the wall."
Hillcrest Medical Center CEO Xavier Villarreal said Brown's submission was one of many from talented artists around the Tulsa area. Villarreal was both impressed and appreciative for the response from around Green Country.
"We asked the community to submit artwork to honor and thank our health care team after an unforgettable year," Villarreal said. "We received exceptional submissions; one of them being Hannah Brown's. Hers stood out to our team because of the diversity and great talent shown in its design. I'm excited to showcase her artwork on our building and am appreciative she took the time to say, 'Thank you' in her own special way."
See the art for yourself at the southwest corner of 11th and Utica in Tulsa.
See more about Brown and her winning display in this FOX23 interview.