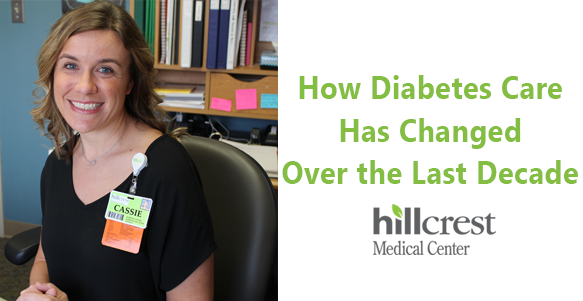 Ten years ago, Cassie Stanzak stepped into the Center for Diabetes Management at Hillcrest Medical Center as a part-time registered dietitian. Stanzak shares that she grew up there, when thinking about her journey through educating in the diabetes center. She later became a certified diabetes educator then a full-time dietitian.
"I knew that I always wanted to educate patients in nutrition, and as everyone knows, diabetes is an epidemic – especially here in Oklahoma," Stanzak said.
Three years ago, Stanzak became the supervisor of the Center for Diabetes Management. In 10 years, the department has grown and so has the advancement of technology and medications.
The Center for Diabetes Management has a team of four certified diabetes educators, which includes two registered nurses, two registered dietitians and an additional RD educator.
"Staying up-to-date with diabetes and all of the new devices and medications and how to educate our patients is primarily what I focus on now," Stanzak said.
The biggest change Stanzak has seen in the last 10 years is in how diabetes is managed.
"The diet and nutrition haven't changed too much, but how we take care of diabetes, as far as medication and tracking goes, has changed," she said.   
The American Diabetes Association estimates that 19,000 people in Oklahoma are diagnosed with diabetes every year, and approximately 451,888 people in Oklahoma, or 4.3 percent­ of the adult population, have diabetes. Of those, an estimated 100,000 have diabetes, but don't know it.
"We see that with so many people living with diabetes, many of them need support, motivation or further education," Stanzak said. "This can make a world of difference in some patients' blood sugars. There are so many people out there who don't even know that they have diabetes, especially here in Oklahoma, so if we can use Defeat Diabetes Month to mention or highlight diabetes, it might make someone think 'Maybe today is the day I start doing this' or 'Maybe there is someone I can ask about this.'"
To learn more about managing diabetes or the Center for Diabetes Management at Hillcrest Medical Center, please call 918-579-3385.