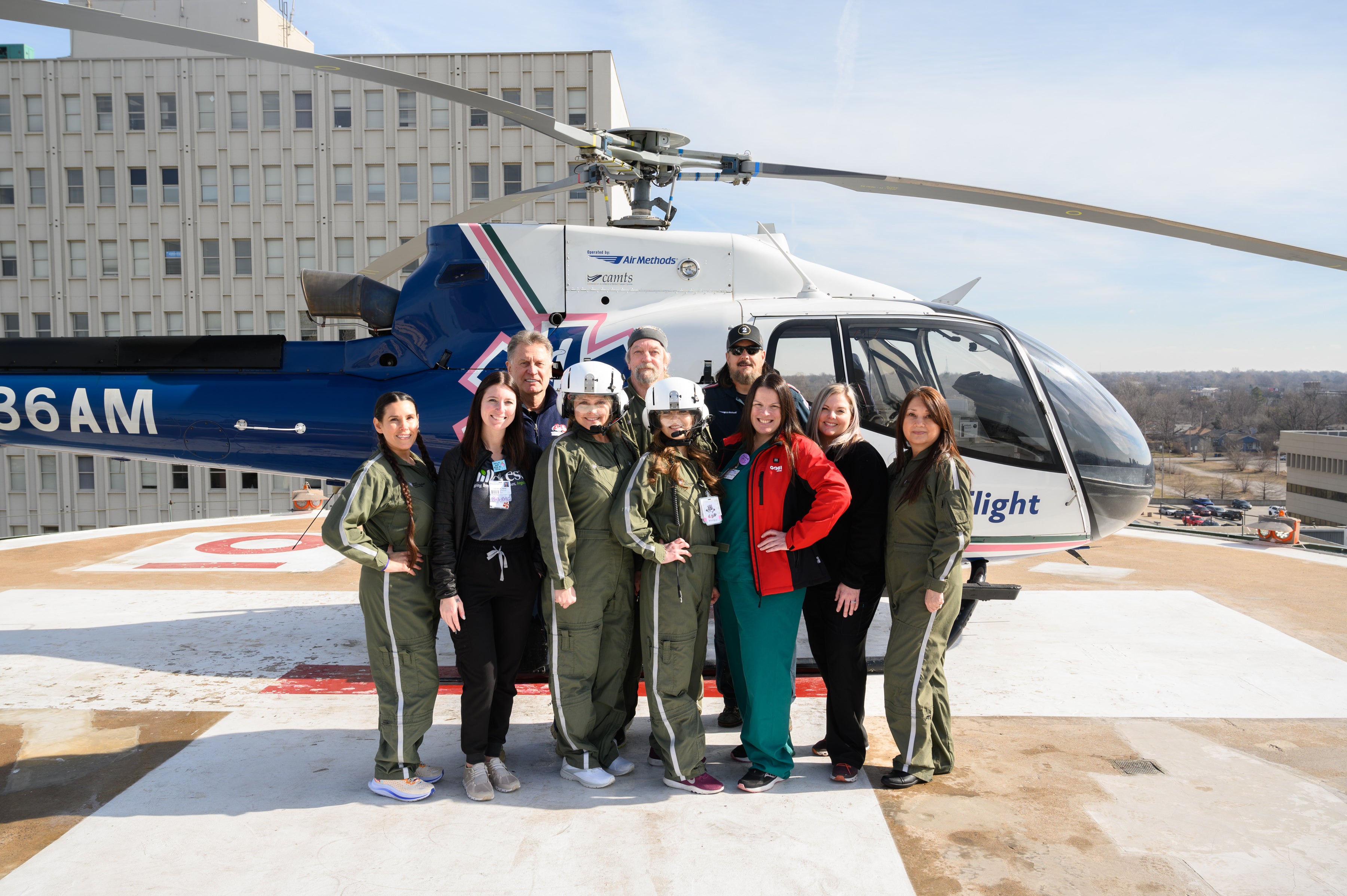 Hillcrest Medical Center is now one of just three Oklahoma hospitals that can receive infant patients who need critical care in the neonatal intensive care unit (NICU) by helicopter. The program, in partnership with Tulsa Life Flight, launched on Dec. 27, 2022. The first NICU patient was brought to the hospital by helicopter on Dec. 30, 2022.  
When they receive a call, a flight nurse and a respiratory therapist grab about 300 pounds of gear and load everything into the waiting helicopter. They fly to their patient's location and bring the baby back to the Hillcrest NICU.  
"That nurse and that respiratory therapist have to be very, very strong in their skillset to go out and be the only two people providing the hands-on care," said Grace Switzer, assistant director of nursing over NICU and labor and delivery. "Not everybody can transport. It's a higher level of specialty care nursing." 
Alexandria Richards, NICU clinical lead, was part of the first flight on Dec. 30. She said she was proud to make hospital history.  
"It was so exciting. Knowing that I could get to the baby faster in the air was so impactful," said Alexandria. 
Hillcrest Medical Center's NICU is well-equipped to treat babies who need up to level III NICU care, but in the past, many of those patients were taken to other facilities because Hillcrest Medical Center lacked access to helicopter transport. Now, those patients can come to Hillcrest and free up beds at other facilities, who can treat regional patients. Switzer said this new program is an asset to the state. 
"The state of Oklahoma continues to grow, but there are only so many NICUs to be had," said Switzer. "We want to be helpful to our state by being able to pick up any patients that we can. We're all just trying to work together." 
Jimmy Richards is the pilot for these transport flights, in control of the EC130 helicopter. He was in the military for 35 years before becoming a pilot for Tulsa Life Flight. 
"I'm the pilot up front, just a single pilot," said Jimmy. "It's rewarding for me personally, to give back to the community. We save lives. It's special." 
Alexandria Richards is Jimmy's daughter-in-law. Alexandria was the flight nurse on board the helicopter to pick up the first patient, and she was surprised to find her father-in-law in the pilot's seat. 
"Personally knowing the pilot who's in that seat, who's taking care of not only me, but the baby and my coworker, is so important," said Alexandria. "Having a family member there is rewarding and reassuring. The patient's family is trusting us, and I need to be able to trust the pilot to get us there safely." 
"It was special to be able to have someone I know personally on the flight," said Jimmy. "This is the first time I've watched her in action, and it was pretty special to see her skill set compared to mine. It was a special occasion." 
Switzer said the first flight was a huge accomplishment for the entire team, and the program is the result of years of hard work from the NICU staff. 
"I started here 12 years ago, and it was a dream back then," said Switzer. "It's really rewarding to know that we're able to do it, we've done it, and we can do it well." 
Click here to learn more about Hillcrest Medical Center's women's services including the NICU.