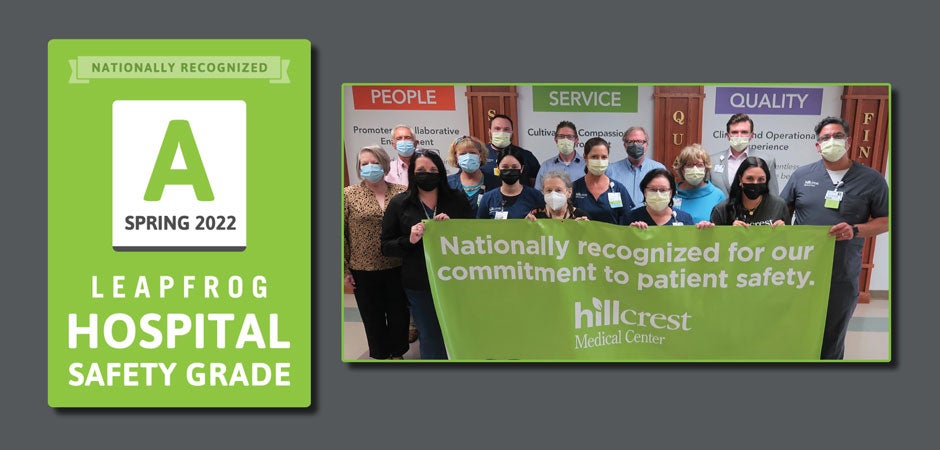 Hillcrest Medical Center (HMC) has once again been recognized by the nation's most prestigious honor for patient safety with an "A" spring 2022 Leapfrog Hospital Safety Grade. The grade acknowledges HMC's full commitment to providing the safest care to patients and protecting them from harm, solidifying the hospital as a strong leader in the Tulsa community.
"It is an honor to receive an A letter grade for the second time in a row," said HMC CEO Xavier Villarreal. "Every employee at Hillcrest Medical Center continues to work hard to ensure that our patients are safe and receiving the best care possible. To be recognized as a top performer in patient safety is a true privilege."
Guy Sneed, D.O., chief medical officer for Hillcrest HealthCare System, echoed Villarreal's sentiments.
"It has been an honor to work with such a strong team dedicated to the continuous drive to improve patient safety," Sneed said. "In the past four years, the Hillcrest Medical Center team has done tremendous work in standing up the patient safety infrastructure and processes needed to be awarded the highest Leapfrog Hospital Safety Grade for the second time in a row. It is great to see their hard work being recognized by the top patient safety organization in the U.S., and we are excited to share this news with the communities we serve."
Congratulations to the entire HMC staff on this achievement.
We're growing our team committed to providing the safest care for our patients, their families and one another. Here, you will build a rewarding career and make a difference in the lives of others. We are now hiring RNs, respiratory therapists, patient care techs and more. As a valued team member, you can be confident that you will work alongside a team dedicated to quality healthcare to serve our community. Learn more: jobs.ardenthealth.com/hillcrest-medical-center.