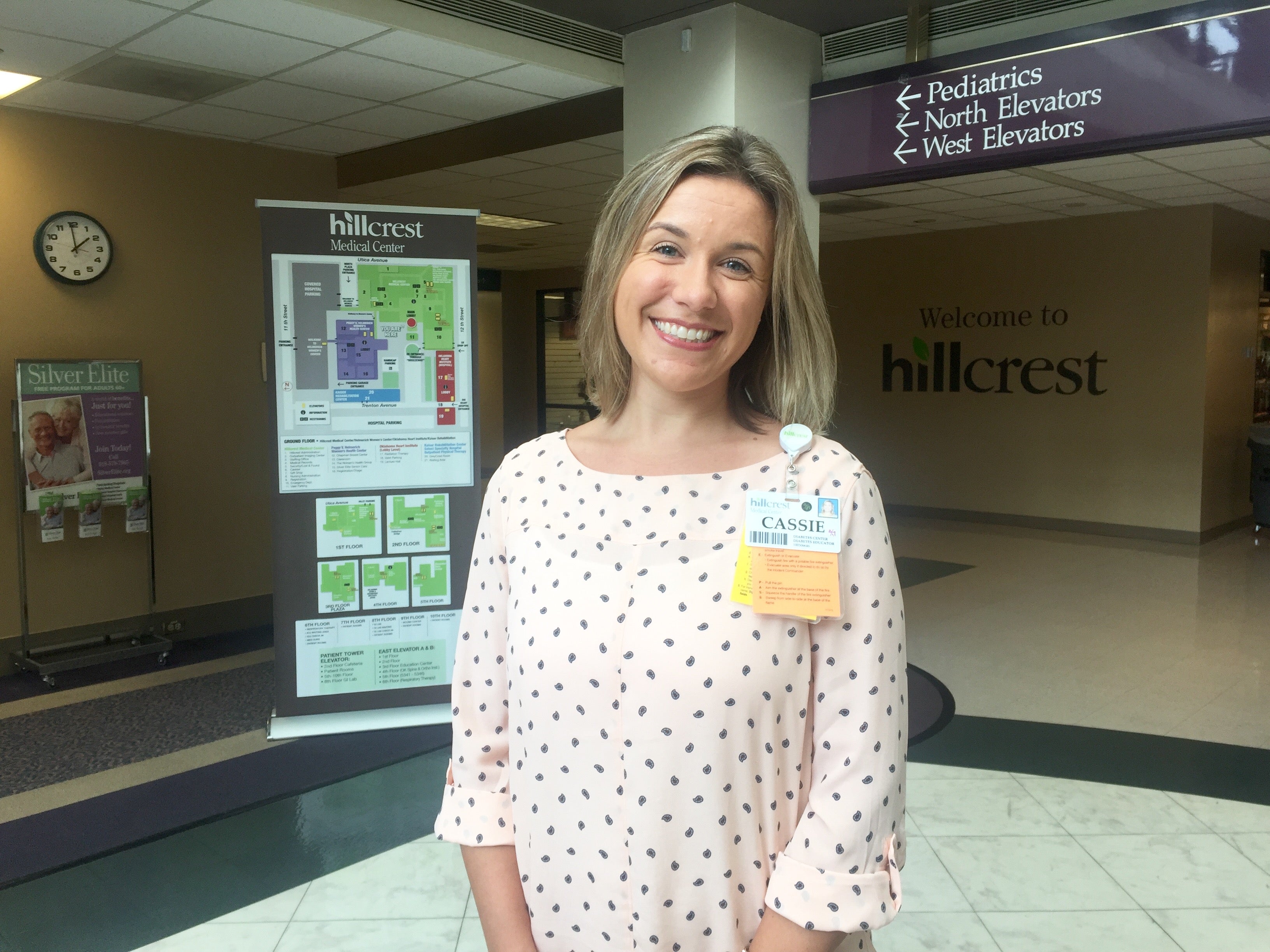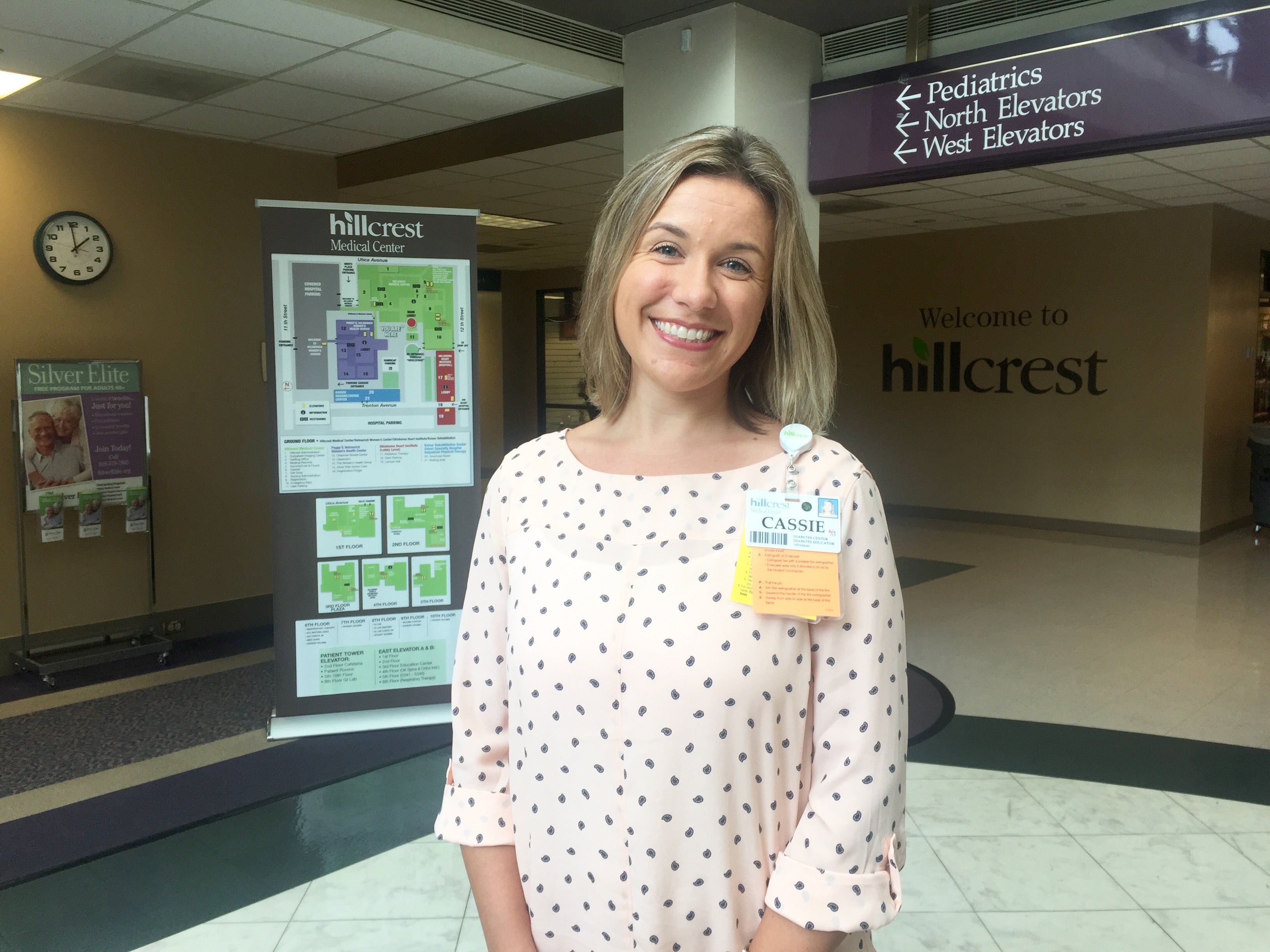 The Center for Diabetes Management at Hillcrest Supervisor Cassie Stanzak, RD/LD, CDE, gives an inside look into building her career at Hillcrest.
I have been at Hillcrest eight years. When I started working here, I knew I wanted to do an outpatient education role, but I never thought I would grow in my profession as much as I have here at Hillcrest.  I love to watch people learn – especially when they are motivated. I started in a role that was part-time in the fitness center and part-time in The Center for Diabetes Management as a registered dietitian. Through the years, I became a certified diabetes educator and then moved into a full-time dietitian role in the diabetes center. Here it is, eight years after day one at Hillcrest and I took another step in my career to be the Diabetes Management supervisor.
I have educated patients on diabetes self management, weight loss, cardiac rehab – whatever the referral was in relation to nutrition needs. I meet with patients, provide them education, help them set goals and create plans. I enjoy what I do, because I know diet and exercise have a huge effect on so many health issues and everyday living. Helping patients realize the small changes they can make to see big differences is really a motivator for me – whether that is understanding the difference between fruits and vegetables or how to correctly calculate their insulin needs based on their carbohydrate intake. When you can almost see that imaginary light bulb come on above the patient's head, I know I have helped that patient take a step toward a healthier life.
I was a competitive gymnast growing up. Being healthy was a big part of my performance and success. Unfortunately, toward the end of my gymnastics years I struggled with unhealthy eating habits that led to decreased performance and ultimately ended my career. After realizing the impact that diet had on my life, I knew what I wanted to do. I wanted to educate and promote effective nutrition education and healthy eating habits that would assist anyone and everyone in practicing lifelong health and optimal well being. Habits are really difficult to change. I have been there. I understand that it has to be the right time with the right support, motivation and education to reach your goals.
I have had great supervisors here – Chris Bousum from Hillcrest Exercise & Lifestyle Programs who recently retired. He was a great role model. In the diabetes center, I started with Betsy Manis, who has also retired. They both were with Hillcrest for several years. You know it's a great place to work when people are here long-term. Betsy always told me in the diabetes center we grow CDEs – certified diabetes educators. At the time I started working here, I was not a CDE, but with the help and support from Hillcrest, I am now. As the supervisor today, I have a dietitian who is about to take her exam to also become a CDE. Having role models who want you to be a better person in your career and life has really helped me become who I am today. Having support when you're taking on new opportunities, like my director Nat Torkelson, MS, RN, gives you extra motivation saying "I can do this."
I think we all have our things we're really good at, but we're all different. You take something from everyone. If they're all good leaders and role models then everyone after them becomes a great leader as well.
I want my staff to come to work every day enjoying being here and helping each other be the best that they can be, while also doing everything we can to help our patients. I want others to know that Hillcrest is a great learning facility and if whether you are ready for it or not, it is a place where you can grow your career and do things you never thought were in your future. At Hillcrest you will meet great people who want this to be a great place for employees and patients.
To learn more about opportunities to work at Hillcrest, please click here.