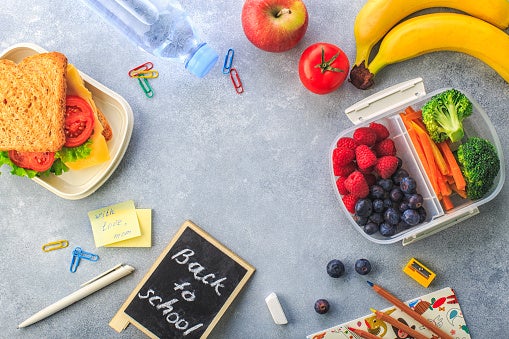 The back-to-school season can be crazy busy. Hillcrest Medical Center dietitian Andrea Shotton gives tips for families to have healthy meals, even on a budget.
Stir fry
Time-saving tip, many grocery store chains now have pre-cut, fresh stir-fry veggies with the sauce pouches (and occasionally noodles) in the produce section. In a large wok or sauté pan, heat 1 to 2 tablespoons of avocado oil over medium-high heat. Add pre-cut raw chicken breast tenderloins and cook serval minutes until browned. Then stir in a bag of chopped vegetables and continue to cook for about five minutes until the veggies are slightly softened. Add the sauce pouch and stir.
To make it a meatless meal, omit the chicken and add a can of rinsed garbanzo beans (chickpeas) or a bag of precooked edamame (you can find them in the freezer section). Stir and combine with the pre-cut veggies and sauce pouches until heated. Serve with ½ cup brown rice.
Money-saving tip: Choose whole, in-season vegetables and slice them at home on the weekend. Frozen vegetable blends are also a low-cost time saver.
One-pot dinners
Nothing says time-saving dinner better than making it all-in-one-pot. Often the crock-pot is a go-to; but a 3-quart sauce pot on the stove works just as well with a traditional healthy twist on an Oklahoma comfort food like goulash.
Goulosh recipe
Brown 1-pound lean ground turkey
1/2 cup chopped/diced onion
2 tablespoons minced garlic in sauce pot over medium heat until no longer pink
Stir-in:
1 can (14.5 ounces) diced tomato
1 can (8 ounces) tomato sauce
1-1/4 cup hot water
1 bag (10 ounces) frozen mixed veggies
6-ounce dry medium pasta shells (whole wheat uncooked)
Bring to boil and make sure all pasta is under fluid or add more water. Reduce heat; cover and simmer 15 minutes or until pasta is tender. Sprinkle with shredded part-skim mozzarella cheese.
Time-saving tip: Purchase pre-diced onions and minced garlic in the produce section of the grocery store.
Frozen foods
Albeit you can save money on many foods by making them at home instead of buying them pre-made; sometimes the frozen convenience is worth the extra price tag. However, monitor the food labels and limit foods with saturated fat or trans fats that can increase the risk of heart disease. Also limit added sugars and purchase frozen veggies without added sauces or salt. Consider choosing a frozen fish such as parmesan encrusted tilapia and bake it in the oven. Microwave a frozen steamable bag of broccoli and serve with a quinoa/brown rice microwaveable boxed side dish.
Appetizer turned entrée
Dietitian and Food Network star, Ellie Krieger, has multiple cookbooks including one specifically for easy meals during the week. A particular favorite is her chicken-mushroom quesadillas that are chock full of vegetables and protein allowing it to be meal by itself. https://www.foodnetwork.com/recipes/ellie-krieger/easychicken-mushroom-q....
Consider exchanging the white button mushrooms for pre-sliced shiitake mushrooms and use whatever tortillas you may have at home (corn, white or whole wheat).
Tip: Doubling the batch allows for lots of leftovers that teenagers and adults both enjoy in their to-go-lunches the next day.
Eating out
It is inevitable to occasionally find yourself eating out. Follow a few heart-healthy tips:
• Use a free phone app that provides nutrition facts
Calorie Counter by Fat Secret is a favorite that includes many Oklahoma restaurants including our favorite gas stations.
• Order ahead of time on your phone when you have down time to avoid spontaneous purchases
• Split an entrée – saves money and calories
• Ask for a smaller portion
• Eat a healthy snack such as yogurt or nuts before you go to the restaurant to ensure that you are not too hungry when you get there, and you will be less likely to overeat.
• Order an appetizer instead of an entrée
• Choose water
• Avoid fries and ask for a side salad/soup or cup of fruit
• Order dressings and sauces on the side
• Choose grilled or broiled meats, fish and shellfish instead of fried
Recipe sites examples
• USDA, SNAP-Ed Connection: //snapped.fans.usda.gov/nutritioneducation/recipes
• What's Cooking? USDA Mixing Bow: www.what'scooking.fans.usda.gov
• American Heart Association: //recipes.heart.org/en
• Feeding America: //hungerandhealth.feedingamerica.org/healthyrecipes
• Academy of Nutrition and Dietetics: www.eatright.org/food/planning-and-prep