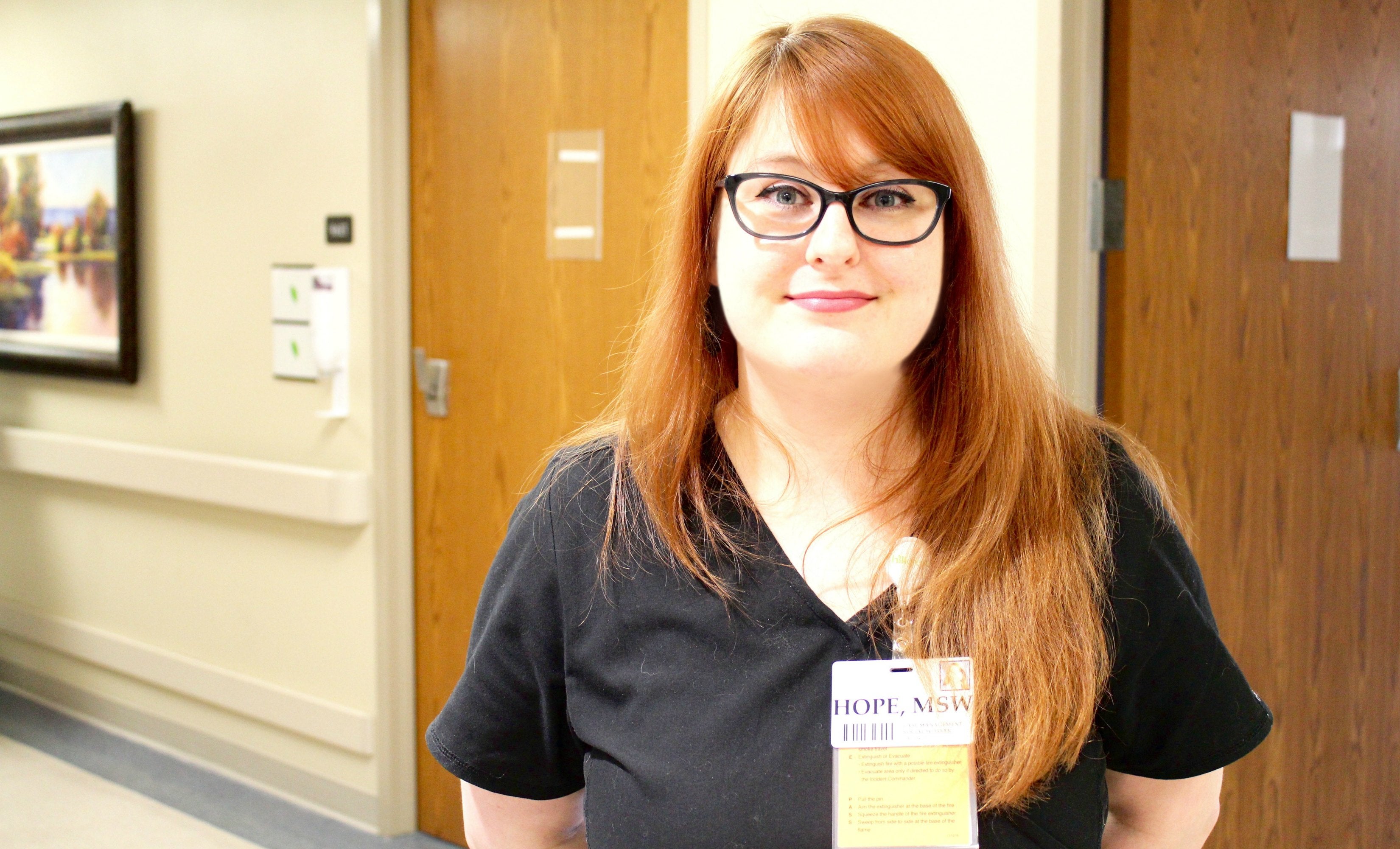 When you work in health care, you always have patients you will never forget. For Hope Robertson, MSW, a social worker in case management on the oncology floor at Hillcrest Medical Center, it was a patient who said, "Here she comes again, Little Miss Sunshine." Exasperated by her diagnosis and hospitalization, the patient was understandably frustrated. Each day, Hope would visit her to see if there was anything she needed. Adapting as Hope does with each patient to meet their needs emotionally, as well as logistically, a connection developed. "We went from her saying that to, 'When are you going to see me next?'"
It is easy to see that Hope has a way with people, making them feel comfortable during one of the most uncomfortable times in their life. "When I'm talking with patients they may not catch my name at first," she says. "Then they say 'What was your name again?' I say, 'Hope,' and they say, 'That is a perfect name for what you do.'"
Hope began her career with Hillcrest nearly nine years ago with cardiac patients and has also worked with orthopedic patients and those recovering from surgery. Hope says she has truly found her home on the oncology floor. "Their resilience and strength is amazing," she says.
When you ask Hope what originally drew her to social work, the answer is simple: "I've always wanted to help people." The word "help" under the umbrella of social work is a broad term. Hope helps patients with everything they need - preparing them to go home from the day they are admitted until the day they are discharged. That could be anything from securing medical equipment to helping with disability coverage or arranging for home health to provide services in the patient's home. For patients facing a terminal diagnosis, quality of life is the focus as Hope makes arrangements for hospice care. "Some of our patients really need everything and that utilizes all of my skills as a social worker – my ability to listen and empathize, to organize, to provide resources and make things happen for people. Medical social work utilizes all the skills we learn in graduate school to be a social worker."
Just as important as what she does, is how she does it.
In addition to having compassion and empathy for patients, Hope says listening and having the desire to help people through this stage in their lives is critical to the work she does every day. "I once heard if you're doing most of the talking, you're doing something wrong," she adds. "I've always taken that to heart. I let them open up. Sometimes it is just 'I'm scared' and the flood gates will open and they tell me all the things they are scared about. Sometimes they are angry. I listen and empathize with them."
If you think her work is easy, it is not. If you think Hope thinks it is difficult or depressing, she does not. "Not everyone on this floor has terminal cancer, but a lot do," she says. "Knowing you can make this part of someone's life as well as it can be by helping them with hospice, that's not depressing at all to me. We are all going to go through this stage of life. A lot of people say, 'It has to be so sad what you do.' Once you meet these patients and their families, it is not sad at all. Some people can get really rough news and they say, 'OK. What do we do next?' Sometimes they are in immense pain, but will still ask me, 'How are you doing today?' Their resilience is amazing and it really puts life in perspective for me."
Hope leaves Hillcrest every day and takes her work home with her. It is a perk of the job. Imagine if we were all reminded of how precious life is every day? "Use the good dishes," she says. "Drink the good wine. Tell people you love them, because tomorrow is not promised to you. Our patients really show me how to live."