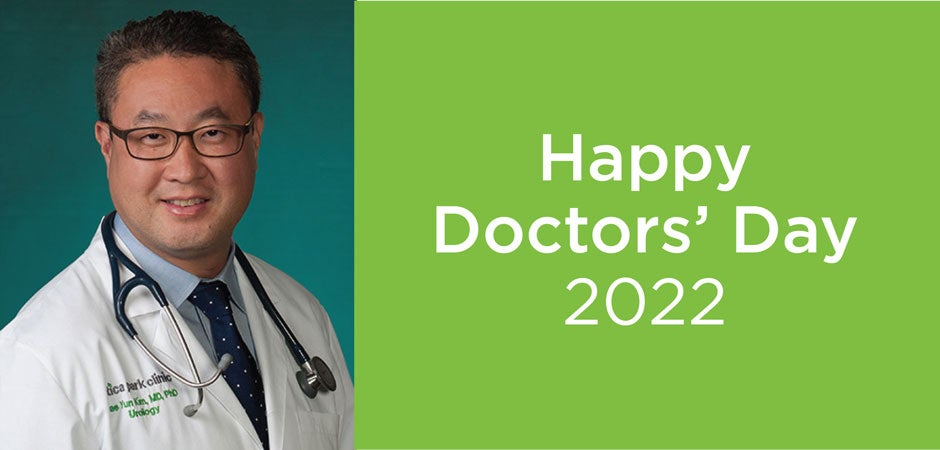 (March 30 is National Doctors' Day. Hillcrest Hospital South would like to thank our physicians for the dedication and passion they show for their patients. In honor of National Doctors' Day, we would like to spotlight urologist, Dae Kim, M.D.)
Dae Kim, M.D., has taken an interesting path on his way to becoming a board certified urologist with Hillcrest. But it is part of Kim's journey that has made him uniquely qualified to care and treat his patients.
As a Korean American, Kim appeared to be destined to become an engineer before a change of heart landed him in medicine practicing urology.
"How I got into medicine is kind of a crazy story," Kim said. "I wish a lot of people would explore things before they go into medicine. Once you get into medicine, it's hard to do that."
Born in South Korea, Kim's parents immigrated to the United States when he was an infant. His uncle served in the Vietnam War, which enabled him to sponsor the family's move to a largely Hispanic neighborhood in East Los Angeles. 
Kim's family owned a corner grocery store, which he began working at in seventh grade. Following high school, Kim attended UCLA where he obtained a degree in chemical engineering. It was Kim's father, Jong, who made an impression on his son's interest in science.
"My dad never graduated from high school, but he was always smart in math and science," Kim said.
Kim was set to begin his engineering career at a Silicon Valley firm when his father experienced a stroke. Instead, Kim returned home to run the grocery store. After a year of tending to the family business, Kim realized he needed a change in his life.
"I realized I needed to leave my home community to explore the world, to challenge myself and to further my passions in life," Kim said. "I was in the same routine everyday with my career, the family grocery store and my day-to-day life was mundane. Then I told myself, 'I went to college for something I might as well start doing something that's career focused.'"
Kim moved to New York and obtained his doctorate in chemical engineering, but prior to completing his course work, Kim had an epiphany.
"I remember watching my thesis adviser," Kim said. "He spent all his time writing grants and I was in the laboratory mixing chemicals for research. Some people enjoyed doing that, but I realized that wasn't for me. If you can envision your life being like somebody else's in the five-10 years and you're like, 'OK, this isn't really for me.' That's what I saw and when I thought I needed to take a different career path ... The reason I chose medicine was the interaction with people which I missed while in the laboratory and even in the grocery store and the direct impact on a patient's health and life. It wasn't just being stuck in the laboratory, it was doing what matters most to me, helping my patients feel better and live longer, just my desire for my father to be well after his stroke."
With a newborn in tow, Kim moved to Buffalo and later obtained his medical degree in medicine and biomedical services. He completed his residency in urology at Northwestern University in Chicago. Kim finished his fellowship in urologic oncology at MD Anderson Cancer Center in Houston. He has been associated with Hillcrest since 2015.
Kim said practicing urology gives him the opportunity to have a unique impact on a patient, compared to other fields of medicine.
"Urology is one of the fields of medicine where you're able to make a meaningful, daily impact throughout their life," Kim said. "It's a longitudinal way of being a part of someone's life. You see them at each chapter from infant to elderly with urinary issues and with urological cancers which we tackle together."
Who would have thought, from immigrating to Korea to East Los Angeles, managing a grocery store and changing career paths from chemical engineering to medicine and urology, Kim found his calling by helping patients live their healthiest and most fulfilling life.