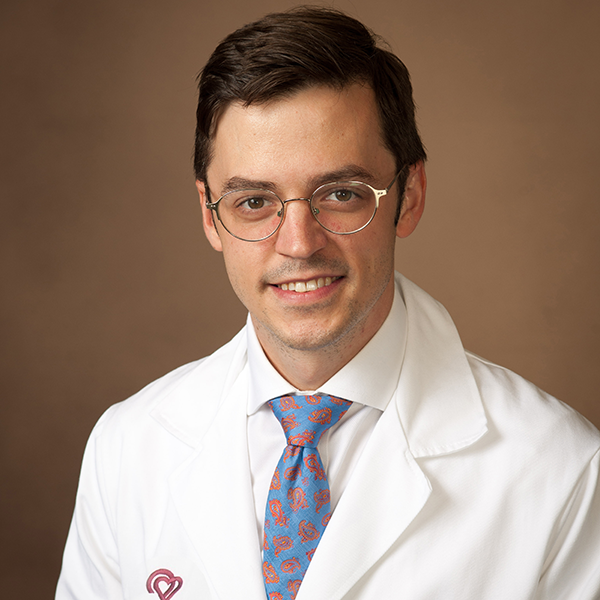 (March 30 is National Doctors' Day. Hillcrest Medical Center would like to thank all of our physicians for the dedication and passion they show for their patients. In honor of National Doctors' Day, we would like to spotlight director of pulmonary ECMO Adam Betz, M.D.)
The past year has been challenging to many in the health care industry. For Adam Betz, M.D., dealing with the first 12 months of a global pandemic has been particularly difficult.
Betz, director of pulmonary ECMO (extracorporeal membrane oxygenation) at Oklahoma Heart Institute, specializes in neuro and cardiac critical care. ECMO is a life support machine utilized for patients with severe lung damage, one of the symptoms caused by COVID-19.
"It's definitely been a long and stressful year," Betz said. "You're seeing the sickest of the sick. It's something you can never really explain going back to your friends and family."
The pandemic experience has been especially emotional at times for Betz. On many occasions, the 33-year-old Betz has treated patients around his same age.
"A lot of times these were young and otherwise healthy people," Betz said. "You had people with 2-year-old kids at home."
Betz said dealing with unprecedented circumstances throughout the past year has brought his colleagues closer together.
"In our ICU group, we all drew together and became really close friends in a way I didn't think would have ever come out of COVID," Betz said. "We supported other practitioners and physicians. After going through that, you understood each other in a way that brought everybody closer."
As the virus began to grab global headlines early in 2020, Betz noted the likelihood of implementing the ECMO program became increasingly more likely.
"You're trying to pick people (for ECMO) who you think have a good chance of turning around," Betz said. "We were monitoring the early data out of Asia. They were showing poor numbers, so we didn't know if it was reasonable to offer ECMO. But then there was encouraging news as the numbers came out of Europe. Then we knew it was going to be worth offering people we knew we could really help.
"With ECMO, you're trying to pick people who you think have a good chance of turning around. We've had 60% survival rate in ECMO, which above the 50% success rate nationwide. We've been very pleased with that."