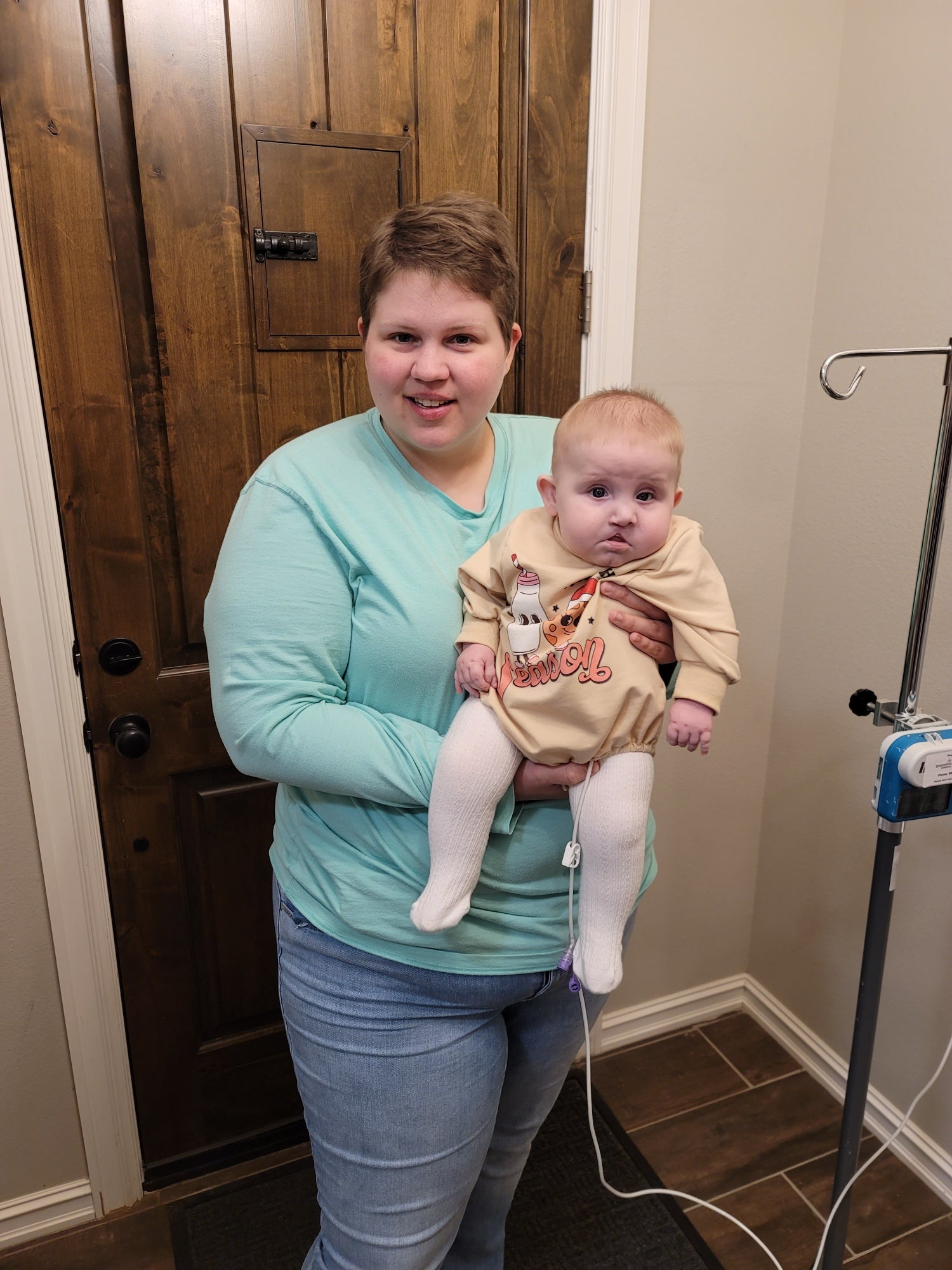 After being dismissed by other doctors about her health concerns, Casey Chitwood just wanted to be heard. It was not until she arrived at Hillcrest Medical Center (HMC) that the Collinsville resident finally felt she had a voice. 
"I had been to other hospitals, and they were not listening to me," Chitwood said. "The Hillcrest people were so good to me. They listened and they saved me and my baby's life." 
Chitwood's concerns started after her 20-week ultrasound when she learned her baby had multiple abnormalities. She was devastated when doctors told her that her soon-to-be daughter "probably wasn't going to make it." 
Eight weeks later, Chitwood was experiencing extreme fatigue and bruising at the time of her scheduled ultrasound. Doctors told her she was anemic and thought her symptoms were a product of the third trimester of her pregnancy. 
"They kind of dismissed me," Chitwood said. "But I knew something bigger was going on." 
Unsatisfied with the answers she was receiving, Chitwood decided to take a more active approach to her care. She hired a doula, who had a connection at HMC. Her case was reviewed by The SILAS Program at Hillcrest.  
After viewing an ultrasound, OB-GYN David Cameron, M.D., and Chitwood's Hillcrest care team were encouraged about her baby's development. Chitwood's doctors weren't sure if her baby would survive, but they were more optimistic than the staff at other hospitals. 
Then Chitwood learned that her prior health concerns about her own body were warranted. An electrocardiogram (EKG) test revealed she had atrial fibrillation or an abnormal heartbeat. She was transferred to cardiac care for a bone marrow biopsy, where she was diagnosed with acute leukemia. Doctors told Chitwood she could have died within days without a diagnosis. While it was not the news Chitwood hoped to hear, she was glad to finally have answers. 
"The staff listened to me," she said. "They saw me as a person. They figured it out, that I wasn't 'just pregnant,' and I was actually really, really sick." 
After working with her Hillcrest care team to find the best next steps for Chitwood and her unborn child, Chitwood was transferred to an out-of-state hospital facility.  
"They were great," Chitwood said. "Everyone really bent over backward for us. They worked with me to help find a hospital that was the best option for us and in-network with our insurance plan." 
Grace Switzer, RN-BSN, assistant director of nursing, labor and delivery manager for HMC, said Chitwood's case highlights the benefit of a collaborative effort between departments. 
"Our entire Hillcrest family came together to care for this patient and her baby," Switzer said. "From the OB triage nurse who saw her the first day, to Dr. Cameron, to the LD and high-risk nurses, to the case management team, to radiology and diagnostics, to the lab, the NICU and SILAS team, the cardiology team and the oncology team. So many people worked on this case and worked quickly as a team to get this patient diagnosed and a care plan that honestly did save both her life and the baby's life. It was a tremendous and multi-faceted approach to health care that I was proud to be a part of." 
About 33 weeks into her pregnancy, Chitwood was in kidney and respiratory failure. On June 14, 2022, she had an emergency C-section, and a 6-pound girl named Arden was born. Arden was diagnosed with a congenial diaphragmatic hernia (CDH), which is a hole in her diaphragm. She also had a cleft lip, spina bifida, vertebrae anomalies and heart defects. In her first few weeks of life, she had three surgeries and remained on a feeding tube.
"She's definitely a fighter and she's beating all the odds," Chitwood said. "The doctors didn't anticipate her doing as well as she is." 
Chitwood herself is receiving chemo treatments for leukemia. She says she has increased energy and is "doing fine." She's thankful for the progress both she and her daughter have made, and the role Hillcrest played in their care. 
"My care at Hillcrest was over the top," she said. "I have never had such a positive experience. I feel like every single staff member was so invested in my health. They saved our lives."