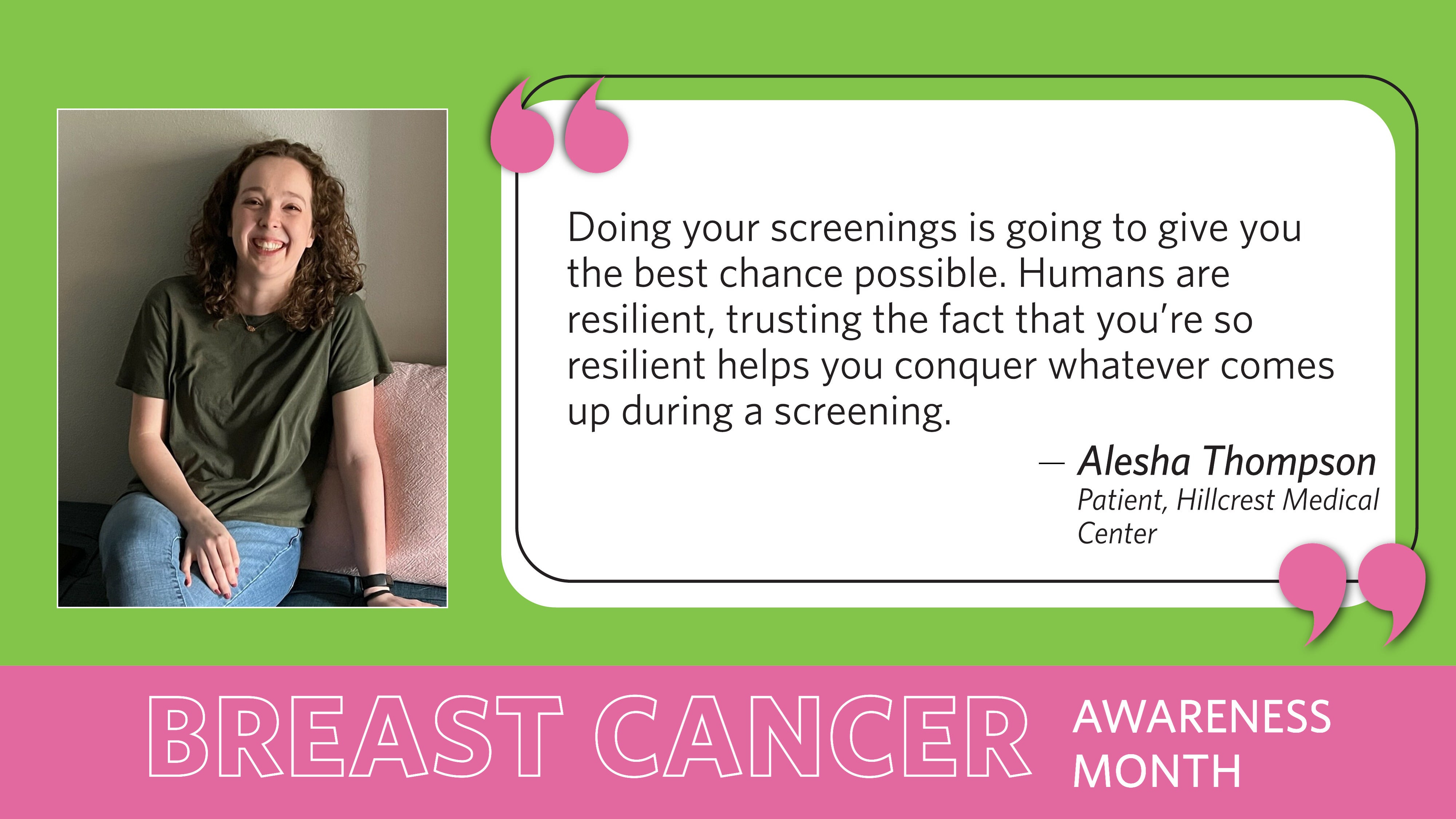 Alesha Thompson is taking control of her health; she is reducing her known risk of breast cancer to nearly zero. The decision to have a double mastectomy at just 29 years old is the result of years of doctor's appointments, screenings and tests that told her she has an 85% chance of developing breast cancer due to a gene mutation.
When she was a teenager, Thompson learned she had two gene mutations. These genes help repress the growth of tumors and when they're mutated or not functioning properly, there is an increased risk of Alesha developing tumors in her thyroid, colon, lymph nodes, endocrine system, skin, kidneys and breast tissue. To keep a close eye on any tumors that may develop, Thompson goes to her doctor routinely for imaging.
"I was going to the breast health center every six months for ultrasounds, and I have a mammogram yearly," said Thompson. "I had a provider who told me that I would know I was ready to take the big step of a mastectomy when I get sick of all these appointments."
Jennifer Powers, PA-C, sees Thompson at Utica Park Clinic's Breast Care clinic. She said Thompson has a lifetime of medical monitoring ahead but is on the right track to make managing her condition as easy as possible.
"This stuff is really overwhelming," said Powers. "She's doing a really good job navigating all of this, and she's a healthy young woman."
"Jennifer was really, really great at talking me through what the results of my screenings meant," said Thompson. "She really emphasizes that because of the regular screenings and preventative steps that I'm taking, the chances are good that any cancer they might find later would be found earlier."
While Thompson acknowledges that dealing with her diagnosis has been difficult, she's grateful for the opportunity to reduce her breast cancer risk before tumors have time to develop.
"Pre-vivors have the benefit of having some time to think through our options and make sure we're ready," said Thompson. "I recognize that breast cancer patients don't always have the time to think through what they want to do."
While routine mammograms are the best way to catch breast cancer, some patients may require screenings earlier than the recommended age of 40.
"For patients that have a family history of cancer, their screening guidelines may be different," said Powers. "If you have family members that have been diagnosed at 40 or 35, starting mammograms at 40 isn't appropriate. We'd be behind by then."
"If you're sick, you're sick, and the screenings are going to tell you if you are," said Thompson. "Doing your screenings is going to give you the best chance possible. Humans are resilient and trusting the fact that you're so resilient helps you conquer whatever comes up during a screening."
Thompson is consulting with Dr. Clint Merritt, breast surgical oncologist at Utica Park Clinic, and Dr. Scott Newbrough, plastic surgeon, for her double mastectomy. She expects to schedule the procedure for December of 2023.
"Dr. Merritt talks to me like I am a peer. He's very genuine, and he makes me feel very comfortable," said Thompson.
Thompson plans to spend her 30th birthday in next summer vacationing in Italy and Greece. Dr. Merritt took her plans into consideration when advising her on her breast surgery.
"I told him I want to be able to do this trip without worrying," said Thompson. "He suggested that we do the surgery in December so that I would be healed enough to go in the water, and really enjoy myself."
Thompson said she would recommend Hillcrest's comprehensive breast care team and services to anyone.
"Out of all the breast teams I've worked with, Hillcrest's was the best I've ever come across. I felt very safe and they're very good with their bedside manner," said Thompson.
Annual mammograms are recommended for women 40 years old or older, or anyone with a genetic predisposition to cancer. To schedule a mammogram, visit hillcrest.com/mammo or call 918-579-8083. To learn more about Utica Park Clinic's breast care and surgery services, including genetic testing, click here.