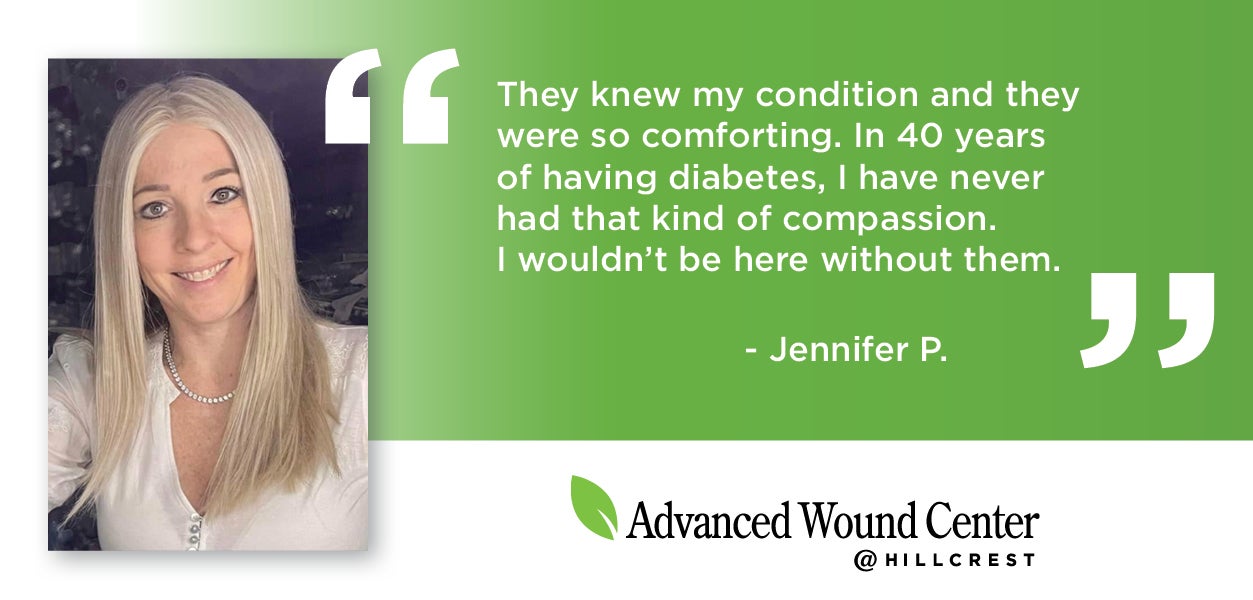 Diagnosed with Type 1 brittle diabetes at a young age, Jennifer Pauley's health history has been anything but smooth. But she is forever thankful for the Advanced Wound Center at Hillcrest Medical Center (HMC).
"I owe those people my life," Pauley said. "I do."
In 2010, Pauley nearly lost her left foot after falling into a powerline due to the polygenic disease. Her foot remained intact, but that accident began a series of issues with the appendage. 
In September 2021, Pauley traveled to Disney World for a family vacation that included her grandchildren. However, she spent the trip in the hospital rather than the Magic Kingdom when swelling in her left foot developed into pneumonia and later sepsis. 
Pauley's condition worsened and doctors told her she may not survive.
"We were making funeral arrangements and talked to our kids," said Pauley, who slipped into a coma.
Pauley survived the coma, but her foot was still a concern. Diagnosed with gangrene and a bone infection in her foot, doctors suggested amputating the entire foot. Pauley refused. 
"I told them I did not want it cut off at any cost," said Pauley, who has had 17 total surgeries on her left foot alone. "I told them, 'I will die with this foot.'"
She did have three surgeries, including a toe amputation, but Pauley kept her foot and was transferred to the Advanced Wound Center for outpatient care in October.
"We got her into infectious disease and started her outpatient treatment," said Frank Bell, D.O., certified wound care physician, who was part of Pauley's care team. "Her case was pretty extreme. I really had my doubts we were going to save her foot."
Compliant with her wound care, Pauley was eventually put on hyperbaric oxygen treatments, which is when she began to turn a corner. During hyperbaric oxygen treatments, patients are placed in a chamber and 100% oxygen is administered and the pressure in the chamber is increased slowly. This allows the oxygen to cross much further into the tissues to get to the wound and improve healing.
"Once we got her into hyperbarics, you could see some signs there was improvement," Bell said. "If we can increase the oxygen that reaches the wound, we can increase the healing potential of many types of wounds."
Along with her wounds showing progress, Pauley noted her A1C and blood sugar levels improved, as did her liver and kidney functions.
"It felt like everything in my body was rejuvenated," Pauley said.
Her wounds began to heal and eventually closed up. Originally expected to be a two-year process, Pauley had her final treatment on Feb. 21, 2022, approximately four months after first entering the Advanced Wound Center.
Bell said amputation cases can vary, but he was pleased to see Pauley's situation resulted in a positive outcome.
"You never want to tell somebody you can't save their foot," he said. "In this case, we told her we would do everything we could to save the foot. Sometimes in a clinic, we do see it. We're not able to save them all, but this was one of those cases where everything fell in line." 
Physical therapy has followed for Pauley as she builds back strength in her foot, but the treatment and staff and the Advanced Wound Center gave her what she described as, "A new life."
"They were all amazing people," she said. "Every person there, even if they were part-timers. They knew my condition and they were so comforting. In 40 years of having diabetes, I have never had that kind of compassion. I wouldn't be here without them."
Learn more about the Advanced Wound Center at Hillcrest or call 918-579-6863.