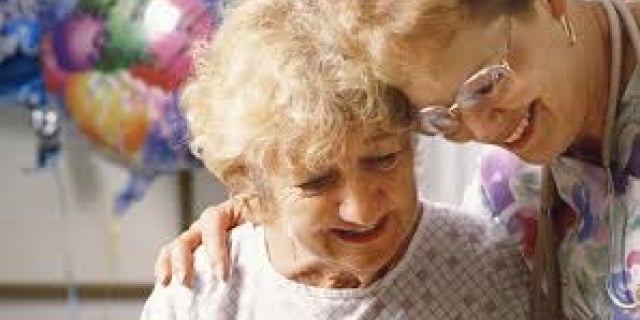 To the Volunteers at Hillcrest Medical Center: Thank you!
by

admin
If you ask Mary Ann Parker, 70, why she has been escorting patients around the halls of Hillcrest Medical Center for the past 27 years, she'll tell you it all started when she was sitting in her own wheelchair.  As a young patient, Mary Ann still remembers how she felt being led down hospital hallways.  With every Hillcrest patient Mary Ann transports, she knows her number one job is to ease their concerns.   "You feel like you are helping people in a situation they may not be comfortable in", Mary Ann explains.  "I make sure I let them know everything is going to be okay", she adds.
The more you get to know the 570 active volunteers at Hillcrest Medical Center, the more you understand why they so gladly give of their time.  To date, more than 2.2 million service hours have been logged by volunteers since the program began in 1957.  Why do Hillcrest volunteers give so much of themselves?  Many times, they have been in the same shoes as the patients they assist.
Greg Horton, 43, was a patient in the Alexander Burn Center two years ago.  Today, he volunteers both in the Burn Center as a
friendly patient visitor and in Patient Transportation as a transporter.  Greg's fellow volunteers describe him as a very social person, which he admits helps him open up to patients and hospital visitors, "I have the gift of gab!"  For Greg, being a volunteer is all about giving something back, "When you make people feel you, you feel good."
There may not be anyone who knows their way around Hillcrest better than Steven Marrs.  Steven, 30, volunteers in Patient Transportation, assisting
patients and their families around the campus, as well as delivering mail and patient paperwork.  For 8 years, volunteering at Hillcrest has been a part of Steven's life.  He especially enjoys helping people who walk through the doors to their first appointment at Hillcrest.  Described as a "rolling map of Hillcrest", Steven is the go-to person when you need to find your way around the hospital.
For some, volunteering at Hillcrest is a team effort.  Husband and wife team, Jim and Janet Orton, 79 and 78 respectively, help families waiting at the Oklahoma Heart Institute while their loved ones are in surgery.  Jim and Janet serve as a communication bridge with physicians and staff, letting family members know the surgery status and
when the physician will be meeting with them.  Janet believes the most important thing she can do is let those waiting know their loved one is in good hands, "I emphasize the doctors are great and the care they get is great, because Jim was a patient here."
A patient himself, Jim recognizes when family members are anxious and nervous.  He readily identifies with their concern and gives them reassurance through his experience, "If it wasn't for Oklahoma Heart Institute and their physicians, I wouldn't be here today."
While she smiles with ease, Bernie Shepherd, 77, coordinates a busy surgery waiting area at Hillcrest Medical Center.  Bernie is the direct contact for families and physicians when a patient goes in for surgery.  She meets the families, keeps track of where they are sitting, and transfers calls from the physician straight to the family members.  For Bernie, this constant activity is exactly what she was looking for.  She started volunteering 7 years ago, because she didn't want to slow down after retiring, "I enjoy meeting people and helping them.  After you have worked for so many years, you have to have an outlet." 
One of the most upbeat and cheerful places in the hospital is the Gift Shop at Hillcrest. 
The same can be said of Gift Shop worker, Gina Illingsworth, 74, who has been volunteering for 3 years, doing everything from creating merchandise displays, managing the cash register, and (her favorite) delivering flowers to the new babies born at the Peggy V Helmerich Women's Health Center.  Gina, like many Hillcrest volunteers, enjoys giving her time based on a personal experience, "My daughter was in the hospital for a long spell and I always wanted to help, but I wasn't medically trained."  Today, Gina has found her niche as a volunteer in the Gift Shop, a place she can bring happiness to Hillcrest patients and visitors.
Managing everything that goes on in the Hillcrest Medical Center Auxiliary is no easy task.  Volunteers like Harriett Coy, 68, keep it all running smoothly from behind the desk at the volunteer office.  Harriett came straight to Hillcrest to volunteer after retiring as the secretary to the Sand Springs Police Chief, because she didn't want to lose her office skills.  Once a week, Harriett gets dressed and ready to head into her new office, signaling to her furry child at home, it's time to go to Hillcrest, "My pup knows when I put this volunteer jacket on I'm going to work that day!"
In recognition of National Volunteer Week and the generosity of so many people in our community who volunteer at Hillcrest Medical Center, we express our sincere appreciation and gratitude for all you do!  You give Hillcrest patients and their families another reason to choose Hillcrest.  Thank you!