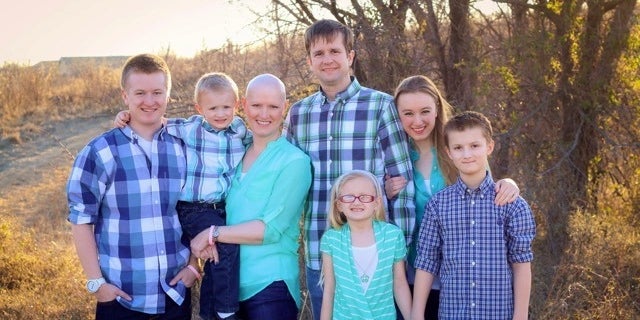 A Mother Shares Her Breast Cancer Battle
by

admin
Mindy Ogden almost waited. "It just kept nagging at me," she says of a warning sign that came 10 months before her next scheduled appointment with her OB/Gyn. Last September, she was a few weeks shy of her 40th birthday. The mother of six knew fluid coming from her breast was something that should not wait, however, and she called her doctor. "That scared me." Although her doctor could not detect anything wrong with a breast exam, she recommended that Mindy have a mammogram. Leaving that appointment with her mammogram scheduled, Mindy kept thinking about her family history of breast cancer and two previous benign tumors she had 20 years earlier.
"They must have found something right then and there," Mindy recalls of going to the Leta M. Chapman Breast Center at the Peggy V. Helmerich Women's Health Center. Immediately following the mammogram, she had a further ultrasound screening. Almost before she could comprehend the possibility, Mindy was scheduled for a biopsy with Utica Park Clinic breast surgeon Dr. Laurie Flynn.
 "Two of my boys were on mission trips," she recalls. "I had to call them and let them know I was diagnosed with breast cancer." Mindy Ogden turned 40 among a whirlwind of doctors' appointments, beginning chemotherapy and scheduling a double mastectomy. There were still candles to blow out, three older children to get settled in at college and three younger children at home starting a new school year. "Emotionally I was there. A lot of the time I couldn't help them do their hair or their homework. That is when the church stepped in.  As a mother, I had to reassure them I would be OK, I would live and we would make it though together."
Family has been a strong source of support for Mindy. Every three weeks, a family member has flown in from Utah to be with her during chemotherapy treatments at the Infusion Center at Hillcrest. There, she is greeted by nurses she now calls family as well. "They do everything they can to make you feel comfortable," she says. "I look forward to going and seeing them, because they know what I'm going through. It is a family."
 Not every breast cancer diagnosis is the same and therefore, not every treatment is the same. For Mindy, her breast cancer diagnosis was followed by another diagnosis – thyroid cancer. Not only is she recovering from thyroid surgery and treatment, she was born with a hole in her heart that never closed. It affects the length of her treatment and requires trips to the Infusion Center at Hillcrest three times a week until next January.
Through it all, Mindy says she has found strength and gratitude.  "It has been a difficult road," she adds, "but I'm glad I got it started, because it could have been much worse. I'm grateful for the experience and for the strength it has given me, the person it has made me and for the people I have met. Dr. Flynn and Korey are amazing. The nurses in the Infusion Center are amazing. I almost feel it is a blessing from God."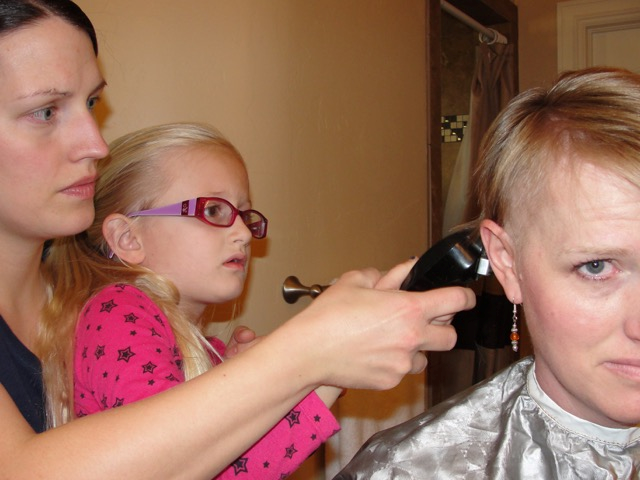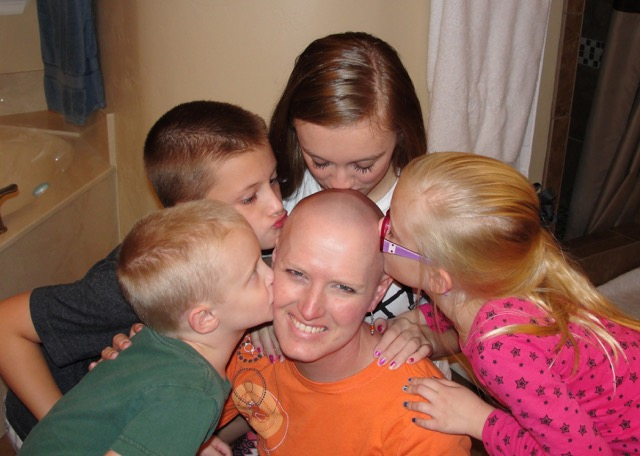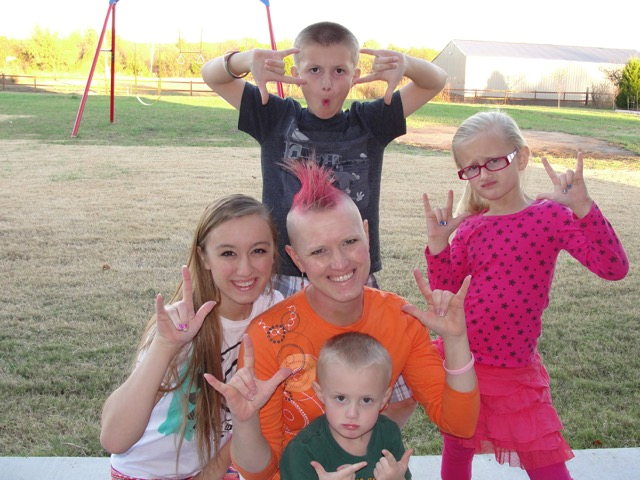 When Mindy began to lose her hair during chemotherapy, she involved her children in marking the occassion.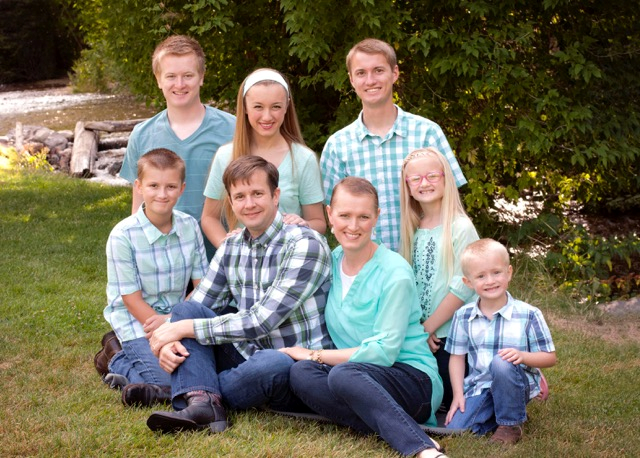 A family photo after Mindy's hair begin to grow back following chemotherapy.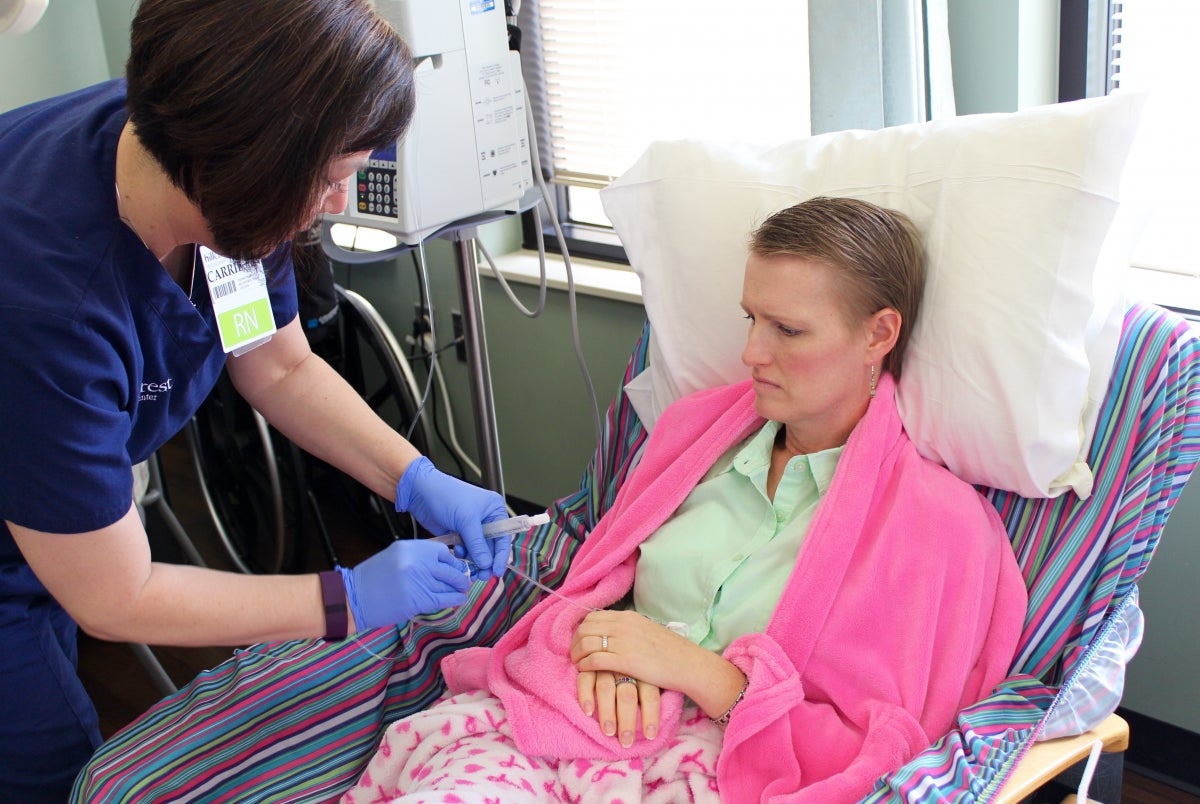 Mindy is currently undergoing weekly treatments at the Infusion Center at Hillcrest.