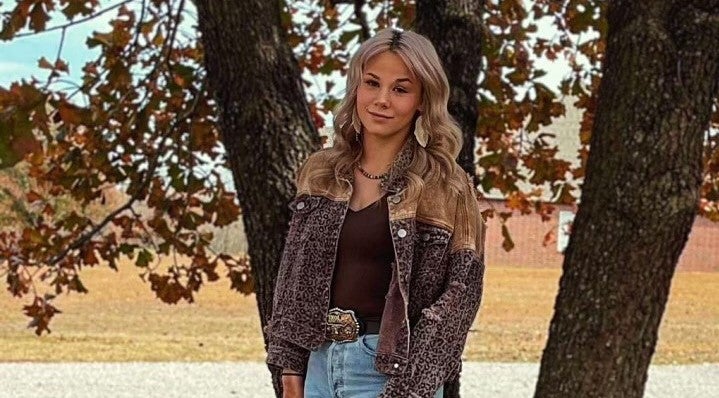 When Megan Hawthorne was crowned the 2021 Inola Hay Day queen, it put a happy ending on a year-long journey that began with some question marks for the high school sophomore.
During the summer of 2020, Hawthorne was driving an ATV near her home. According to Hawthorne, she lost control while driving at high speed and was flipped on her side and dragged at least 50 feet by the ATV.
She experienced friction burns down the left side of her body, which included a deeper open wound on her left ankle and resulted in significant tissue loss. Hawthorne was treated at a Tulsa hospital but was unsatisfied with the care she received after she was discharged.
Unable to get her pain level under control from the burns she experienced, Hawthorne desperately needed relief so her family reached out to the Alexander Burn Center at Hillcrest.
"One of the tough things is they were frustrated," said Tara Wilson, M.D., medical director of the burn center, who treated Hawthorne. "If you don't feel comfortable with the care you've received, it can be difficult to trust your doctor."
Wilson and the team were able to stabilize Hawthorne's pain level. She required two debridement surgeries, a procedure for treating wounds, and a successful skin graft from Hawthorne's thigh to use for her left shoulder, elbow and ankle and both wrists.
"It healed so much better than I thought," Hawthorne said.
Following her surgeries, Hawthorne's road to recovery began with her physical therapy sessions while still in the hospital.
"The Hillcrest people were 10 times nicer than I could've ever asked for," Hawthorne said. "I'm very thankful for everything they did to help me get my life back."
These days she has returned to her active lifestyle of school and sports. And in September 2021, when she was chosen as the Hay Days queen. Hawthorne accepted the honor dressed up and proud of what she had overcome.
"She didn't hide the scares in the dress she wore," Wilson said. "She looked great and was happy to be there. That takes courage for a lot of people in her situation."
To learn more about the Alexander Burn Center, click here.