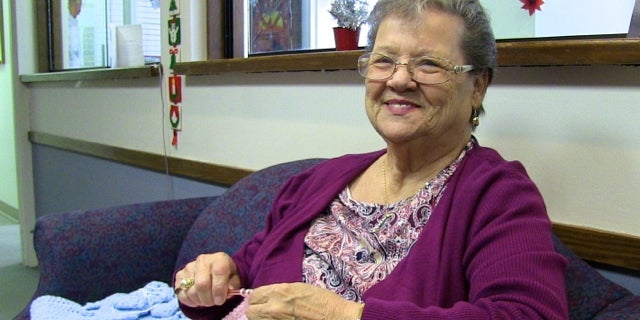 Handmade with Love for Hillcrest Newborn Babies
by

admin
Most evenings of the week, Gaye Martin's hands busily navigate the carefully selected yarn that loops over her crochet needle as she glances down from one of her favorite television shows to make sure the organized rows are coming along. With practice over this last year, she has found it takes her exactly two nights to finish the first blanket, or about six hours. The third night, she picks up the same color yarn and begins smaller designs – one for a hat and another for booties. "I made up my own hat and booties," she adds. "I don't have a pattern. I can't read the patterns." By the end of the week two sets, one pink and one blue, are delivered by her daughter, Becky Poudrier, a research coordinator for Oklahoma Heart Institute, to the volunteer office on her way to work.
"Mom loves kids," says Becky. "Yeah, especially newborns," adds Gaye.
Hillcrest volunteer coordinator Sharonda Dennard personally delivers each new baby blanket with matching hat and booties set to the neonatal intensive care unit (NICU) nurses to give to parents of their patients. "They love it," Sharonda explains of these donated gifts. "They can't wait until the next set arrives." Gaye, along with other Angel Threads volunteers crocheting and knitting blankets, hats and booties have donated more than 750 hours of their time this year creating these handmade treasures for Hillcrest babies.
"I really think it is an amazing thing," says Cole Deweese, as he and Megan place the perfectly made pink hat on their daughter Kyndal hours before they are expected to go home after 32 days in the NICU. "We feel really blessed to receive these. We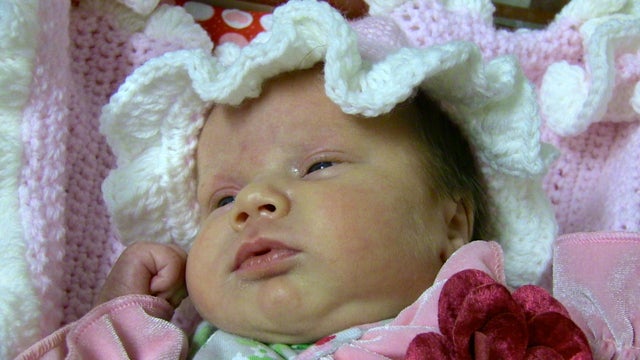 know in the wintertime the booties and the hat will keep our baby very warm. They are cute and adorable and we appreciate this gift very much."
Though there is nothing like seeing the face of parents accept this generous, yet anonymous gift for their newborn, Gaye is at home working on the next set of gifts without ever being able to picture exactly what they look like on any of the recipients. "I would love to see them in their hats and booties," she says. "I did get one thank you note from one of the mothers. She didn't have anything handmade, so she was glad to get it. That meant a lot."
Gaye thinks back to the time her two daughters, Rebecca and Amanda, were born. Her mother Mildred welcomed her new granddaughters with crocheted blankets, hats, booties and even outfits. "My mom was everything and she did a lot of this so the girls never went without," Gaye explains. "She even crocheted them dresses. She could just do anything."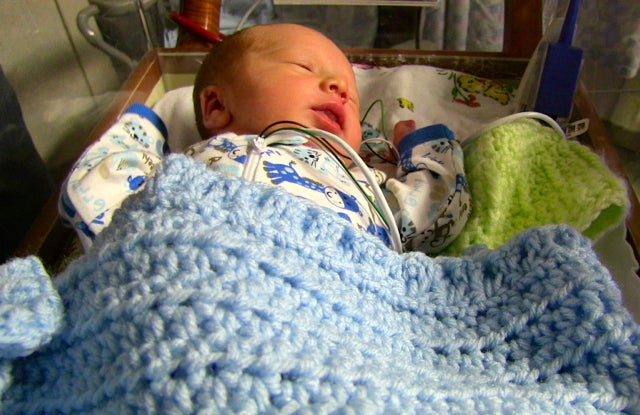 When Gaye's mother first introduced her to crocheting as a young child, Gaye was not initially interested. "I told her I didn't want any part of that," she says. "She let it go." It wasn't until after her own daughters were grown, Gaye began to crochet scarves after her mother passed away. Then, at the beginning of this year, her daughter Becky had an idea. "Becky suggested that instead of making more scarves she wanted to know if I would be interested in making the blankets for the newborns at Hillcrest and I thought 'Oh yes, I'll give it a try.'"
Picking back up in her mother's crochet steps, Gaye reached for her mother's supplies and taught herself how to crochet the blanket, hat and booties. Each set is a little different with special consideration to the yarn color and extra touches like a ruffle border for the girls' sets. With fewer new mothers today given one-of-a-kind gifts for their newborns from the hands of their mothers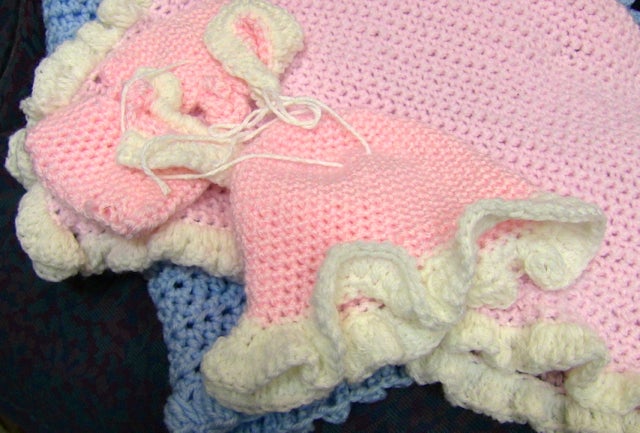 and grandmothers, Gaye is bringing back a lost art each evening from her home to reach homes of newborns she will never meet. For Gaye, it truly is better to give than to receive. "It helps the evenings go quicker," she adds. "I don't have too much outside activities and it takes up a lot of my time, so that's great."
To learn more about volunteer opportunities at Hillcrest, including crocheting and knitting, please click here or call Sharonda Dennard at 918-579-7500.
Pictured above: Gabriel Mathews with one of Gaye's handmade blankets in the NICU at Hillcrest Medical Center.