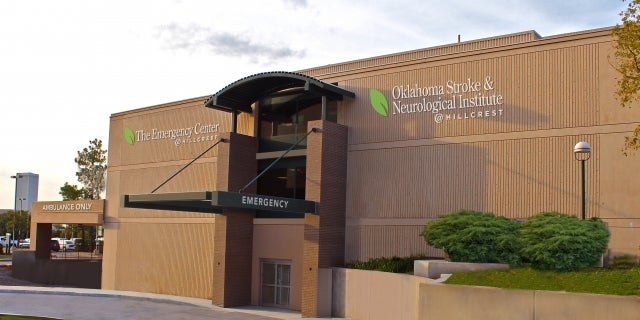 Could it be a stroke? No reason to delay medical care.
by

admin
Not feeling quite right? Slurred speech? Confused? The experienced and trained stroke team at Oklahoma Stroke and Neurological Institute (OSNI) at Hillcrest Medical Center wants you to know there is no reason to wait and see if it gets better. "Patients don't come in fast enough," says Stroke Coordinator Lisa Hollett, BSN, MA, RN. "They think it will go away. They don't want to bother anyone. Sometimes it does and sometimes it doesn't."
When it comes to diagnosing and treating an ischemic stroke, which comprises more than 80 percent of all strokes, time is brain. When potential stroke patients arrive at the Emergency Center at Hillcrest Medical Center, emergency medical personnel are ready and waiting for the patient, alerted by paramedics on the call. "This all starts in the field," shares Hollett. "We activate the team. The patient can go straight into the CT-scan in the Emergency Center, which saves times and helps us more quickly qualify patients as tPA candidates."
When an ischemic stroke strikes, an artery supplying blood flow to the brain is blocked by a blood clot. The longer the affected area of the brain is without oxygen-rich blood, the more likely damage will occur. This can be temporary or permanent, mild or severe. When an area of the brain is damaged, the part of the body that area of the brain controls is also affected. This is why stroke is a leading cause of disability in the United States. However, FDA-approved clot-busting medication, tPA, can help to clear the blockage and restore blood flow to the brain. For patients who qualify for this treatment, the severity of damaging effects of a stroke can be reduced or even reversed. However, if the patient does not arrive within three hours of the onset of stroke symptoms, tPA can not be administered. 
Treating stroke patients as quickly as possible is the mission of the multi-disciplinary OSNI stroke team at Hillcrest. Once patients are diagnosed in the Emergency Center at Hillcrest, treatment begins immediately. If intervention is required, an interventional radiologist is available to retrieve the blood clot and restore blood flow. "We have everything here," adds Hollett. Occupational, physical and speech therapists will start working with patients in the Emergency Center if needed. When admitted to the hospital, all stroke patients go to the OSNI on the 6th floor of the hospital, ICU or Oklahoma Heart Institute, depending on the needs of their care. "All the nurses have had extra stroke training. They want to be here and are committed to being here."
Additionally, all patients admitted throughout the hospital are reviewed on a daily basis to ensure that no stroke patients go without treatment. "I review a list of all patients daily to see who could be a stroke patient to make sure they get transferred to OSNI," says Hollett.
Every morning at 10 a.m. Stroke Medical Director Dr. Walter Lajara leads stroke rounds on each and every stroke patient with the stroke team consisting of Stroke Coordinator Lisa Hollett, OSNI charge nurse, case management, rehabilitation, therapy, dietary, pharmacy, as well as a diabetes educator and transition coordinator if needed. "Everyone knows everything with regards to that stroke patient at the same time, which is really important," shares Hollett. 
From beginning dietary changes, to speech therapy, discharge planning and any medication changes, the stroke team works efficiently to address every need of the patient. As with seeking treatment as quickly as possible, rehabilitation as early as possible also helps to restore quality of life and improve the likelihood that the patient will return home. The approach, Hollett says, is working. "60.8 percent of Hillcrest stroke patients go home," she explains. "The national average is 49.7 percent."
Should you notice stroke symptoms, whether for yourself or a loved one, the best course of action is to seek immediate medical care. "At OSNI, we're ready for this," says Hollett. "We know what is expected and have everything we need to care for stroke patients in a certified acute care setting."
Signs of a Stroke
The acronym FAST helps quickly identify signs of a stroke:
Face - "Have them smile at you. When the person smiles, does their face move in the same way on both sides?"
Arms – "Hold the arms out. Can they hold both arms out at the same time and do they stay together?"
Speech – "Have them say a sentence. Does it come out clearly? Do they slur their speech?"
Time – "One, intervene quickly and two, when did the symptoms start? That is important to know. We are on the clock once symptoms start."