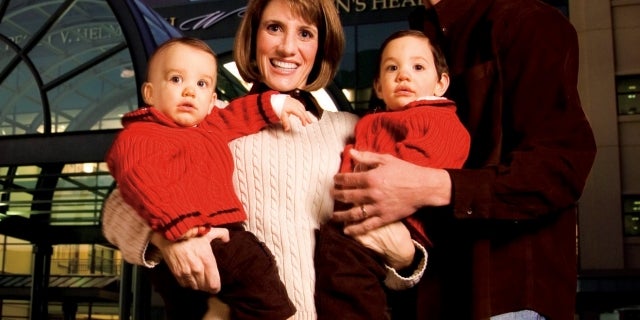 World Prematurity Day - A Story from the Heart
by

admin
Seven years ago a news radio show host moved to Tulsa with his wife on the day they discovered she was pregnant with twins. Joe Kelley, the host of News Talk 740 KRMG didn't know then what kind of a connection he would have with Hillcrest, but that is where the story begins.
Settling into a new job, new town, new house and new school for their daughter, the Kelley's began to focus on researching local hospitals and doctors, preparing for the birth of their twins. They chose the Peggy V. Helmerich Women's Health Center at Hillcrest Medical Center.
Joe's wife, Nicole, didn't know at that time how soon she would rely on this decision. A month and a half before her due date, she went into labor. Spending 17 days in the hospital, twin boys, Brooks and Hudson were born four weeks early.
The boys' early delivery required a stay in the neonatal intensive care unit (NICU) at the Peggy V. Helmerich Women's Health Center, providing the technology, expertise and environment necessary to help Brooks and Hudson grow and thrive.  In 2006, Joe and Nicole shared their story with us and appreciation for their experience at Hillcrest. "The level of care we received at Hillcrest was second to none," says Nicole.
From the moment Joe and Nicole decided to choose Hillcrest, we have had a special connection with their family. Like many of Joe's listeners and fans, we have seen their family grow over the last six years and have enjoyed being a part of their lives, as well. Milestones like the boys' sixth birthday earlier this year remind us how important these connections are. The proud father tweeted this picture.
We, like many Tulsans, were sad to hear the news the Kelley's would be leaving Tulsa, but happy for their bright, happy and healthy future. "In many respects, we feel like we are losing a family member," says Tyra Palmer, Vice President of Communications at Hillcrest HealthCare System. "Joe and Nicole graciously bestowed upon Hillcrest the honor of caring for their family, and in turn, the experiences Joe so willingly shared have helped many others. Joe became a trusted voice of Tulsa and he has left an enduring mark upon our community and for that we will always be grateful."
Thank you, Joe and Nicole for allowing us to be a part of your lives here in Tulsa. We wish you and your family the best!