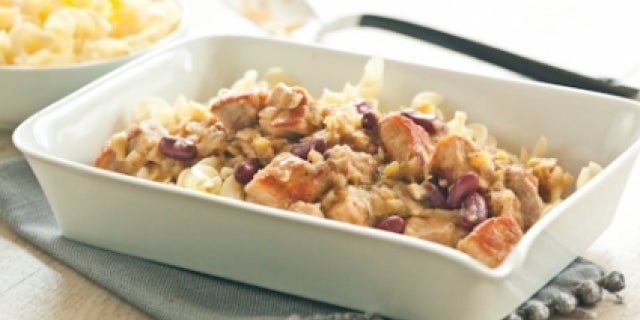 Why $1.50 extra per day is worth it
by

admin
Researchers say we now know how much more expensive healthy diets are compared to unhealthy diets - $1.50 per day. The reason healthier options like fruits and vegetables cost more than processed meats, snacks and grains is due to the current food policies in place, supporting inexpensive, but high volume production of the unhealthier fare. While this may seem like a marginal cost difference to make healthier food options, it does add up to $550 per year per person, which could add up to a financial burden for some families.
However, researchers say the short-term cost is more than offset by a healthy diet in the long-term – as chronic diseases like diabetes, heart disease and obesity are tied to diet, leading to mounting health care costs over the long-term. Even a small shift towards choosing fruits and vegetables over processed foods, they believe could incentivize programs to put healthier food options within reach for more people. In Oklahoma, obesity rates are not only on a steady incline year after year, we lead the national average with31 percent of adults obese.
Eating Healthy for Less
A healthy diet can also be budget-friendly, however, with a little planning. Popular blogs like 5 Dollar Dinners and posts featuringbudget cooking utilize high-impact, low-cost ingredients to create balanced, healthy meals for the family. Hillcrest Diabetes Nutrition Specialist Cassie Wrich, RD, LD, CDE also shares some of her favorite recipes, which are also light on the wallet.
Vanilla is the secret and inexpensive ingredient which makes this warm breakfast rich and fragrant. This can be served at brunch, or cut into slices and enjoyed warm or cold. Other frozen fruit like sliced peaches or pitted cherries can be used instead of berries.
Non-stick cooking spray 
2 cups frozen mixed berries 
2 cups rolled oats 
1/2 cup chopped pecans 
1 teaspoon baking powder 
1/2 teaspoon fine sea salt 
1 apple, peeled, cored and grated (about 1 cup) 
1 cup 1% reduced-fat milk, or skim milk 
1/2 cup nonfat vanilla yogurt 
1/3 cup maple syrup 
2 teaspoons vanilla extract 
1 egg plus 1 egg yolk
Preheat oven to 375°F. Oil a (9-inch) pie pan with cooking spray; set aside. In a large bowl, stir together berries, oats, pecans, baking powder, salt and apple. In a medium bowl, whisk together milk, yogurt, syrup, vanilla, egg and yolk; stir into oat mixture. Transfer to prepared pan and bake until firm and golden brown on top, about 50 minutes. Cut into slices and serve.
Nutrition
Makes 8 servings. Per serving: 240 calories (70 from fat), 8g total fat, 1g saturated fat, 50mg cholesterol, 220mg sodium, 35g total carbohydrate (4g dietary fiber, 19g sugar), 7g protein
Roasted Potato Salad
2 teaspoons olive oil
1/4 teaspoon salt
4 pounds small red potatoes, quartered
Cooking spray
1/2 cup chopped green onions
1/4 cup chopped parsley
4 bacon slices cooked and crumbled
Vinaigrette:
2 1/2 tablespoons balsamic vinegar
1 tablespoon Dijon mustard
2 teaspoons olive oil
1/2 teaspoon black pepper
1/4 teaspoon salt
Preheat oven to 450 degrees. To prepare potatoes, combine the first 3 ingredients. Arrange evenly on a cookie sheet coated with cooking spray. Bake at 450 degrees for 30 minutes or until tender. Let cool. Combine potatoes with onions, parsley, and bacon.
To prepare vinaigrette, combine vinegar and remaining ingredients in a jar. Cover tightly and shake vigorously. Add vinaigrette to potato mixture; toss well. Serve immediately.
Note: store the vinaigrette separately and toss with potato mixture right before serving.
Nutrition Facts, per serving (1 cup serving): 210 calories, 4g total fat, 260 mg sodium, 3mg cholesterol, 38g total carbohydrate, 4g fiber, 6g protein
Recipe from Cooking Light, October 2005.
Chicken Tortilla Soup
This is a great recipe for days like today when it is cold outside and you need something warm. Make a large batch of this and save half for another day or freeze.
About 3 chicken breasts (cooked and cut into cubes)
2 cups chicken broth (for more healthier soup, can use low sodium broth)
2 cans Rotel or any Mexican Tomatoes
2 cans Mexicorn
1 can black beans (drained and rinsed)
1 can chopped green chiles
Baked tortilla chips
Low fat or Mexican style cheese
Combine first 6 ingredients into crock pot or in large pan on stove. Cook and simmer until soup is hot or until you are ready to eat. Scoop into serving bowls and top with cheese and crushed tortilla chips.
* Cornbread also goes well as a side with this soup.
This brown rice dish, cooked with puréed pumpkin and vegetable broth, yields creamy, risotto-like results.
3 tablespoons extra-virgin olive oil 
1 white or yellow onion, chopped 
2 cups uncooked brown basmati rice 
1 (15-ounce) can pumpkin purée 
6 cups low-sodium chicken or vegetable broth 
3 bay leaves 
Salt and pepper to taste
In a large pot, heat oil over medium heat. Add onions and cook, stirring occasionally, until softened and translucent, 7 to 8 minutes. Add rice and stir to coat with oil. Toast rice, stirring often, until fragrant, 3 to 4 minutes more. Meanwhile, whisk together pumpkin purée and broth in a large bowl. 
Stir broth mixture and bay leaves into pot, season with salt and pepper and bring to a boil. Reduce heat to medium low, cover and cook, stirring occasionally to keep rice from sticking to the bottom of the pot, until liquid is absorbed and rice is cooked through and creamy, about 45 minutes. Transfer to a bowl and serve immediately.
Yield: 8-10 servings
Nutrition: Per serving: 210 calories (60 from fat), 6g total fat, 1g saturated fat, 5mg cholesterol, 540mg sodium, 36g total carbohydrate (4g dietary fiber, 3g sugar), 5g protein

Slow Cooker Pork and Cider Stew
The combination of tender pork cubes, melt-in-your-mouth leeks and sweet apples make this stew a comfort classic. Pair it with egg noodles for a simple but elegant meal.
4 leeks, white and light-green parts only, thinly sliced
2 pounds pork loin, trimmed of fat and cut into 1-inch cubes
3 apples, peeled and sliced
6 garlic cloves, finely sliced
3/4 teaspoon fine sea salt
3/4 teaspoon freshly ground black peper
3/4 cup hard (alcoholic) cider or non-alcoholic apple cider
2 teaspoons apple cider vinegar
1 can kidney beans, rinsed and drained
Layer leeks, pork, apples, and garlic in the bottom of a 5-6 quart slow cooker and sprinkle with salt and pepper. Pour in the cider and vinegar. Cover and cook on low until pork is very tender, about 8 hours. Uncover cooker, stir in beans and cook on high until heated through, about 30 minutes.
Nutrition Facts per Serving: 360 calories, 8g total fat, 2.5g saturated fat, 100mg cholesterol, 400mg sodium, 35g total carbohydrate, 6g fiber, 37g protein.

Black Bean Salad with Avocado-Lime Dressing
Serves 4
This colorful salad features a quick dressing made from creamy avocado, tangy lime juice and zesty cilantro.
Ingredients
1 ripe avocado, mashed 
1/4 cup chopped cilantro 
2 tablespoons lime juice 
2 (15-ounce) cans no-salt-added black beans, rinsed and drained 
4 cups shredded romaine lettuce 
1 cup grape tomatoes, halved 
1 cup corn kernels, fresh or thawed if frozen 
1 small red bell pepper, chopped 
1/2 cup toasted pumpkin seeds
Method
In a large bowl, whisk together avocado, cilantro and lime juice until blended. Add beans, lettuce, tomatoes, corn, pepper, pumpkin seeds and toss until evenly coated.
Nutrition
Per serving: 360 calories (100 from fat), 11g total fat, 1.5g saturated fat, 0mg cholesterol, 35mg sodium, 52g total carbohydrate (18g dietary fiber, 6g sugar), 16g protein
Serves 4
Cooking Spray
4 oz. dried whole-wheat rotini (about 1 1/2 cups)
16 oz. bag frozen mixed vegetables, thawed (carrot, broccoli, and cauliflower blend)
2 5.5 oz. cans low-sodium chunk light tuna, packed in water, flaked
10.75 oz. can low-fat condensed cream of chicken soup (lowest sodium available)
1/2 cup chopped bottled roasted red bell peppers, rinsed
1/2 cup fat-free half-and-half
1 tsp all-purpose seasoning blend
3/4 cup lightly crushed low-sodium whole-grain crackers (about 34 squares)
1/4 cup shredded or grated Parmesan cheese
Prepare the pasta using the package directions, omitting the salt and oil. Drain well in a colander. Transfer to a large bowl. Meanwhile, preheat the oven to 350°F. Lightly spray a 2-quart glass casserole dish with cooking spray. Stir the mixed vegetables, tuna, soup, roasted peppers, half-and-half, and seasoning blend into the pasta until combined. Transfer to the casserole dish. Sprinkle with the crackers and Parmesan. Bake, uncovered, for 25 to 30 minutes, or until the casserole is warmed through and the topping is golden brown.
Nutrition Facts: 1 1/2 cup serving = 400 calories, 7g total fat, 2.5g saturated fat, 0g trans fat, 30mg cholesterol, 537mg sodium, 52g total carbohydrates, 8g fiber, 32g protein.
{photo: Whole Foods}