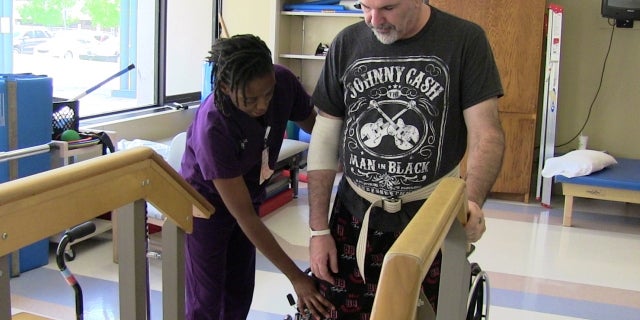 When Stroke Strikes – Rehab at 48
by

admin
Ted Cole's life changed overnight. Friday, May 2, 2014, he went to bed more tired than usual. "He hadn't slept well for two nights and I thought he was worn out tired, because he was still talking fine – he just sounded tired," recalls his wife Pam. Ted, 48, finishes her thought, "I wasn't clumsy either."
That morning Pam left early for work at 3:30 a.m. Ted woke. "I told my mom, I don't feel right," he says and went back to sleep for a few hours. "I could still move my arms and legs a little bit, but it got worse as it went along."
The symptoms progressed and Ted thought it was time to go to the Emergency Department at Hillcrest South Saturday morning. He started to lose control of moving his right arm and right leg. His speech began to slur and the right side of his face drooped.
Ted had suffered a stroke.
For further testing, Ted was transferred to Hillcrest Medical Center and admitted as an inpatient stroke rehabilitation patient at Kasier Rehabilitation Center.
"I gotta go," Ted says of his motivation to regain as much movement of his arm and leg as he can. "I have to do it." At the age of 48, Ted gives all his effort in speech therapy, occupational therapy, learning to get dressed for work, get out of bed, take a bath, and start walking again. "To start to get the muscles to work."
"They'll come back," Pam adds.
It is grueling work, but Ted does it to get back to life and back to his passion – drumming. From the age of 6, he has held 
drumsticks in his hand. Up until the stroke, Ted played most nights a week with his band and has shared the stage with well-known artists in the local music scene like Wade Quinton at venues like Mayfest. "He's an awesome drummer," says Pam. "He has a real strong passion."
Every year, nearly 800,000 people in the U.S. have a stroke. It is the leading cause of long-term disability. While stroke risk increases with age, more than one-third of stroke victims hospitalized are younger than 65 years old.
"What is so crucial to remember is stroke can affect anyone," says Hillcrest Medical Center Stroke Coordinator Lisa Hollet, BSN, MA, RN. "We think about stroke being an old person's disease and it is not. It is striking a younger and younger population."
"It's scary," says Ted of this fact. Prior to that Saturday morning, he had not thought of his own stroke risk.
"It is rough, but his attitude is amazing to me," says Pam of the challenge that lies ahead for them both. "His determination - I'm very proud that he has that. He keeps me going."