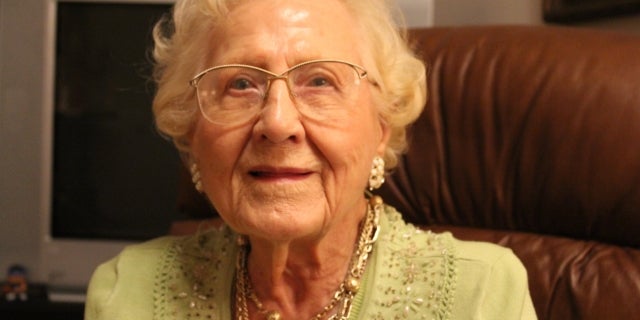 Vida Smith, 101 – A Sports Fan Throughout the Years
by

admin
It is no coincidence Vida Smith, 101, comments on the "beautiful grey hair" of her nurse Mack, who cared for her during a recent hospitalization at Hillcrest Medical Center. She notices things like that. Retired from a 17-year career as a state salon and beauty school inspector, Vida realized her own dreams of being a beautician and owning a salon in her hometown and "favorite place" Norman, OK. However, it wasn't until after she put her son through college at the University of Oklahoma. "I always wanted to be a beautician, but I didn't have an opportunity," she says of her waiting for her chance to fulfill her dream.
Work is one of the things Vida says has kept her going all these years.  "I worked all my life," she says of going on to from her state inspection career to working at home, volunteering at a local VA hospital and church, making her own clothes, and even trimming the tree when it needed to be pruned. "I think that helps keep you going."
At the age of 90, Vida retired from volunteering. "I decided that was old enough," she adds.
A second passion keeps her busy today – one which stems from her days in high school playing basketball. "I love sports," she says. Vida took up softball when she got married and also enjoyed playing tennis. Today she is as interested in the Oklahoma City Thunder and Sooners as any proud Norman would be. She talks about both regardless of the season with her friends.
"I'll have to see a few more games before I have an impression of how great he's going to be," she says of Sooner freshman starting quarterback Trevor Knight. "I hope he's going to be good."
When it comes to the Thunder, it's pretty clear who she is watching. "I like Kevin Durant and Westbrook," she says. "They're my favorites."
A small statue of a healthy Westbrook sits next to the TV, ready for the next game and possibly chance at a championship again. "That's the reason they didn't win the tournament," she adds of Westbrook's first-round playoff knee injury. "They'd have won it if he had been in there."
Talking about sports is easy for Vida. It was the topic of discussion when Hillcrest Senior Care Coordinator Marilyn Rumley stopped by her room when she was hospitalized earlier this month. "I told her I loved sports and I watched them all the time," Vida says of connecting on a personal level with Marilyn – also a Thunder fan.
From the conversation, it was easy to tell Vida was a big cheerleader for not only the Thunder and Sooners, but also Hillcrest. "Every experience I've had has been really nice," she says. "They've taken care of me and attended to me when I called them and I felt safe there. I really was impressed."
Despite her hospitalization for observation following a fall, Vida is healthy and independent. She takes only two medications, lives on her own in an assisted living center, but requires very little assistance, and keeps up with friends and family during regular phone visits. One of eight girls and a boy, Vida comes from a family of longevity - one of her sisters lived almost to her 102nd birthday, while her father lived to 98 and her mother to 89.
"I don't know why I'm still here," she says laughing. "I think God has a reason. He is either punishing me or he is teaching me. I don't know which."
With her regular nail appointments written on the calendar, the Sooner's 2-0 start and a new NBA season ahead, Vida's taking full advantage of her good health to enjoy every day – which makes us one of her biggest fans.