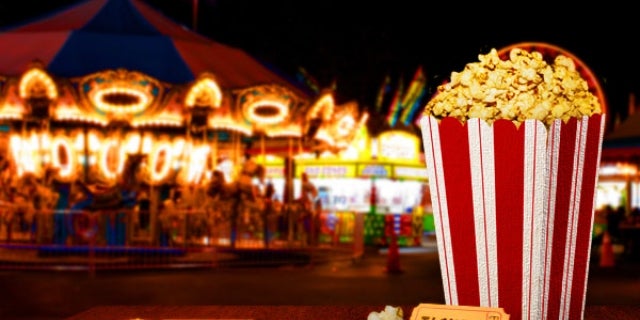 Tulsa State Fair Not Fair to Heart or Waistline
by

admin
The Tulsa State Fair kicks off today, bringing with it high expectations for crowds, excitement, fun, and food. For some fair-goers, food tops the list of what to do when strolling the midway.  Even thrill seekers take a break from rides to refuel, right? Vendors have taken note of our enthusiasm for their grub and have taken it up a few notches over recent years. 
For those who don't crave the annual giant turkey leg there are a variety of new deep fried foods to choose from. Deep-fried Snickers, deep-fried Twinkies and deep-fried butter have made the headlines of local news outlets covering fairs across the country in recent years. It appears we will fall for anything deep-fried, more importantly what's new and deep-fried.
This year's Tulsa State Fair will feature a few new deep-fried items on the menu, including deep-fried crepes filled with bananas and Nutella, deep-fried Girl Scout Thin Mints and deep-fried watermelon. If one of those doesn't necessarily sound good, fair organizers are hoping your curiosity will get the better of you anyway. If one of your friends tries the deep-fried watermelon, you probably will be reading their reviews on Facebook.
Caloric Shock
Unfortunately, what we eat at the fair does not stay at the fair. Do you know how many calories and fat grams are in some of your favorite fair foods? We took a look and revealed some startling figures, which aren't (you guessed it) figure friendly.
•    Fried Snickers (5 oz.): 444 calories and 29 grams (g) fat
•    Fried Twinkie (2 oz.): 420 calories/34 g fat
•    Funnel cake (1): 760 calories/44 g fat
•    Cotton candy: 171 calories/0 fat
•    Foot-long hot dog and bun: 470 calories/26 g fat
•    Giant turkey leg: 1,136 calories/54 g fat
Sure, cotton candy doesn't look that bad, but when was the last time you felt full after eating cotton candy? It either precedes or follows another on the list, right?
Fair Food on the Waistline and Heart
Beyond the caloric shock of fair food, understanding how consuming this food affects our health is something we all need to consider. One day of indulgence can immediately impact your heart and your waistline.
As you have seen with the empty calories of cotton candy, it is easy to consume more calories that we realize, because we don't feel as full as we do when eating foods higher in fiber (like fruits, vegetables and whole grains). Also, when we eat foods high in carbohydrates and sugar, our body craves more of the same foods. In addition to our cravings, vendors with eye-catching booths and trailers showcasing their deep-fried and buttered creations are stationed within every turn, making it even more difficult not to give into temptation.
When it comes to our hearts, saturated fat is enemy number one. The deep-fried stars of every state fair are the vehicles for sending saturated fat into our blood stream, potentially wreaking havoc on our hearts. Consuming too much saturated fat can lead to higher levels of LDL (bad cholesterol) in our blood. When LDL clings to the walls of our arteries, plaque builds up, causing hardening of the arteries and restricting blood flow, which can lead to a heart attack or stroke.
Oklahoma Heart Institute Chief of Cardiology, Dr. Wayne Leimbach, Jr. offers a compromise to enjoying the fair food and treating your heart well, "if you are going to make an exception to your diet at the fair, then to fully enjoy the tastes without too much guilt, walk and walk, and keep walking around the fairgrounds.  Remember, walking is great for the heart."
Tips for Staying Healthy at the Fair
Cassie Wrich, Registered Dietitian with Hillcrest Exercise and Lifestyles Programs offers this advice to enjoy the fair (and the food) with a healthy approach.
Eat a small healthy snack before you go. Do not go to the fair when you are starving, you may not have the willpower to make healthy decisions this way.
Drink bottled water with your food; this will cut down calories that could easily add up if drinking any sugared beverage.
When looking for food, look for a grill or smoker stand instead of going straight to the fried food vendors.
Select an entree that is mostly protein. This will make you feel fuller than if just eating starches like potatoes or desserts.
Pick ONE high calorie treat to eat that is ONLY available at the fair. Choose the smallest portion and possibly split it with a friend.
The Tulsa State Fair comes around once a year. What are you looking forward to the most at the fair this year?  Tell us about it on Facebook.