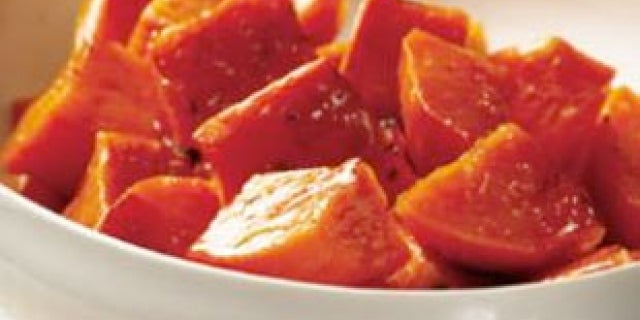 Thanksgiving: Eat This, Not That
by

admin
Calorie Control Council boasts the average American consumes 4,500 calories on Thanksgiving Day. If you think that sounds like a lot, you're right. From the fried turkey, to rich gravy, sweet potato casserole, and homemade apple pie, we can all agree we are probably eating more on Thanksgiving Day than we normally would any other day, even if we don't technically reach 4,500 calories. And those walks around the block after the big meal are doing more for your state of mind than they are for your waistline. In fact, you can calculate how far you would have to walk to walk off the holiday dinner.  To burn off 4,500 calories, you will be walking at least 44 miles!
So how can you enjoy the holiday meal without feeling guilty or walking straight through Black Friday? We have found some great recipe swaps that don't disappoint on taste and leave you feeling satisfied.
Swap the calorie-rich traditional glazed sweet potatoes for these Maple Roasted Sweet Potatoes and cut more than 170 calories per serving (pictured above).
What holiday meal would be complete without a green bean casserole?  This recipe keeps it creamy and crunchy for less than 100 calories per serving.
For a hefty side dish or main vegetarian dish, try individual Stuffed Winter Squash. Not only does one take up calorie-rich real estate on the plate, each serving is perfectly portioned controlled.
Make over the traditional sausage stuffing with this Black and Brown Rice Stuffing with Walnuts and Pears, a lighter more nutrient-rich option.
Add another satisfying vegetable side dish with this Brussels Sprouts with Prosciutto and Walnuts recipe, less than 130 calories per serving.
For the main dish, a simple herb-rubbed turkey rounds out the meal with 256 calories per serving.
For dessert, a few tweaks to the classic pumpkin pie with this Pumpkin-Maple Pie recipe cuts the fat and calories, while maintaining the rich pumpkin taste.
Looking for more ideas? We've created a "Thanksgiving: Eat This, Not That" Pinterest board. Check it out and re-pin your favorites!