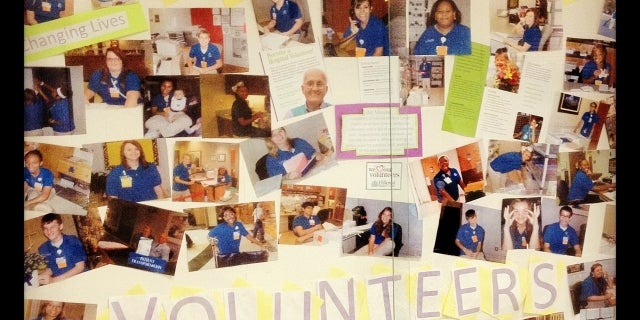 A Summer of Hands On Experience
by

admin
Every Summer the doors at Hillcrest open up a new world for inquisitive minds, helpful hands, and eager attitudes.  For 8 weeks, new faces greet patients, physicians, nurses, and staff.  With the sounds of 3-ring binders closing, envelopes being stuffed, and the ER towel warming drawer continually opening and shutting, it's a sign that a few more Official teal shirts are on campus.  
They have given up the remote control for a sign in sheet and traded in a game of basketball with friends for a stroll down the Tower 5 hallway pushing a wheel chair.  This band of 33 junior volunteers at Hillcrest Medical Center carve out a schedule in their summer off from school to help, learn, and make a difference.  While they gladly give of their time and talent, we give our junior volunteer sincere thanks and appreciation for all they do!

 When Alena Etty, 17, an incoming senior at Wright Christian Academy, answers the phone, her smile goes straight through the receiver.  "I wish I had done it sooner", Etty adds of her choice to volunteer at Hillcrest Medical Center.  Alena supports one of the busiest functions in the hospital, house-keeping.  It is her job to field house-keeping requests and facilitate communication with the appropriate staff for each call.  She knows she is making a difference by directly impacting the patient experience.   

 
His quiet and calm demeanor might just give Kent Tillery, 14 and incoming freshman at Tulsa Adventist Academy, the perfect traits for handling the completely unpredictable environment of the Emergency Room, where Tillery volunteers two days a week.  "You get to see the real world," Tillery shares of his first-hand experience in the ER.  When he is not filing paperwork, stuffing envelopes, or stocking and supplying, Tillery brings comfort to patients by keeping a nice supply of heated blankets ready.

Many of the jobs junior volunteers help with around the hospital are behind the scenes.  Marnequa Taylor, 17 and incoming senior at Edison High School, spends her second summer volunteering at Hillcrest in the office of Risk Management.  With her sights set on becoming a nurse one day, Taylor enjoys the opportunity volunteering has given her for her first job experience.  "I want to be a nurse and being in the hospital can help me decide what kind of nurse I want to be," Taylor explains.  Volunteering four days a week gives Taylor the opportunity to fill-in for other volunteers throughout the hospital as well.

Julia Parackal is spending her summer volunteering in the Oklahoma Heart Institute hospital.  The 15 year old incoming sophomore at Holland Hall has always known she wanted to go into medicine and views this summer as an opportunity to help physicians, nurses, and staff, while figuring out what kind of medicine she would like to pursue.  However, one thing is certain, "I don't want to be a surgeon", Parackal clearly explains.  Her duties include paperwork, stocking, and a few jobs at the copier.  Parackal admits working on one of the heart floors, she can't help but learn and continue to feeds her curiosity of medicine and patient care.
One of the departments that keeps Hillcrest going everyday is Human Resources.  Sarah Brock, 16 and incoming Senior at Sand Springs, enjoys working with the employees in HR and being able to lend a helping hand.  "Helping other people helps me try to figure out what I want to do," Brock explains of her first real job experience.  Two days a week Brock is filing, copying, and finding what it is like to work in a real office environment.
At 14, Mason Anderson has more exposure to the day to day happenings at Hillcrest than most teenagers.  Both Anderson parents work at Hillcrest and his older brother has volunteered at Hillcrest previous summers.  The incoming freshman at Cascia Hall doesn't take his job of patient transport lightly.  "I ask them how they are doing, how their day is going", Anderson says of his role in comforting patients while transporting them throughout the hospital.  Even though his family is deeply rooted in the medical field, Anderson says at this point he is still trying to figure out what career he wants to pursue.
Erin Arthur, 15 and incoming Freshman at Jenks, thought a summer volunteering in the ER would be fun, "I thought it would be more like TV, not really".  With an interest in medicine, spending two days a week seeing the ins and outs of the ER is a good glimpse for Arthur into the daily lives of ER nurses, physicians, and staff.  Meeting the people who work in the ER is one plus for Arthur, the other is the interaction with patients.  "Being able to help people and make them feel better," Arthem shares of the perks of volunteering at Hillcrest.  Through the daily tasks of paperwork, getting warm blankets for patients, and stocking supplies, this summer is Arthur's way of finding out if she wants to be a doctor someday.
What started as an interest in Key Club at Jenks High School, has turned into a love of volunteerism for Brittany Rashford, 17 and incoming
senior.  This is Rashford's third summer volunteering at Hillcrest.  From the lobby at the Peggy V. Helmerich Women's Health Center to post partum and filling in at various positions, Rashord's extensive knowledge of the junior volunteer program has landed her a perfect position this summer as an assistant to the Junior Volunteer Coordinator.  She knows all the junior volunteers pretty well and works on projects like the volunteer board outside the cafeteria, as well as facilitating communication between the coordinator and other volunteers.  "Even if it seems like a little job, it still helps", Rashford modestly explains her role.  Jenks Key Club gives special recognition to members who complete more than 200 service hours during high school.  Rashford has 230 hours now and expects to end the summer with 300 total hours given of her time.
 
Note: When this blog was originally published in 2012, junior volunteers 14 to 17 years old were able to volunteer at Hillcrest. However, that has since changed and volunteers must be at least 17 years old. To learn more please call 918-579-7500 or email sdennard@hillcrest.com.