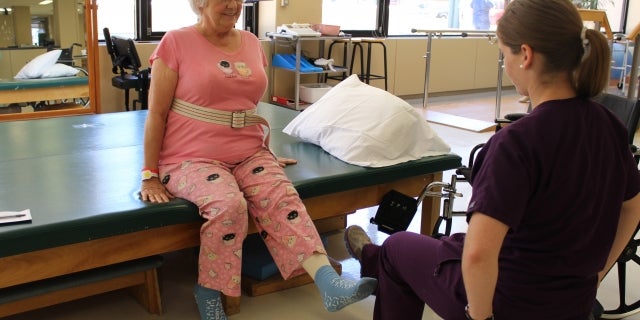 Silver Elite - Important, Timely Health Information for Seniors
by

admin
Linda Navab, 71, begins physical therapy at Kaiser Rehabilitation Center at Hillcrest Medical Center a few minutes past 1:30pm following lunch and visiting with other patients. She's recovering from hip surgery resulting from a condition she originally learned of at a Silver Elite event with orthopedic surgeon Dr. Darnell Blackmon.  "He was lecturing on this certain knee condition and I thought, 'Boy, that sounds serious,'" she says.
Linda is a natural story-teller and quickly warms to staff and visitors. It was during a visit with Senior Care Coordinator, Leanne Helmerich, that Linda shared a little of her story and her experience as a patient.
Retired from a career in health care, Linda continued to seek the latest in health information and often attended Silver Elite seminars on various topics from orthopedics to heart and sleep. She enjoyed not only the medical discussions with providers and learning how to improve her own health, but also the company of her fellow Silver Elite friends. She's also been known to bring her friends from other social circles to Silver Elite events.
Linda knows the importance of good friends and good health. It wasn't until the age of 70 that she was hospitalized for the first time. Having never been admitted as a patient, to four separate times in the ICU, Linda paid close attention to what was happening around her, particularly when it came to the doctors and nursing staff. "I understood what condition I was in, what their plans were and who they had discussed it with thoroughly with my primary care physician," she says. "I noticed what extraordinary care I was getting."
Linda also stayed closely attentive to the health of her friends and the times they needed her by their bedside. She says of her time in other hospitals with friends or listening to their stories, she noticed a difference. "I'm absolutely convinced if it weren't for the caliber of care I had, I wouldn't have made it out of the ICU," says Linda.
Earlier this summer, when Linda fell and broke four of her toes, she went to Dr. Blackmon and mentioned attending the knee and ankle seminar. Dr. Blackmon had already begun his examination, taking a look at her knees.  "'Ok, I know exactly what caused your fall,'" she recalls Dr. Blackmon said. Linda had the same knee condition she first learned of at the seminar.
Dr. Blackmon said, "Well the good news is, it's reparable."
Scheduled to be released from Kaiser a few days shy of her 72nd birthday, Linda is building up her strength again and making plans to attend future Silver Elite events. It's another way she and her friends keep their health a priority. After taking her friend to a sleep apnea seminar, her friend turned to her and said, "I will never go to bed without my machine again,'" Linda remembers. "'I had no idea I was taking it so lightly.'"
If you would like to learn more about Silver Elite and upcoming seminars, please visit www.silverelite.org.