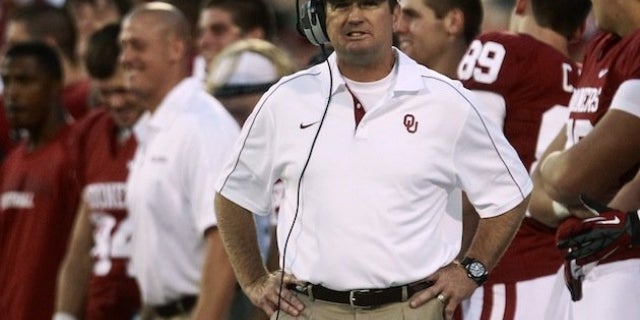 Saturday's Heart-Stopping Loss, OU Football
by

admin
Did you feel like your heart stopped when the OU Sooners lost their first home game to a top ranked team under Coach Bob Stoops in the 24-19 loss to Kansas State?  For Sooner fans, it had been a while since their team lost at home to another ranked team (since 1998 to be exact when Colorado beat the Sooners 27 to 25).
Saturday's loss was not an easy pill to swallow for dedicated Sooners. The adrenalin rush fans experience watching college football on any given Saturday is undeniable and along with that, some believe their hearts are also involved, sometimes skipping a beat or stopping for a moment.
Oklahoma Heart Institute's Dr. Frank Gaffney confirms our hearts can speed up when we are in the high adrenalin mode.  At some point, we may feel our hearts pause to re-set, thus literally experiencing a heart-stopping moment we associate with a fantastic play on the field.  "After a skipped beat, there is a compensatory pause, which is when the heart resets itself," Dr. Gaffney explains.  "After the pause, the next beat is big.  So there is a skip, a pause and a big beat."
For a moment of time, a racing heart is perfectly okay, according to Dr. Gaffney.  However, for some fans, that surge of adrenalin goes well beyond a play or even a game.  Some fans, researchers have found are so tied into their team they experience a rush of hormones and other physiological changes similar to how the actual athletes feel.
Although data suggests these avid fans suffer less depression than those not interested in sports, some may argue this intense connection with winning or losing can have a negative impact on your health. Sports, it appears can both positively and negatively affect our health, according to a recent Everyday Health article.
 
Winning boosts testosterone, positively affecting men's libido, but potentially resulting in overexcitement and violence.
Fans have a strong support network, leading to better interaction and enriching relationships.
Watching sports with friends can lead some to drink too much alcohol.
When a fan's team is winning, they can experience a boost in their emotional health, while a loss can make some fans feel unmotivated and depressed.
Regular watching and listening to sports can improve neurological functions in your brain.
Watching sports can lead to high blood pressure for some fans, as well as enjoying too many fatty foods during the game.
 
For Sooner fans, Saturday's loss was a disappointing season opener at home. However, fans, players and coaches have the remainder of the season to make up what that loss might mean for the now 16th ranked 2-1 Sooners. With a bye today, fans' hearts can take the weekend to rest before the Sooners head to Lubbock, where they have lost the last three match-ups with the Texas Tech Red Raiders.
Photo courtesy of the Associated Press.