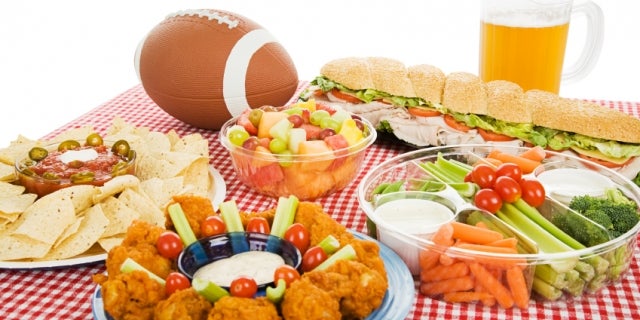 Ready to eat? Super Bowl Ranks a Top Day for Calorie Consumption
by

admin
Last year, more than 108 million people tuned into the Super Bowl. While some devoted fans sat on the edge of their seat watching play by play, many of us gathered around the buffet table featuring an endless supply of dips, chips, desserts, and of course, pizza. With our craving for football, fun and friends has come an insatiable appetite for food…and a lot of it. Super Bowl Sunday now ranks second behind Thanksgiving as the day we consume the most calories, according to the American Institute of Food Distribution. If you are starting to feel your belt tighten reading this, there is good reason.
Super Bowl Food
Americans are more likely to eat twice as much as we would normally eat the day of the Super Bowl game. That translates to 33 million pounds of snacks or 1,200 calories alone per person during the game itself. While 22 percent of us are reaching for chips and 18 percent are picking a piece of pizza, 27 percent are adding veggies to our plate on game day – the most popular food eaten Super Bowl Sunday. Even when our New Years Resolutions' best intentions take a beating just a few weeks in, we apparently try to offset the damage with a baby carrot or celery stick – just perfect for the adjacent dip.
Enjoy Super Bowl Food with Less Guilt
While you may notice the crowd scatter if you replace the chips, pizza and chicken wings with apple slices, broccoli spears and garlic hummus, there are ways to enjoy the festivities without all the guilt. Here are some easy rules to follow:
Don't skip breakfast or lunch.
Saving your allotment of calories for during the game will only leave you starving throughout the day, making it more tempting to overeat once you finally allow yourself to eat. Eat small, balanced meals for breakfast and lunch to help regulate your metabolism.
Make one plate, don't go back.
Don't deprive yourself of the foods you are craving the most during the big game, but don't keep going back for more. Make one plate with the right portions in mind. Take your time eating and try to resist going back for more right away. Wait until the next quarter to see if you are really still hungry or just wanting to keep snacking.
Pick a non-calorie beverage.
Avoid empty calories with alcoholic and sugary drinks to help lighten your caloric intake. Sip water or a sugar-free drink.
Keep moving around.
Instead of picking your favorite spot on the sofa and staying there for all four quarters, keep moving throughout the game. Get up during time-outs and walk around. Exercising earlier in the day is a good idea to help offset additional calories later that day.
If you need to chew, chew on this.
It can be difficult to keep watching other people go back for seconds, thirds or even more. Help reduce the urge to join them by keeping your mouth busy – either sipping water or chewing ice or gum.
Don't Deny Yourself.
The Super Bowl is only one time a year. If you plan on enjoying your favorite foods, (just like the holidays) it is best not to deny yourself as long as you do so in moderation. Take advantage of these tips to feel better after the game, even if your team doesn't win.