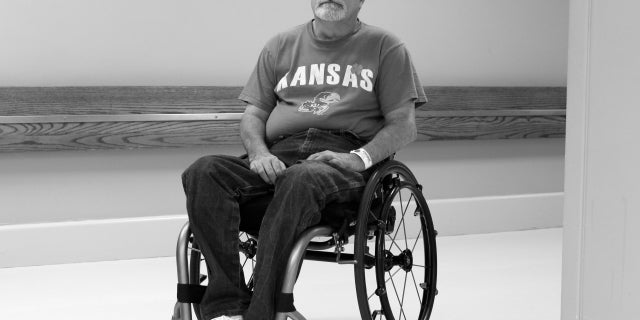 National Rehab Month – Celebrating Daily Milestones at Kaiser Rehabilitation Center
by

admin
Gregory Stone –Tooling Up to Achieve His Goal
Admitted to Kaiser Rehabilitation Center as an inpatient earlier this month, Gregory Stone is here to figuratively break the mold and tool-up. "This is not my first rehab rodeo," he says of prior experience as an inpatient rehab patient. At the age of 17, Mr. Stone suffered a neck injury which has left him bound to a wheelchair for the last 39 years. He says during his first stay at a rehab facility out of state, he spent the time consumed with grief, wondering what was next for his life. As a patient at Kaiser, he says the outlook appears quite different. "[Lookingat] the patients around me, I'm really taken aback at the rapid progress that I've seen," he says.
Mr. Stone knows exactly what he wants his life to look like today and in the future. He is married, employed and enjoys the freedom of taking care of himself. But all of that takes work. "I've stuck myself in this mold of this chair for 40 years – It's hard to break the mold," he says.
Working daily with physical therapists and occupational therapists, Mr. Stone is learning exactly what his body needs to do now to help slow the progression of loss of motion and flexibility. It is work he is doing from dawn until dinner to avoid the tipping point that lies ahead, he worries, without the work. If his body continues to tighten and restrict motion, he will have to move to an electric wheelchair. "I had an idea of what I needed to do," he says.  "The staff gave me tips that confirmed what I knew, but then expanded on it to give me more input to apply as I left so that I could do it at home to maintain my posture and independence."
Mr. Stone knows as long as he is able to move around in his manual wheelchair and continue his therapy at home, he has a greater chance of staying independent longer, which  allows him to work and live a high quality life. Knowing just what to do today to preserve tomorrow are the tools he says he was looking for under the care of Dr. Perri Craven and the staff at Kaiser.  "I have a roadmap to maintain my independence," he adds.
Norman Biagi  – Keeping on Beat
A few rooms down, Norman Biagi is working on strengthening his hip, walking and tackling stairs,
following his third hip-replacement on the same hip. "Third time's a charm," he says with humor and optimism. This is his first time, however, Mr. Biagi has been a patient at Kaiser Rehabilitation Center. While he was recovering from the surgery performed by Dr. Yogesh Mittal at Hillcrest Medical Center, he learned about Kaiser and how this inpatient rehab program could help make his surgery a success. "If you want any help, you come to a place that will help you," he says.
Day by day Mr. Biagi is working with therapists to relearn what his body was able to do before the surgery. His positivity moves his therapy one step forward, even when his legs won't.  "I said, 'Mind - I can do this, I've done it before.' And body said 'you're outta luck,'" he says of trying to walk up stairs during a therapy session. "I'm going to do it before I leave here."
Mr. Biagi isn't wasting any time getting down about taking it slow and getting back to where he used to be. He's happy to do the work, and even planning on coming back. "It's reassuring that we're doing something good," he says of the time he and fellow band mates give playing music at local nursing homes and assisted living centers. "I've seen people in wheelchairs in nursing homes; you can see them starting to tap their toes."
This Christmas, Mr. Biagi told Dr. Craven he will return with his band to play the old-time holiday classics for patients and staff at Kaiser. He will be standing, strumming the bass guitar all thanks to a new hip and rehab – giving back and giving thanks for a third chance Dr. Craven and her staff are giving him. "I'm really impressed with her because she does a good job running this outfit," he says.