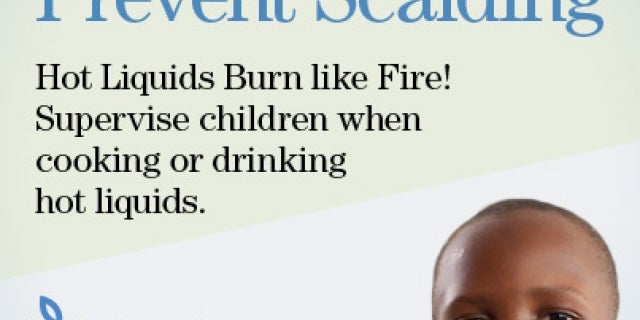 National Burn Awareness Week
by

admin
The American Burn Association and Alexander Burn Center at Hillcrest Medical Center seek  to educate the public on one of the most preventable injuries and causes for death, burns. Every year, 4,000 people die, 25,000 are hospitalized and more than 600,000 are treated in hospital ERs for injuries resulting from fire and burns. This year, the American Burn Association is focusing on scald prevention during National Burn Awareness Week.
A scald burn results when one or more layers of the skin is damaged by coming in contact with hot liquid or steam. Children, people with disabilities and the elderly are the most vulnerable when it comes to scald burns. For children and people with disabilities, not being able to remove themselves from the situation is the most common reason for a scald burn when coming in contact with hot drinks, food, tap water, or steam. While 60 percent of scald burns occur to children 4 years old or younger, 75 percent of all burns children suffer are scalds. The curiosity nature of children, as well as their limited ability to detect danger put them at an especially high risk for scald burns. Children also have thin skin, which means the burns are deeper.
The elderly suffer scald burns more easily than younger adults because their skin is thinner and most susceptible to burns. Also, older adults may experience reduced mobility and agility or have a reduced ability to feel heat due to health conditions or medications, which increases their risk for scald burns.
Make Your Home Safe
Due to the nature of scald burns, most occur in two specific areas of the home, the kitchen or dining area and the bathroom. Help keep everyone safe from scald burns with these tips:
•    Help keep these areas safe by creating a "kid-safe zone" in the kitchen or dining room away from hot liquids.
•    Put pots on the back burners to help prevent spills.
•    Tape off a section around the cook top on the floor and remind children not to step inside that area.
•    Spill-resistant travel mugs will help reduce spills, as well as putting away all tablecloths.
•    Never hold a child while cooking or drinking a hot liquid.
•    In the bathroom, control the temperature of the tap water by lowering the hot water thermostat to less than 120 degrees Fahrenheit.
•    Always make sure children are supervised by an adult at all times in the kitchen and bathroom.
•    Install grab bars in the tub or shower.
•    Install non-slip bath and shower mats.
•    Always check the temperature of bath water by hand before placing a child in the bath.
How hot is too hot for tap water?
Here is important information from the American Burn Association on how quickly hot water can burn a healthy adult.
•    155 degrees Fahrenheit only takes 1 second to burn
•    140 degrees Fahrenheit only takes 5 seconds to burn
•    127 degrees Fahrenheit takes 1 minute to burn
•    120 degrees Fahrenheit takes 5 minutes to burn
•    100 degrees Fahrenheit is a safe bathing temperature
If you are not sure how hot your tap water is, you can check it by running a cooking thermometer under the faucet on hot for two minutes. If the thermometer reads greater than 120 degrees Fahrenheit, you need to lower your hot water thermostat to less than 120 degrees.
Emergency Care of Scald Injury
If someone has suffered a scald injury, following these steps to help prevent the injury from getting any worse:
•    Remove the scald victim from the source of the burn.
•    Remove affected clothing, including diapers, shoes, etc.
•    With cold water, briefly cool the scalded area.
•    Cover the scald area with a cool and dry cover.
•    Do not use any creams or ointments.
•    Call 911.