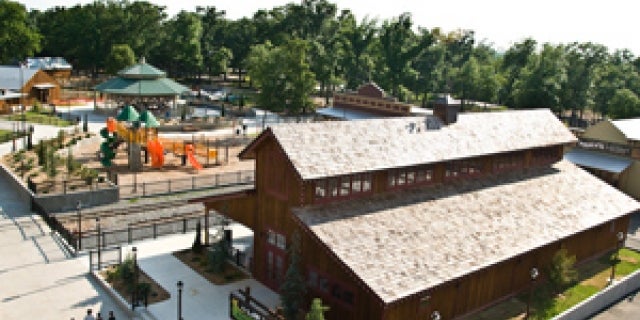 Making Unconditional Acceptance Possible, Burn Center Employees Volunteer at Burn Camp
by

admin
Once a year two worlds come together to achieve the seemingly impossible.  On one side, a group of children step foot onto the grounds of Dry Gulch, USA and into the streets of the Old West.  On the other side, counselors leave their day jobs as firefighters, nurses and physical therapists to see anxious new faces and relieved familiar ones.
Since 1999, Oklahoma Firefighter's Burn Camp has offered a place of hope and emotional healing for children with burns or other disfiguring injuries every summer.  Bringing the children and counselors together for "the best five days of the year" is an experience unlike any other.  "Camp provides an environment where everyone is accepted unconditionally," says camp assistant director and Alexander Burn Center physical therapist, Jennifer Knowlton.  "Everyone gets to be 'normal' regardless of their physical or emotional scars."
This will be Knowlton's 14th year volunteering at Burn Camp after giving her time as a counselor the first year camp open in 1999.  In 2005 Knowlton became the assistant director and has continued in that role every summer since.  Knowlton, along with six other employees and a volunteer from the Alexander Burn Center spend vacation days to help the 50 to 75 children who attend Burn Camp each summer have a chance to feel that unconditional acceptance.  Alexander Burn Center charge nurse and counselor of 12 years, Wendi Slay explains why she volunteers her time, "This camp is very important for the kids that attend because, it shows them that they are not alone and that there other kids out there dealing with the same problems and frustrations that someone with a disfiguring injury faces."
Pictured: Alexander Burn Center's Jennifer Knowlton, Anita James, Wendi Slay, and Greg Holton
Described as a big loving family, the environment of Burn Camp is more than just one of acceptance.  "Burn Camp allows the kids to work on team building and gets their minds off of everyday problems," shares counselor of 11 years and Alexander Burn Center physical therapist assistant, Anita James.  That team building can translate into big results for many of the campers.  Assistant Director Knowlton was amazed when a former patient and camper seemed to shed all her fear.  "I saw her get up in front of a crowd of over 150 people and sing, actually, entertain the crowd," Knowlton remembers.   "I took care of her when she sustained 3rd degree burns on her face from a trash fire at the age of 9 years old.  Seeing her get up in front of everyone and hearing that beautiful voice was truly inspiring."
Many new campers don't know what to expect at Burn Camp and often get out of their parents' cars with a little anxiety and hesitation.  Greg Horton, a volunteer at the Alexander Burn Center, knows exactly how they feel.  Not only is this Horton's first year as a camp counselor, he is also a burn victim and former patient at Alexander Burn Center, where he spent 3 months healing.  "I think it will help me relate having gone through the process and healing and returning to regular activities," says Horton.
Their scars remind us that we cannot turn back time and take away the event that changed their lives forever.  However, for five days at Burn Camp those scars seem to fade into the faces and stories of the other children and counselors who come together in a unique bond.   Burn Camp truly is a place of unconditional acceptance, a place like nowhere else for campers and counselors.
Alexander Burn Center 2012 Burn Camp Counselors:
Jenn Knowlton, Physical therapist, 14th year
Anita James, Physical therapist assistant,  12th year
Wendi Slay. Burn center RN, 12th year
Erin Spears, Burn center RN,  4th year
Michelle Postier, PICC team RN, 3rd year
Betty Bermudez, Burn Center RN, 1st year
Greg Horton, HMC volunteer and burn survivor, 1st year