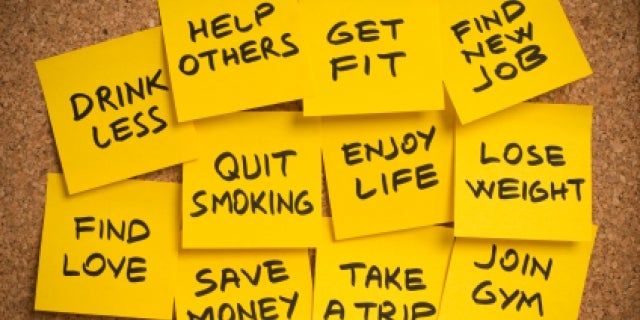 Keeping New Year's Resolutions
by

admin
You've made it through the first few days of the New Year. Have your resolutions? Sometimes our eyes can be bigger than our stomachs when it comes to setting expectations of ourselves. We want to make changes and be healthier, but it is easier said than done if we don't set goals we can reasonably achieve. According to Time Magazine, of the 10 most commonly broken New Year's resolutions, 5 relate to health. It is far too easy to say this year I'll lose 25 pounds, quit smoking, work out every day, and eat more vegetables. However, big change takes little change each and every day with each and every decision. Here are some tips for helping you make and keep the right resolutions for you in 2013.
Set Specific, Realistic Goals. People who are successful at reaching their goals set ones within reach that specifically evoke action. For example, "I'm going run a 5k" is more specific and obtainable than "This year I'm going to get in shape."
Give Change Time. We live busy lives and make decisions constantly, many of which we make without thinking that much about them. Our decisions are a result of our habits. If we are going to change our habits, we have to do so consciously and over time. Before a big change like replacing soda with water (for example) becomes routine, we have to make that decision day in and day out, for probably a few months. Don't get frustrated if introducing a big change is not going as easy as you thought.
Be Mindful of Your Goals. Unfortunately, reaching our goals is not as easy as the Seen on TV product line "Set it and forget it." Once you've decided what changes you would like to achieve in 2013, say those to yourself every morning. Write down your goals to help remind yourself what you are working towards and how you are going to get there. Staying mindful of your goals on a daily basis will help make those smaller decisions easier.
Change for You. You've heard the sports announcer at the end of a close game declare, "They wanted it more." The winning team had the extra effort, will and determination to push through to victory. When we want change for ourselves we are more likely to achieve that change than if we were doing it for someone else. Stay mindful of whom you are setting your goals for and only set a goal you want to work for to achieve for yourself.
Don't Get De-railed by a Roadblock. Remember big change takes little change every day. Don't let a minor setback keep from working towards your larger goal. When you are in the process of changing habits and retraining your brain to make different decisions, you are likely to encounter times when that initial will fails. Take those times as opportunities to get back on track and continue on a path of daily change before you get too far from your goals.
Contact Hillcrest Exercise & Lifestyle Programs if you would like more information on weight loss programs, smoking cessation support or stress management at 918.579.4900.