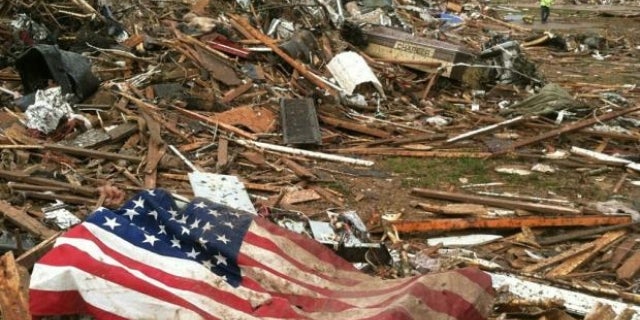 How to Help Oklahoma Tornado Victims
by

admin
After the wake of a devastating tornado hitting Moore, OK , Oklahomans are banding together. Disaster relief is on-going throughout the state and there are several ways in which you can help with those efforts.
American Red Cross
The American Red Cross quickly responded to the Oklahoma City suburb by setting up several shelters, delivering hot meals and working to bring loved ones back together through the website Safe and Well. You can donate directly to the Red Cross online, by phone (1-800-RED-CROSS) or texting REDCROSS to 90999 to give a $10 donation.
Salvation Army
The Salvation Army mobilized several disaster response units to Central Oklahoma yesterday to provide as many as 2500 meals a day and assist victims with disaster relief. You can donate to the Salvation Army online at www.SalvationArmyUSA.org or by calling 1-800-SAL-ARMY (1-800-725-2769). You can also text the word "STORM" to 80888 to make a $10 donation through your mobile phone. The Salvation Army asks you respond to the text with "yes" to confirm your donation.
Regional Food Bank of Oklahoma
The Regional Food Bank of Oklahoma and the Oklahoma Voluntary Organizations Active in Disaster (VOAD) are working together to raise funds to support victims, as well as aid in the rescue, recovery and disaster relief efforts. They are discouraging clothing and supplies donations. Rather, the organizations encourage the public to provide financial contributions to help purchase necessary items to help the victims with their needs. Text "FOOD" to 32333 to donate $10 to the Regional Food Bank of Oklahoma.
United Way of Central Oklahoma
Individuals can donate directly to a fund designated for Monday's deadly tornado victims through the United Way of Central Oklahoma. Donations may be made online. Checks can also be sent to the United Way of Central Oklahoma, P.O. Box 837, Oklahoma City, OK , 73101. Please add "May Tornado Relief" in the notation on the check.
Hillcrest HealthCare System joins the state of Oklahoma in supporting victims, first responders, health care providers, and anyone affected by this tragedy.
Photo credit: CBS News