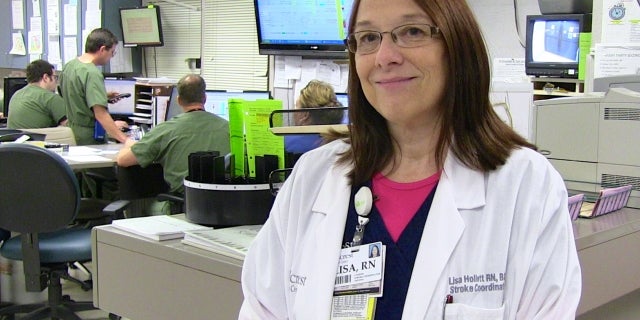 Hillcrest Stroke Coordinator Lisa Hollett - "Time is brain."
by

admin
A stroke can strike anyone at any time. Every 40 seconds someone in the U.S. suffers a stroke. As many as 26 Oklahomans are hospitalized each day with a stroke and unfortunately, our state tops the list of adults in the U.S. reporting having had a stroke - 4.2 percent. On the front lines striking back – Lisa Hollett, BSN, MA, RN. Lisa brings more than 30 years nursing experience in EMS, critical care, trauma, and education to her new role as Stroke Coordinator at Hillcrest Medical Center.
"What is so crucial to remember is stroke can affect anyone," she says. "We think about stroke being an old person's disease and it is not. It is striking a younger and younger population."
Lisa is passionate about educating not only the public, but also fellow co-workers about the signs of a stroke and why it is critical to act FAST. "With our population here at Hillcrest, it's our family," she adds. "It's our co-workers. It's our visitors, our guests, people we see in the cafeteria." When a stroke occurs, the clock for saving brain tissue and minimizing long-term disability starts. "One of the most important things to know about stroke is time matters. Time is brain."
The acronym FAST helps quickly identify signs of a stroke:
Face - "Have them smile at you. When the person smiles, does their face move in the same way on both sides?
Arms – "Hold the arms out. Can they hold both arms out at the same time and do they stay together?"
Speech – "Have them say a sentence. Does it come out clearly? Do they slur their speech?"
Time – "One, intervene quickly and two, when did the symptoms start? That is important to know. We are on the clock once symptoms start."
While it sounds relatively easy to identify a stroke based on these signs, Lisa says the symptoms may not be as obvious. "Sometimes symptoms are very subtle," she explains. "It may be a head ache that is just different - a headache that doesn't go away. It may be numbness and tingling in your hand. It may be a side of your face that feels a little funny. You may be off-balance. It doesn't have to be the big fall-down-not-able-to-speak."
Stroke care at Hillcrest is available through a multidisciplinary approach across many departments throughout the hospital including:
EMS
Emergency Department
Interventional Radiology
Code SAT (Rapid Response Team, House Supervisors, Radiology, Respiratory, Pharmacy)
Teleneurology – Stroke Bot
Kaiser Rehabilitation Center
If a patient comes to the Emergency Department and issuspected of suffering a stroke, nursing staff are trained to administer the NIHSSprotocol (National Institute of Health Stroke Scale). "This scale is a validated tool used by health care professionals across the nation to assess-and reassess- the stroke patient," Lisa explains. "If one of our nurses says a patient has a score of 15, that means the same predictive value to a physician in Seattle."
Diagnosing the type of stroke (ischemic or hemorrhagic) and administering treatment as quickly as possible helps give patients the best chances of limiting permanent disability. Lisa helps facilitate this coordination of care, following the patient from the time they enter theEmergency Department to the time they are discharged. "We look at your cholesterol level, if you are a diabetic and if you are a smoker," she adds. "We look at those order sets and make sure patients get those orders. We make sure all those pieces are in place."
A new Emergency Department, currently under construction at Hillcrest, offers immediate access to stroke diagnostic technology. "The new ED will have a CT scan located in the Emergency Department," says Lisa. "That is a crucial piece of stroke care. There are certain medications we can give if they are having an ischemic stroke versus a hemorrhagic stroke. If they are bleeding in their brain, we can't give a tPA (thrombolytic). The only way to know that is to have a CT scan."
The message to anyone who suspects either they or a loved one are having a stroke – time-to-treatment is critical. "Call EMS," emphasizes Lisa. "EMS can start things in the field. Call as soon as they have symptoms and come with the patient. Act FAST and give us that 'last known well' – that is when the clock starts ticking."