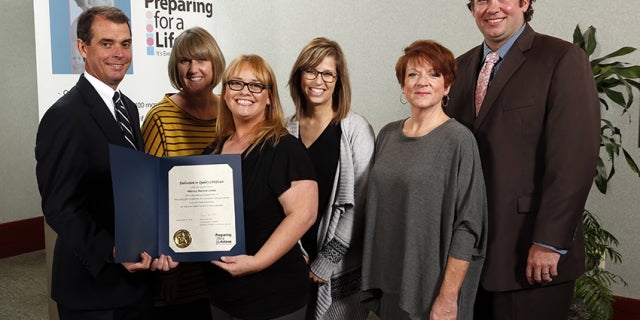 Hillcrest Receives Oklahoma Perinatal Quality Improvement Collaborative Award
by

admin
Sixteen Oklahoma hospitals, including the Peggy V. Helmerich Women's Health Center at Hillcrest Medical Center, recently received awards for their perinatal quality improvement efforts from the Oklahoma Perinatal Quality Improvement Collaborative. The awards were presented at the first annual summit of the collaborative in Midwest City. Approximately 200 providers of maternal and infant care came together at the event to discuss continued efforts to improve outcomes for Oklahoma mothers and babies, and to celebrate success from their ongoing work. 
Hospitals receiving "Dedication to Quality" awards were recognized for participation and sustained improvement in the areas of early elective deliveries (inducing labor and scheduling cesarean births before 39 weeks without a medical reason), education to prevent abusive head trauma (commonly known as shaken baby syndrome), and supporting women in breastfeeding.
Terry Cline, PhD, commissioner of health and secretary of health and human services, welcomed the group and gave them the good news that Oklahoma's infant mortality rate (number of infant deaths per 1,000 live births) dropped from 8.6 in 2007 to 6.8 in 2013, a decrease of 21 percent.
Dr. Cline congratulated the group saying, "Your efforts have made a significant contribution to this positive change. This improvement means that more babies will survive to be with their parents as they celebrate that first birthday. I am grateful for all of those working together to save lives, including the governor and the Legislature, which appropriated additional funding to reduce infant mortality."  He went on to say that, "While we are excited to celebrate the lowest infant mortality rate in Oklahoma's history, we still have much to do to reach the national average infant mortality rate of 6.1, and I hope once we reach the goal, we will strive to save even more babies."
Pictured: Terry Cline, PhD, Commissioner of Health and Secretary of Health and Human Services, Dana Langbein, Clinical Nurse Manager at Hillcrest Medical Center, Sharon Brewster Education Specialist , Jennifer Leach Clinical Manager MB, Leah Gilbert Education Specialist, and Chad Smith, MD, Medical Director of Oklahoma Perinatal Quality Improvement Collaborative.