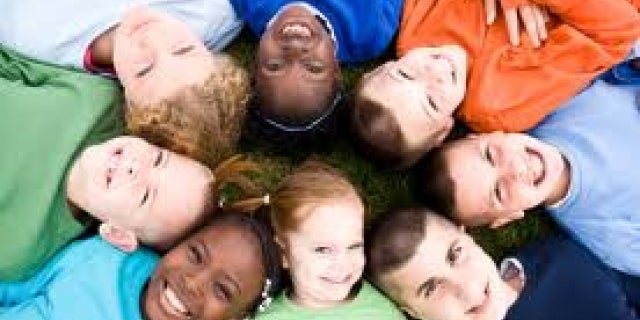 Helping Tulsa's Hurting Children Cope
by

admin
If you have never had a personal experience in which a child you knew was admitted to a behavioral or mental health hospital, you may never realize the challenges many families face in our community every day.  Hurting children need a place to turn when neglect, abuse, and mental illness have robbed them of their ability to cope in many situations.  They may act out, threaten harm to themselves or others, or suffer from psychosis or a psychotic break.  At Behavioral Health Services of Hillcrest, those children and adolescents have a place to receive the treatment they need in a way they may never have had before.
A portion of the wall mural in the lobby of the children's unit
Changing the Treatment of the Mentally Ill
For 32 years, Jeri Meier has worked with children facing mental health illness and behavioral challenges.  She has seen the treatment of the mentally ill change and evolved over the last 4 decades.  As the Director of Behavioral Health Services, today Meier leads a team of nursing staff and therapists on the cusp of major change.  "Behavioral health has evolved over the years from a correctional facility or housing patients to a program model that includes patients in their treatment", Meier explains.  "It was needed", she adds, "…there was absolutely a better way to treat the mentally ill."
Following the passage of President Bill Clinton's mental health reform, the Health Security Act, states were mandated by federal law to provide mental health services at the community level and change how patients were treated.  Over the course of implementing this law, several state institutions were closed, resulting in more local private and not-for-profit organizations trying to fill the gap in patient services.  Additionally, the Health Security Act sought to de-institutionalize the treatment of mentally ill patients, as well as modernize treatment across all facilities throughout the country.
In 1998, the behavioral health unit in Kansas where Meier was a nurse manager at the time was chosen to be one of the first units in the country to move away from seclusion and restraints as part of treatment.  "I was very fortunate that I worked with a very innovative physiologist who had worked in an environment that had facilitated some of the research on reduction of seclusion and restraints" Meier shares of her concern with making this change. "I was blessed to work alongside her and to have her teach me how to do this," Meier continues.  The change Meier witnessed in the treatment and therapy of those patients fuels her passion to change the way Tulsa's hurting and mentally ill children are treated.   
A Collaborative Effort
In less than a year since her arrival, Meier has worked with her team to determine the best treatment solution for their patients to move with the changing times.  Today a program called Collaborative Problem Solving is being introduced into the comprehensive treatment of their patients and will be fully implemented by Fall 2012. In short, the Collaborative Problem Solving (CPS) program allows patients to have ownership and choose the best path for them.  CPS is one of the trauma informed program models considered to be a best practice for behavioral health care and treatment.  Staff is educated on stepping back from challenging behavior and finding opportunities to uncover what is causing the behavior, as opposed to negative reinforcement.  Meier has worked with patients herself and witnessed staff being able to engage and improve communication with patients through this approach.  She believes this care of patients is ultimately more effective in moving them out of acute care to residential care and finally back to the community.
At the core of CPS is understanding that a child's challenging behavior results from a lack of coping skills to handle adverse situations.  By taking a step back and either not reacting to the challenging behavior, or reacting in an unexpected way (not the expected punishment and loss of privileges), the staff recognizes this behavior is a signal that a coping skill is lacking.  Ultimately through getting to the deep down problem and solving that problem, staff and therapists are able to help patients learn those necessary coping skills.  
"Its not the kids who have to change", Meier declares, "it is us."  Understanding the approach towards effectively communicating and identifying the trauma these children have suffered is crucial Meier believes to helping them.  It is a focused purpose Meier spearheads not only with Behavioral Health Services, but also personally, "We serve a purpose here… this was what I needed to do."
Jeri Meier has 32 years experience working in behavioral and mental health treatment in various roles including nursing administration, program director, organization operations, compliance, and strategic planning.  Meier joined Hillcrest HealthCare System September of 2011 with hands-on experience in trauma informed program models such as CPS.