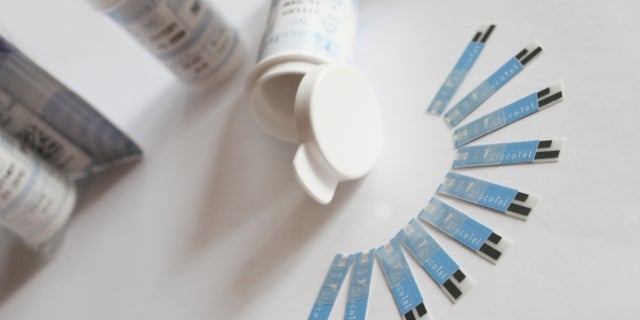 Growing Health Concern - Diabetes in America
by

admin
One of the biggest health concerns among men in the United States is diabetes. About 26 million Americans have Type 2 diabetes. Contrary to Type 1 diabetes, your body can make insulin, but has trouble either using the insulin or the pancreas cannot produce the adequate amount of insulin a person's body needs. Men, researchers say, are far more susceptible to developing Type 2 diabetes than women.
When a person's body does not get enough insulin, glucose (sugar) cannot get into the body's cells. The glucose stays in the person's blood and therefore the cells begin to not properly function. Other problems that can occur when the body does not get enough glucose are dehydration, diabetic coma and damage to the body.
Some symptoms of Type 2 diabetes are:
Increased thirst
Frequent urination
Extreme hunger
Unexplained weight loss
Fatigue
Blurred vision
Slow-healing sores
High blood pressure
Frequent infections, such as gums or skin infections and vaginal or bladder infections
Presence of ketones in the urine (ketones are a byproduct of the breakdown of muscle and fat that happens when the body doesn't have enough insulin)
Type 2 diabetes is often preventable. Some risk factors of type 2 diabetes are:
Weight: The more fatty tissue you have often makes your cells more resistant to insulin.
Inactivity: The less active you are, the greater risk you have of contracting diabetes. Physical activity helps control weight, gives energy and helps cells become more sensitive to insulin.
Family history: A parent or sibling with diabetes increases a risk of type 2 diabetes.
Race: African Americans, Hispanic Americans, Native Americans and Asian Americans have increased risk.
Age: Your risk increases as you age. It may be because people tend to exercise less as they age, as well as the loss of muscle mass and gaining weight.
Abnormal cholesterol levels: If you have low levels of high-density lipoprotein (HDL), or "good" cholesterol, the risk of type 2 diabetes is higher.
High levels of triglycerides: Triglycerides are a fat carried in the blood. If they are higher than 250 mg/dL, your risk of diabetes increases.
Some complications of diabetes includes cardiovascular disease, nerve damage, kidney damage, foot damage, skin and mouth conditions, osteoporosis, Alzheimer's Disease, and cancer.
Eating healthy foods like fruits, vegetables, whole grains and legumes can help lower body weight and can help make a difference in blood sugar control. Regular exercise can help prevent diabetes. Even just taking a brisk walk 30 minutes or more multiple times, as well as weight lifting or yoga,can be more effective than just walking alone.
If you have any concerns or have been diagnosed with diabetes, make sure to speak to your physician for the best plan of treatment for you. You may search online to find a Utica Park Clinic health care provider online by specialty, location and other criteria.